Sunday, February 20, 2022
Kansas guard Ochai Agbaji could barely wipe the smile off of his face when talking about just how big Saturday's 71-58 win over West Virginia was for the sixth-ranked Jayhawks.
Sure, it helped the Jayhawks maintain their lead in the race for the Big 12 Conference crown. But there was more to it than that for Agbaji, who improved to 2-2 in his career at WVU Coliseum.
"This one meant a lot more," he said after scoring 23 points to help the Jayhawks control their latest trip to the hills of West Virginia. "The one my sophomore year was crazier, it was in a crazier fashion. Marcus (Garrett) with all those steals at the end. But this one was a convincing statement win."
Photo Gallery
Kansas men's basketball vs. West Virginia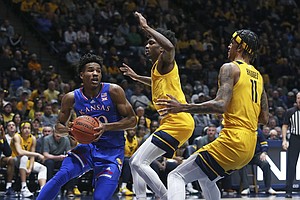 View a gallery of images from Saturday night's game between the Jayhawks and Mountaineers at WVU Coliseum.
As a freshman, Agbaji played just 4 minutes in a one-point loss at WVU Coliseum but was there to witness KU's late-game collapse that featured the Jayhawks giving up a six-point in the final few minutes and then-senior Lagerald Vick twice settling for long jumpers instead of driving to the rim with the game on the line.
A year later, on that 2019-20 team that mauled everyone, Agbaji started and played all but 53 seconds of a nine-point KU victory. As Agbaji alluded to after Saturday's win, Garrett recorded steals on three consecutive WVU possessions late in that game to seal the win. That victory was not unlike Saturday's game in that KU held WVU to 35.5% shooting and just 49 points. On Saturday, it was 58 points and 28% shooting for the Mountaineers.
And then there was last season — the COVID season — when Agbaji and the Jayhawks gave up 91 points to the Mountaineers in a 12-point loss in a mostly empty building. Four of the five starters in that game also started in Saturday's win, something that Agbaji believed helped put the 2021-22 Jayhawks in position to come out on top Saturday night.
"When you go through different situations where you've won here or you've lost here, you kind of know what to expect," Agbaji said. "Whether that be the fans or just the atmosphere. We came prepared tonight. And I'm just proud of my team."
The announced attendance for Saturday's game between the first-place Jayhawks and the last-place Mountaineers was 14,012. From start to finish, that group showed that they were willing to make things miserable for the Jayhawks so long as the WVU players on the floor would do the same.
Every time it happened, the Jayhawks had an answer. And more often than not, Agbaji was at the center of that answer.
West Virginia's late first-half run that cut KU's halftime lead to six when it both felt like and easily should have been double digits was met by a 9-0 Kansas run early in the second half.
The Mountaineers responded to that with a 10-0 run of their own to pull within two, but Kansas (22-4 overall, 11-2 Big 12) had an answer that time, as well. Any time things started to look like they might be going the home team's way — therein pulling the home crowd into the game along with them — the Jayhawks responded with poise and a punch.
After the win, Agbaji explained how that past experience and the memories of things coming unraveled in the past helped the Jayhawks avoid that fate in this one.
"Just in timeouts and any huddle-ups we had during the game, I just told the guys, 'Keep your composure. Stay in it. Keep playing our game. Don't get rattled,'" Agbaji said.
Added Kansas coach Bill Self, who said he was proud of the way his team battled in a tough environment: "We kept them at arm's distance, for the most part, all night."
Kansas big man David McCormack, who recorded a double-double of 19 points and 11 boards in his latest good outing against WVU, said the Jayhawks gained some confidence in seeing how they handled each of those West Virginia runs in a tough environment.
"Big time," McCormack said Saturday night. "Basketball's a game of runs and in those times you have to make sure your defense is solid regardless."
Added Self after Saturday's win: "I think we were pretty clutch tonight."
After a 2-0 week, Kansas figures to be no worse than sixth in the new AP poll that comes out on Monday. Beyond that, the Jayhawks' win at West Virginia — KU's 10th Quad 1 victory this season — moved Self's team up to No. 5 in the latest NET rankings.
KU will play host to Kansas State at 8 p.m. Tuesday in the second edition of this season's Sunflower Showdown.
KU came from 17 down in the second half to win by three (78-75) in the first meeting in Manhattan back on Jan. 22.
https://www.youtube.com/watch?v=rtyza9rWSec
https://www.youtube.com/watch?v=QQP3xoZlAiE
https://www.youtube.com/watch?v=qMVgkC4jz3E