Morgantown, W.Va. — Supported largely by their nine Quad 1 wins — tied for the most in NCAA Division I — the Kansas men's basketball team is in position to land a No. 1 seed in the upcoming NCAA Tournament.
That was the message handed out by the NCAA Tournament selection committee on Saturday, hours before KU's 71-58 victory at West Virginia, when it revealed a sneak peek at the top 16 teams in the bracket for the sixth year in a row.
Photo Gallery
Kansas men's basketball vs. West Virginia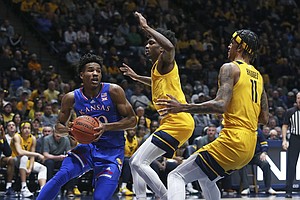 View a gallery of images from Saturday night's game between the Jayhawks and Mountaineers at WVU Coliseum.
The bracket preview does not guarantee anything, of course. But it does provide a glimpse into where the Jayhawks and 15 other teams sit heading into the final three weeks of the regular season.
KU was one of four Big 12 Conference teams to land on the list, with Baylor receiving a 2 seed, Texas Tech landing on the 3 line and Texas sitting in the No. 16 spot overall, good for the final 4 seed to date.
KU, which is ranked 7th in the latest NET rankings, is one of four programs that has been in the top 16 in five of the six years of the bracket preview. No program has been on the list all six times.
KU, as the No. 4 overall program on the list, was the fourth 1 seed behind Gonzaga (West), Auburn (Midwest) and Arizona (South).
"I saw that," Kansas coach Bill Self said after his team's 71-58 win at West Virginia on Saturday night. "I'd rather be 1 than a 2 or 3, I guess. But it doesn't mean anything. There's so much ball left."
Joining KU in the East region was 2 seed Kentucky (No. 6), 3 seed Villanova (No. 9) and 4 seed Wisconsin (No. 13). The East regional will be played in Philadelphia.
NCAA Tournament chair Tom Burnett, the commissioner of the Southland Conference, said on CBS's show that revealed the seeds, that the margin between Gonzaga and Auburn in the No. 1 spot and Auburn and Arizona at No. 2 was "razor thin."
Burnett also said that Kentucky being seeded lower than Kansas despite the Wildcats' head-to-head win over KU in Lawrence earlier this season had to do with Baylor being ranked ahead of Kentucky.
If Kentucky is able to jump Baylor for the No. 5 spot, Burnett said the committee then "would spend a lot of time on that."
"We all remember that," Burnett said of the KU-UK game in late January. "And, certainly, the head-to-head would come into play if they were right next to each other on the seeding line. Baylor and Kentucky were really close to Kansas for the final spot on that final spot on the 1 seed line."
Injury updates
Super-senior guard Jalen Coleman-Lands returned to action after a one-game absence because of a migraine headache.
Coleman-Lands did not play during last Monday's home win over Oklahoma State but was available throughout the week and in uniform on Saturday night.
Freshman guard Bobby Pettiford, who continues to battle an abdominal strain, also was available for Saturday's game at West Virginia.
"He's not healthy, but it's not a situation where he can hurt himself worse," Self said of Pettiford before Saturday's game. "He's like Remy (Martin). It hurts to play. If we don't have to play him we won't. If we do, we will. It'll probably be in a limited capacity,"
Martin missed his sixth consecutive game because of the bone bruise in his right knee but did make the trip and was shown working out with the team in a photo from their mid-day shoot-around.
Freshman forward Zac Clemence did not play in Saturday's win, but Self said that was a choice to go with the more experienced Mitch Lightfoot and had nothing to do with the toe injury that kept Clemence out for a month.
Huggins Fish Fry
Self was one of the featured guests at WVU coach Bob Huggins' 10th Annual Huggins Fish Fry on Friday night in Morgantown.
The event, which is an annual fundraiser and wildly popular local party, raised $2.5 million that will go toward the construction of a cancer center.
According to tweets from people who were there, Self made a playful crack at the Mountaineers when he joined his good friend on stage.
"I was tired of watching WVU foul on tape so I came here," Self joked.
Huggins then fired back with: "Well, you know, I never knew you could guard people out of bounds until I started playing Kansas."
Speaking of Huggins, the longtime WVU coach was recently named one of 11 finalists in the 2022 class for induction into the Naismith Memorial Basketball Hall of Fame. The class will be announced on April 2 in New Orleans at the Final Four and enshrined in Springfield, Massachusetts on Sept. 10.
All-Star celebration
Two former Jayhawks will take center stage at the NBA's All-Star Game on Sunday, with Joel Embiid and Andrew Wiggins slated to start together for Team Durant.
It will mark the fifth All-Star Game start for Embiid, the first for Wiggins and the first time the two will have played together since their days at Kansas during the 2013-14 season.
"It's pretty cool," KU coach Bill Self said on his "Hawk Talk" radio show earlier this week. "I think it is great. But it's an all-star game so neither one will ever pass it to the other one I wouldn't think. You've got to shoot it if it's an all-star game."
Through 45 games this season, Embiid, 27, is averaging 29.3 points, 11.1 rebounds and 4.5 assists for Philadelphia.
"Joel could be MVP of the league," Self said of the 27-year-old phenom. "He's killing it."
Embiid finished second in the MVP voting last season to Denver big man Nikola Jokic.
The 26-year-old Wiggins, meanwhile, is averaging 17.9 points, 4.2 rebounds and 2.1 assists in 53 games.
"Jo has been there," Self said. "Wiggs, he was drafted by Cleveland then got traded (to Minnesota and) was on a team that had no chance to win for so long. … It's so cool he is being recognized for consistency because he has been a very consistent, big-time pro."
GameDay headed to Waco
The Jayhawks will be featured on ESPN's College GameDay again next week, when the show heads to Waco, Texas, for the Big 12 showdown with Baylor.
Coverage from Baylor's Ferrell Center will begin at 10 a.m. on ESPN.
Baylor has hosted the college showcase spectacle five times previously, including twice for basketball. One of those was the KU-BU game in Waco two seasons ago.
KU and Allen Fieldhouse hosted the College GameDay crew in late January, when Kentucky came to town for the SEC/Big 12 Challenge.
This and that…
Saturday's win gave Kansas its 22nd win for the 32nd time in the past 33 seasons, dating back to 1989… KU now has won 11 or more Big 12 games for the 28th consecutive season, a streak that dates back to 1995 and is the longest active such streak in NCAA Division I… The Jayhawks are now 10-3 this season in games played away from Allen Fieldhouse, including 6-2 in true road games and 5-2 on the road in the Big 12… KU now leads the all-time series with West Virginia, 17-6. That includes a 4-6 mark in games played in Morgantown.
https://www.youtube.com/watch?v=rtyza9rWSec
https://www.youtube.com/watch?v=QQP3xoZlAiE
https://www.youtube.com/watch?v=qMVgkC4jz3E