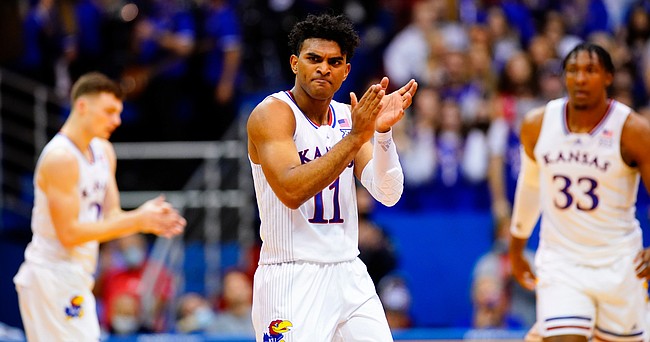 Kansas basketball coach Bill Self said Thursday, at his weekly news conference at Allen Fieldhouse, that injured guard Remy Martin told him this week that he was "definitely feeling better."
Still battling a bone bruise in his right knee, Martin has missed the last five games after being limited in the handful of games before that.
The Arizona State transfer has not played since KU's home loss to Kentucky, and his return to the court remains up in the air.
Self said earlier this week that there was no timeline for Martin rejoining the team, and he stuck with that stance during Thursday's meeting with the media.
"(With) Remy, I really don't know more other than the fact that, as of yesterday, he told me that he was definitely feeling better and he's doing more on the court, one-on-zero, and maybe could get into some type of practices sometime soon," Self said.
Most of Martin's time during recent weeks has been spent in rehab. He has been on the bench in street clothes for all five games in which he did not play.
While Thursday's update seems to suggest that Martin may be getting closer to suiting up again, Self said the timeline remained unknown.
"I still don't see an immediate return for him, based on Thursday, (February) 17th," Self added.
Sixth-ranked Kansas, which leads the Big 12 by two games in the loss column over Baylor and Texas Tech, plays at West Virginia at 7 p.m. Saturday and again Tuesday at home against Kansas State.
The Jayhawks have six regular season games remaining before the Big 12 tournament arrives, and Self has said in recent updates about Martin's status that the injured guard would likely need to return to action with a few games remaining in the regular season in order to have time to shake off the rust and adjust to rejoining the team.