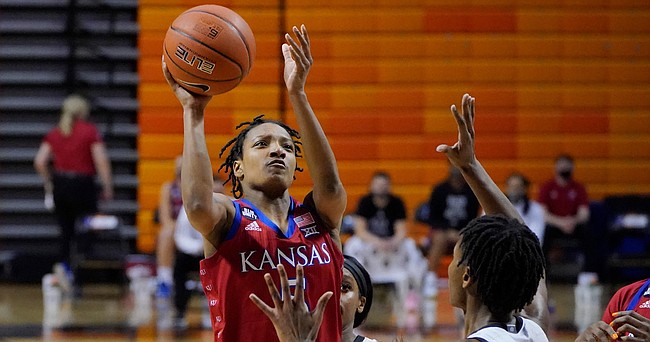 Aniya Thomas knows she still has plenty to give as her senior year draws to a close.
Her challenge, as the Kansas women's basketball team faces Texas Tech on the road on Saturday, is to keep up the momentum she gained during the win over West Virginia on Tuesday at Allen Fieldhouse.
Disruptive on defense and determined on offense, Thomas scored 12 points, including 10 in the second half, in 23 minutes off the bench in the 74-63 victory.
A longtime starter, Thomas was moved to the bench for the win at Oklahoma State on Jan. 29 that launched the Jayhawks' six-game winning streak. It's their longest against Big 12 opponents since they won seven at the end of the 1996-97 regular season.
Thomas gave the Jayhawks (18-5, 9-4 Big 12) a lift after junior guard Holly Kersgieter left the game during the third quarter as she battled dehydration. Thomas was on the court for much of the final 10 minutes and scored five points in the third quarter and five more in the fourth.
"It actually feels great, because going through that little slump, I was down on myself a lot and I just wasn't there," Thomas said. "So, when I got in the game, I wasn't as aggressive as I usually was on offense and on defense. But I've been working and got in the gym, and then I had to come out today because of Holly's absence. Everybody else had to step up and take over the minutes and do what they had to do."
Kersgieter, Kansas' leading scorer at 14.1 points per game, played just 9:22 against on Tuesday. She picked up her second foul just 1:58 into the game and sat for most of the rest of the first half, then collapsed in front of the bench with 5:09 left in the third quarter as she battled dehydration. (She is expected to play at Texas Tech.)
Thomas wasn't the first guard off the bench for the Jayhawks — that again was sophomore Chandler Prater — but she stayed on the court because of her defense, which smothered and harassed West Virginia.
With 1:54 left in the first quarter, Thomas forced A'riana Gray to fall out of bounds while trying to corral a bad inbounds pass. She swatted the ball away from the Mountaineers' JJ Quinerly with 6:21 left in the second quarter so Zakiyah Franklin could make a fast-break layup.
Thomas shot 5-of-14 during the first five games of Kansas' winning streak and 8-of-26 in the four games before it began. On Tuesday, she shot 4-for-6 and made both of her 3-point attempts.
"She's just been in a slump," coach Brandon Schneider said. "She'll be the first one to tell you that. You just have to keep working and stay confident and keep believing in yourself. She's done that. She's continued to practice really hard and put in extra time in the gym, and she really stepped up in moments when she was really needed (against West Virginia)."
Texas Tech lost 71-57 at Allen Fieldhouse on Jan. 22 but surprisingly won 97-87 at No. 15 Oklahoma on Wednesday.
After facing Texas Tech, Kansas will face the top four teams in the conference — No. 6 Iowa State, No. 7 Baylor, No. 14 Texas and No. 15 Oklahoma — leading into the start of the Big 12 Tournament on March 10.
Kansas' NCAA NET ranking, used as an evaluation tool for NCAA Tournament seeding, stayed at 35 on Thursday. It has remained in the low 30s throughout the last two weeks and signals that the Jayhawks still have work to do if they want to make an NCAA Tournament appearance for the first time in nine years.
Thomas, who has endured three challenging seasons with the Jayhawks, wants to make sure they get there — and that she's a big part of the reason why.
"Hopefully, I just keep being a good teammate and just be consistent lately and just stay believing in myself and believing in my teammates — and they continue to believe in me as well," she said.