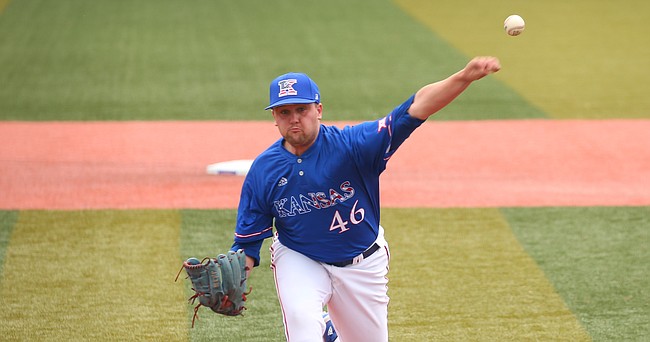 Daniel Hegarty remembers the heartbreak and frustration he and his Kansas baseball teammates felt three years ago.
Hegarty, then a sophomore, thought the Jayhawks would be selected to compete in the NCAA Tournament. They went 32-26, including 12-12 in Big 12 games, and finished fifth in the nine-team conference in 2019.
But when the 64-team field was finalized, Kansas was left out. The tournament was canceled the following season amid the start of the coronavirus pandemic, and the Jayhawks finished 30-27 last season but 8-16 in the conference, leaving them last in the Big 12.
That's why Hegarty, a redshirt senior left-handed reliever, is determined to accomplish one thing above all others this season.
"I think the main goal is to make a regional," Hegarty said. "We haven't made one since 2014. ... Regionals, No. 1, and finishing in the top half of the Big 12."
The march toward making that dream a reality begins Friday as the Jayhawks open their season with a three-game series against Illinois in Corpus Christi, Texas.
As is often the case, they'll play almost all of the nonconference portion of their schedule away from Hoglund Ballpark, with 22 of their first 23 games set for warmer, less-wet locations. Their home opener is scheduled for March 2 against Missouri State, and they'll be back starting March 30 for a game against Wichita State before conference play opens.
None of Kansas' players know anything other than finishing in the bottom half of the Big 12, but if Hegarty's approach is any indication, that only fuels their desire to succeed.
Of the Jayhawks' 43 players, 32 are underclassmen. The three captains — Hegarty, closer Jonah Ulane and starter Cole Larsen — are redshirt seniors who are using their extra year of eligibility granted by the NCAA because of the pandemic. So are catcher Nolan Metcalf, left fielder Tom Lichty and right fielder Caleb Upshaw, all projected starters.
"We have our best (seasons) when we have juniors and seniors, and that's usually when we overachieve and we find a way to make a regional or we're on the cusp of it," said coach Ritch Price, who is entering his 20th season with the Jayhawks and is 561-523-3. "I think these guys know they're capable of doing it and they know it will be a grind and it will be a challenge, but they're looking forward to it."
Price said the team is "clearly a lot better than we were last year," but that its success will likely be determined by the quality of its starting pitching. Larsen, who went 5-5 last season with a 3.87 ERA, 1.40 WHIP, 86 strikeouts and 36 walks in 95 1/3 innings, is the only member of the rotation returning.
To begin the season, he'll be joined by redshirt sophomore Ryan Vanderhei, who was in the bullpen last season and has a fastball that can reach 96 mph, and sophomore Sam Brady.
"I think that we have a lot of guys that are young that had some minor roles last year that are going to step into some larger ones, and I think just being able to watch Dan and Jonah in the back end, they'll be able to step in there," Larsen said.
At the plate, Tavian Josenberger and Maui Ahuna, who excelled for the Jayhawks last season as freshmen, figure to only get better with a year of experience.
Josenberger, the team MVP, hit .316 with 39 runs, 31 RBI and a .392 on-base percentage. He should settle in at second base after spending time in the outfield. Ahuna, the shortstop from Hawaii, hit .314 with 33 runs, 11 doubles and a .413 on-base percentage.
A pair of redshirt freshmen, first baseman Cooper McMurray and outfielder/designated hitter Jack Hammond, also figure to play prominent roles in a season Ulane, the closer, called his "last ride."
Ulane, entering his sixth season, will graduate with a master's degree in business administration in the spring. He, like Hegarty, remembers the disappointment from earlier in his career, and he knows he has a chance to help Kansas make that elusive NCAA Tournament appearance.
"I think we've finally got the talent and the depth to do that," he said, "so super excited to go out there and see what we can do on the field and really excited to (compete against) this league and excited to see where we can go."