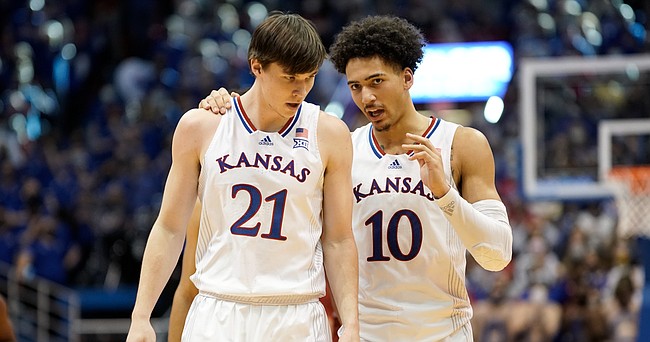 Kansas freshman Zach Clemence can't help but feel a little energized by his return to the lineup and the success he has experienced in the past two games.
Out a full month because of a toe injury, Clemence said a group decision was made to allow the injury to fully heal — and then some — before making him available on game nights again.
Sitting out was tough then. But now that he's back, Clemence is thankful for the extra precaution.
"If you asked me two weeks ago, I still would've played," he said Thursday. 'But I think it was best for me to sit out."
Fully healing was one of the advantages. But the other big one has yet to be seen. Clemence believes it's coming, though, and he's excited about what his fresh legs and body can do for this Kansas team.
With a two-game lead in the loss column on their closest competitors in the Big 12 race, the Jayhawks have three games left at home and three games remaining on the road. The first comes this weekend at West Virginia — 7 p.m. Saturday on ESPN — and after a home game against Kansas State next Tuesday the Jayhawks head to Baylor the following Saturday.
Clemence believes he's capable of playing a bigger role if needed. Whether that comes in the way of more minutes, more scoring or simply by being another body that Kansas coach Bill Self can use to make sure the starters stay fresh, Clemence is up for any of it.
"I look at it like a boost," he said on Thursday. "I sat out four weeks and no one else did. So that's a lot of energy I've got."
The key for Clemence in utilizing that energy in a way that helps the team is to play smart and not try to do too much. Self's instructions to Clemence when he sent him to the floor against Oklahoma last weekend included two key pieces of information — make the easy play and don't shoot unless you're wide open.
The longer Clemence is out there and the more comfortable he is with being back, the more freedom he might receive to expand his role. But those two elements will likely remain the central theme of the instructions given to Clemence and everyone who checks in from the Kansas bench.
Self reiterated on Thursday that he would like to see Dajuan Harris Jr. and Ochai Agbaji's minutes come down just a bit. Harris' body frame and Agbaji's max-effort-all-the-time approach to the game tend to tax both of those players on a nightly basis.
Self isn't as worried about Jalen Wilson and Christian Braun — "I personally think Jalen and CB can play all day," Self said Thursday — and KU's fifth starter, senior forward David McCormack, is only averaging 22.3 minutes per game as it is.
But the KU bench, perhaps led by the emergence of Clemence, figures to be a factor in one way or another as the team heads into the final weeks of February and looks ahead to March.
"We have a good bench," Wilson said Thursday. "Basketball is basketball. Sometimes off nights happen or foul trouble. Sometimes (if) I'm not playing well (it's nice to have guys) continuing to give us energy off the bench."
Added Self: "I don't want to say bench is overrated because it's not if you have injuries or foul problems. But (with) time, guys can play longer in the postseason because the timeouts are so long."
Because of that, along with the fact that KU's five starters are among the five or six players on this roster that Self knows the best and trusts the most, it makes sense that KU would want to keep that group on the floor as long as possible.
Giving them breaks during games is one way to manage their workload the rest of the way. But Self is much more concerned about finding other ways to do it so that they're available as much as needed when the lights are on.
Take this week for example. After playing last Saturday and again on Monday night, the Jayhawks were given two full days of rest before practicing again on Thursday.
"I didn't let them do anything Tuesday or Wednesday," Self said. "So we should have fresh legs going into West Virginia."
Clemence's freshness is likely to be in the best shape of all, but because he's a freshman and going through all of this for the first time, he said he was happy to have a talented group of veteran starters leading the way. His only job as a result is to stay ready in case he's needed.
"I wouldn't say it's hard," he said. "I think it's nice because that means you don't have to produce every night. You should, but it's life. Things happen. I'm going to try to do everything I can to win. I know everyone else will (too) and it's just who's doing better that night. We're deep. Everyone can play. So if you don't do well it's next man up."