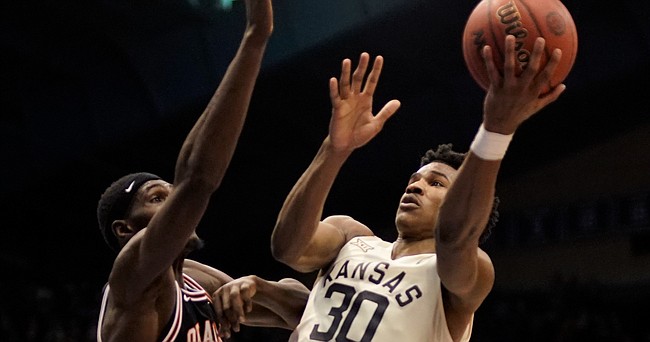 After scoring just 11 points in last Saturday's win over Oklahoma, Kansas senior Ochai Agbaji's scoring average dipped below the 20-point mark for the first time in weeks.
So, naturally, Agbaji went out and scored 20 points in Monday's 76-62 win over Oklahoma State at Allen Filedhouse.
The senior guard's latest 20-point outing — his 13th of the season — did not bring his average back above 20 points just yet. But it reminded Agbaji and the rest of the sixth-ranked Jayhawks (21-4 overall, 10-2 Big 12) that their top guy can still find a way to produce even when other teams gear their entire game plan to stop him as Texas, Oklahoma and Oklahoma State have done in KU's last three games.
"I thought he was great tonight," Kansas coach Bill Self said of Agbaji after Monday's victory. "I thought he was great against Oklahoma. I thought he moved without the ball great."
Photo Gallery
Kansas basketball v. Oklahoma State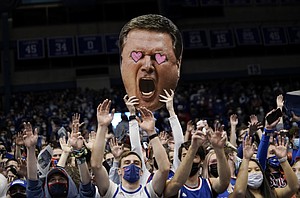 View a gallery of images from Monday night's game between the Jayhawks and Cowboys at Allen Fieldhouse.
The importance of that last part cannot be overstated. For starters, the only way Agbaji is going to get opportunities when teams face-guard him and try to prevent him from even catching the ball within the flow of KU's offense is for him to keep moving.
Back cuts here. Slashes through the lane there. Runs to the rim. Sprints along the baseline from one corner to the other and then back again. All of it is crucial to keeping Agbaji involved and, more importantly, in keeping the other team's defensive attention on KU's leading scorer.
"You're not always going to make shots and people are going to be designed to stop you," Self said. "But what those guys can do, they can make it easier for everybody else."
Ever the fan of sports analogies — golf is his favorite — Self likened Agbaji's impact in recent KU games to that of a top receiving target on the football field.
"If you put two guys on a wide receiver, he may not get numbers, but it opens up somebody else because they get single coverage," Self said. "That's kind of how I look it. And I think Och is starting to understand that, as well."
Several Jayhawks, including Agbaji, have talked about this recent development by opposing defenses as an opportunity for the rest of the team to play 4-on-4 in half-court sets with Agbaji being smothered and suffocated by his defender.
"It spreads the floor so much for other guys to drive," KU senior Mitch Lightfoot said recently. "So, there's definitely some opportunities to get downhill."
Few players take better advantage of that than sophomore guard Jalen Wilson, who has been in full-time attack mode during the past month.
With Agbaji usually standing deep in the corner near the sideline or high above the 3-point line, Wilson has found more space to attack. That has led to him getting to the paint more and also led to more easy baskets. It may not be a coincidence that Wilson, who is averaging 10.5 points per game for the season, has averaged 17 points per game in the three games that KU's opponents have employed special strategies to take Agbaji away.

Dajuan Harris Jr. and Christian Braun have taken advantage of those same opportunities, as well.
Agbaji's comfort in this world and comprehension of his role in it, came through loud and clear on Monday night, when Harris discussed his own offensive aggressiveness after scoring 12 points in the win over the Cowboys. Harris noted that Agbaji on multiple occasions has pointed out to him, "If they keep leaving (you) open, just shoot the ball."
Those are not the words of a greedy superstar who wants to get buckets at all costs. Those are the words of an evolving basketball mind whose focus is on winning above everything else. Self has enjoyed watching Agbaji grow in this area as much as anything he has done on the stat sheet.
"There were times other people got shots just because he moved without the ball," Self said after Monday's win. "He's got to work so hard to get open because of how people play him. And he's denied on one side of the floor, the ball's reversed and he's denied on the other side and he's the only one that does that. I think he's playing really well."
Of course, it didn't hurt that, even in the midst of such Agbaji-focused defensive strategies by KU's opponent, the veteran guard was able to finish with a game-high 20 points while filling up the rest of the stat sheet with seven rebounds, four assists and three steals.
"Twenty points on a night when he didn't shoot the ball well from the perimeter, I think, is pretty good," Self said of Agbaji's 5-of-12 shooting, which included a 1-of-6 clip from 3-point range. "They were obviously keying on him. (But) I think he's playing loose. I think he's playing with joy. I think he's really done a nice job."