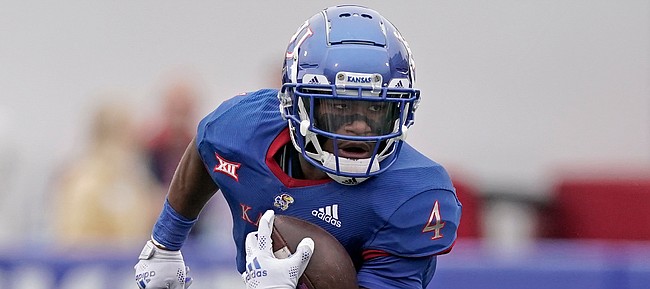 Kansas freshman Devin Neal will still play baseball this spring, even after an impressive first season in which he started eight games as a running back on the football team.
Neal, a Lawrence High grad, committed to play both sports for the Jayhawks in March 2020. He ran for team highs of 707 yards and eight touchdowns in the fall and is in line to resume that responsibility as he enters his second season.
But he will also play left field for the baseball team, which begins its season Friday with a game against Illinois in Corpus Christi, Texas.
"I never once thought about not doing both," Neal said Tuesday. "I never once talked with Coach (Lance) Leipold about not doing both. The plan was from the get-go that I was going to play both. ... There was never a moment where I didn't know that I wasn't definitely going to play both."
Football players began their winter conditioning program last month, and Neal has been participating in those workouts. He'll leave the football facility, attend classes or tutoring sessions, head to baseball practice and then go home for recovery and to do homework.
But how Neal balances his obligations requires some planning.
The baseball team is scheduled to play 22 of its first 23 games away from home — a stretch that includes five midweek contests and ends with a game against Wichita State at Hoglund Ballpark on March 30.
The football team, meanwhile, will hold the first of its 15 spring practices later this month. Per NCAA regulations, those must be held within a 34-day window, though teams can pause those sessions if a university is on spring break.
That means there will be significant overlap between the sports. Neal said he and teammate Trevor Kardell, a tight end and first baseman, will attend spring football practice on Tuesday and Thursday but miss Saturday's sessions. Not every player will travel for every road baseball game, but if Neal and Kardell do, they'll travel separate from the rest of the team in order to meet their football obligations.
Neal was the top-ranked high school football player in Kansas in the Class of 2021, according to Rivals.com, and the No. 2 high school outfielder in the state by Perfect Game and Prep Baseball Report.
He committed to play football for former coach Les Miles, who parted ways with the university in March after he was placed on administrative leave following allegations of sexual misconduct from his time at LSU. Leipold, who was hired as Miles' successor in late April, has been supportive of Neal and Kardell attempting to play both sports.
Baseball coach Ritch Price said Leipold has been "great to work with" regarding the two players' availability, which helps given their potential as baseball players.
"Devin Neal has a chance to be a very good baseball player," Price said. "He's not as polished yet as he is in football because he didn't play summer ball and he didn't play fall ball, but the physical skill set is there. He can really run. He's strong. He's physical. He's got good routes in the outfield. He's got good hands. He just needs game at-bats.
"He's still struggling with the breaking ball, like all young players do, but I fully expect that he'll get better as the course of the season goes on and I could see him being a starter for us a year from now."
Neal entered the football season behind junior Velton Gardner, sophomore Daniel Hishaw Jr. and redshirt freshman Amauri Pesek-Hickson, but Gardner decided to transfer after three games and Hishaw missed the entire season after undergoing surgery to address an unspecified preseason injury.
Kardell, a redshirt freshman in both sports, played in 11 games for the football team in the fall and caught five passes for 86 yards. He was on the baseball team last season but did not play.
Neal participated in the baseball team's intrasquad scrimmage for starters and top backups last week, and he said he expects to play both sports "as long as I can go."
"I knew it was going to be challenging," Neal said. "Obviously, I didn't know how exactly it was going to work, and obviously, since there was a different coaching staff and a different plan with them, just both coaching staffs have been phenomenal in allowing me and Trevor to do both."