Tuesday, February 15, 2022
Dajuan Harris Jr. was standing alone in the right corner for four seconds before he finally raised his right arm.
The Kansas basketball team's starting point guard hasn't been much of a scoring threat this season, so it was understandable that Oklahoma State was not paying any attention to him midway through the first half on Monday at Allen Fieldhouse.
But David McCormack was. The sixth-ranked Jayhawks' senior center was posting up Matthew-Alexander Moncrieffe near the left block when he saw Harris over his left shoulder and swung the ball his teammate's way.
Photo Gallery
Kansas basketball v. Oklahoma State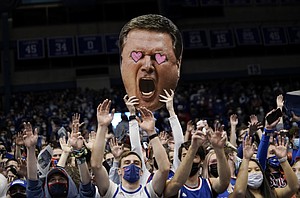 View a gallery of images from Monday night's game between the Jayhawks and Cowboys at Allen Fieldhouse.
A smooth shot. A sculpted follow-through. Nothing but net.
"If they're going to leave him open for a 3," senior guard Ochai Agbaji said, "we want him to shoot that."
And so Harris did, making a pair of 3-pointers and scoring 12 points in Kansas' 76-62 victory over Oklahoma State at Allen Fieldhouse.
The redshirt sophomore fell two points shy of a career high, which seemed likely when he scored his 12th point on a turnaround jumper with 15:57 remaining.
He also finished with a team-high five assists and two steals, one of which was an intuitive theft of a pass by Moussa Cisse late in the first half.
Harris is averaging 5.8 points per game and shooting 46.1 percent this season, including 32.4 percent from 3-point range.
But for Kansas to continue to have a multidimensional offense, Harris needs to be able to score.
On Monday, he did.
"Juan's got to be a threat," coach Bill Self said. "He doesn't have to score 15 a game, but if he can get in that eight to 12 range, it certainly helps us. He's got a great floater. He usually makes that floater, and of course tonight, he knocked down a couple 3s as well."
Harris' value to the Jayhawks has changed in recent games following the injury to Remy Martin, who has a bone bruise in his right knee and has played sparingly since the start of Big 12 play — and not at all since Jan. 29.
Opponents haven't often respected Harris as a scorer, leading to situations in which he has been open yet still passed up a shot.
He knows that can't continue to happen.
"Really, I give my credit to my teammates, (who tell me) 'Keep being aggressive,'" Harris said. "My teammates and my coaches, they just keep telling me to have confidence in my shot and just keep shooting it."
Self has praised Harris several times this season, including as recently as the victory over Oklahoma on Saturday, for his defense. His steal of Cisse, in which he baited the Oklahoma State center into dribbling upcourt against his will before picking off the pass and returning it for an easy layup, demonstrated his mentality.
"I just try to use my instincts," Harris said. "Coach tells me to use them all the time, just being smart, using my hands because I've got quick hands. That's what I try to do."
But Harris, who missed all seven 3-pointers he took over the first eight games until he knocked down three of four in the win against Missouri, is starting to emerge as more than a facilitator.
He set a career high with 14 points in the victory over Nevada on Dec. 29, then matched it with another 14 in the win at Iowa State on Feb. 1.
Technically, that theft of the pass from Cisse fueled a transition opportunity, one Harris neatly finished himself. He said he knows his value is in creating those chances by forcing turnovers so Agbaji and Jalen Wilson can score.
But Agbaji likewise knows Harris can do more to help his teammates, too. Scoring is a big part of that.
"He's going to make (his shots), and that works out well for us, so I think just keeping him aggressive and confident (is important)," Agbaji said. "And that's just going to benefit all the other guys and benefit our team."
https://www.youtube.com/watch?v=WS5mvXH9lng
https://www.youtube.com/watch?v=1J9g7UfxeRo