After continuing his midseason tear, which has reminded many people of his production and performance from a season ago, Kansas forward Jalen Wilson was named Big 12 Player of the Week on Monday.
The third-year sophomore from Denton, Texas, finished last week just one rebound shy of back-to-back double-doubles. He tallied 18 points and 11 boards in a loss at Texas and followed that up with 22 points and nine rebounds in a home win over Oklahoma. On Monday night, in a 76-62 win over Oklahoma State, Wilson finished with 11 points and seven rebounds in 25 minutes.
After a slow start to the season, which included a three-game suspension out of the gate, Wilson has averaged 15.6 points per game and 8.7 rebounds per contest in his last nine games. His 7.1 rebounds-per-game average entering Monday night ranked third in the Big 12.
Wilson has said throughout the past month that a change in attitude — from me-first to team-first — led to the turnaround, and KU coach Bill Self said last weekend that Wilson was playing at an all-league level on the offensive end in recent weeks.
Photo Gallery
Kansas basketball v. Oklahoma State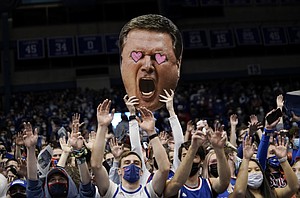 View a gallery of images from Monday night's game between the Jayhawks and Cowboys at Allen Fieldhouse.
"I would say he's playing, at this moment, like that," Self said of KU's third-leading scorer. "He is playing well."
Wilson, who finished the 2020-21 season with nine double-doubles, averaged 20 points and 10 rebounds last week on 63.6% shooting. He entered Monday averaging 10.4 points per game and also ranks fourth on the team with 40 assists in 21 games.
"Just getting in the right spots, not trying to force anything and driving bad close-outs (by the defense)," Wilson said while explaining his recent production. "Shooting better shots, smarter shots, and knowing where I want to get to."
Added KU junior Christian Braun of Wilson's high shooting percentage: "It's important for Jalen to get downhill and just be him. We know he can do it at all three levels."
Monday's honor was the second of Wilson's career. He also was named Big 12 Newcomer of the Week in February of last season. It marked the fifth Big 12 weekly honor for this season's Jayhawks, with senior guard Ochai Agbaji earning the player of the week nod three times and junior guard Christian Braun winning it once.
KU up to 6th in AP poll
Despite a 1-1 record last week, Kansas jumped two spots in the latest Associated Press Top 25 poll, from No. 8 to No. 6.
KU lost at No. 20 Texas last Monday night in a game that came down to the final seconds and followed that up with a home win over Oklahoma on Saturday in another game that came down to the final seconds.
Last week's split kept Kansas a half-game ahead of Baylor in the Big 12 race. Baylor is ranked No. 7 in this week's poll with a record of 21-4 overall and 9-3 in Big 12 play. The two will square off again in Waco, Texas on Feb. 26.
Texas Tech dropped two spots to No. 11 and Texas stayed put at No. 20. No other Big 12 program received votes in this week's poll.
Gonzaga, meanwhile, jumped back into the No. 1 spot in place of Auburn, which dropped its second game of the season last week. Arizona, Kentucky and Purdue round out the top five ahead of KU.
No J-Cole
Kansas senior Jalen Coleman-Lands missed Monday's game because of what Self said was a migraine.
Coleman-Lands was not at Allen Fieldhouse during Monday's game with the Cowboys. Self said he didn't learn about Coleman-Lands' condition until before the shootaround began at 3 p.m.
KU senior Remy Martin sat out another game while still nursing the bone bruise in his right knee. Martin was in street clothes on the KU bench.
Bryce Thompson booed

Former Jayhawk Bryce Thompson, who transferred to Oklahoma State in the offseason after one year at KU was booed during the starting introductions on Monday night.
Thompson was the second OSU player introduced and he received the loudest ribbing from the Fieldhouse fans, most of them coming from the KU student section.
Midway through the first half, when Thompson went to the free throw line, KU's student section chanted "traitor, traitor, traitor" in Thompson's direction as he connected on one of two free throws.
Throwback uniforms
The Jayhawks ditched their usual crimson-and-blue clad uniforms on Monday night in favor of a more basic look that paid tribute to the Helms Foundation National Championship team of 1922.
One of five national titles in Kansas basketball history — three NCAA titles and two Helms trophies — the 1921-22 team, coached by Phog Allen, finished 16-2 and played its home games in Robinson Gymnasium.
Tuesday's uniforms featured dark gray shorts with white accents and white tops with dark gray letters and numbers. The Jayhawks won Helms titles in 1922 and 1923 and NCAA titles in 1952, 1988 and 2008. The Helms titles were awarded retroactively at the end of every season from the 1919-20 season through 1941-42. The first NCAA Tournament was played in 1939 and Oregon won the first NCAA basketball title.
This and that…
Monday's victory moved Kansas to 10-2 in Big 12 play, giving the Jayhawks at least 10 wins in conference play for the 28th consecutive season. The streak started in 1995 and is the longest active streak in NCAA Division I. KU's 33 consecutive seasons of at least 21 wins, which began in 1989-90, is also the longest active streak in NCAA Division I… KU now leads the series with Oklahoma State, 121-60. That includes a 66-12 record in games played in Lawrence and a 51-10 mark in Allen Fieldhouse… KU is 12-1 inside its home venue this season… Monday's victory was also career win No. 750 for Self, who is now 750-227 all-time and 543-122 while at Kansas. Self is also now 25-14 all-time against his alma mater, including a 24-11 mark while at KU.
https://www.youtube.com/watch?v=WS5mvXH9lng
https://www.youtube.com/watch?v=1J9g7UfxeRo