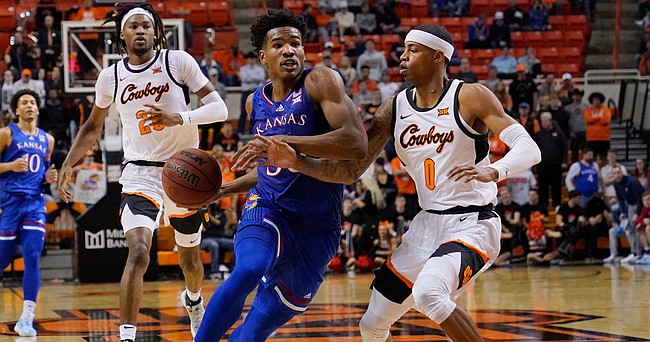 No. 8 Kansas Jayhawks (20-4 overall, 9-2 Big 12) vs. Oklahoma State Cowboys (12-12 overall, 5-7 Big 12)
Time: 8 p.m., Monday, Feb. 14, 2022
Location: Allen Fieldhouse, Lawrence, Kansas
TV: ESPN | Radio: IMG Jayhawk Radio Network
Keys for Kansas
1. Fix the free throw thing
One of the easiest things for basketball fans to complain about — and be right about — is poor free throw shooting.
And while the Jayhawks have been pretty good in that area for most of the season, things haven't been as good of late. In KU's first 11 Big 12 games, the team is shooting 71% from the line. In the past two games, KU shot just 60.8% from the line, making 15 of 23 at Texas and 13 of 23 against Oklahoma.
KU's free throw shooting woes played a part in deciding the past two games.
Last Monday, in a road loss at Texas, the Jayhawks missed a few late that left the door open for the Longhorns to claw back and win late.
The same fate almost repeated itself on Saturday at Allen Fieldhouse, when the Jayhawks made just six of 12 at the line in the final 1:38, turning what should have been a cruise-control victory over OU into a hold-your-breath situation in the final few seconds.
As most people know, free throw shooting is as much mental as anything. Practicing them for hours or coming up with tricks or gimmicks to try to fix free throw issues doesn't always translate.
What does is focusing in while you're on the line and knocking them down. That's the goal from here, KU junior Christian Braun said after Saturday's win over the Sooners.
"There are times you can close people," Braun said of making free throws late. "That's two games in a row we've struggled with it. (But) we got a win. That's what's important."
Three of KU's five starters — the guys who play the bulk of the minutes — are shooting 71.1% or better from the free throw line this season. Only Jalen Wilson (64.8%) and David McCormack (68.3%) are below 70% in KU's starting five.
Dajuan Harris Jr. leads KU's starters at 80%. Joe Yesufu (4-for-4 on the season) and Jalen Coleman-Lands (12-for-15, 80%) are also among KU's best free throw shooters.
2. Match OSU's athleticism
When the first thing out of the mouths of any Jayhawks you talk to about Oklahoma State is how athletic the Cowboys are, matching that athleticism has to be a key.
It was last time, when the Jayhawks opened Big 12 play in Stillwater. And it will be in this one, as well.
"They are the most athletic team in the league," KU coach Bill Self said the Cowboys. "When we played them the first time, they were coming off a COVID pause and we still went nine minutes without scoring. Even though we won the game going away, we've got to be better than what we were (against Oklahoma) and certainly think we are capable of that"
OSU's athleticism starts in its backcourt. With players like Isaac Likekele, Bryce Thompson, Bryce Williams and Avery Anderson all capable of scoring, playing multiple positions and pushing the pace. And up front, Moussa Cisse and Kalib Boone both bring a fair amount of athleticism to the court, as well.
Saturday's win over Oklahoma was a good look at what the Jayhawks can be — both the good and the ugly. In the first half, they labored through most possessions and looked slow and sluggish. That changed dramatically in the second half and it all coincided with KU being intent on getting out in transition.
The players all believe this team is at its best when they're flying up and down the floor. It took that to survive the Sooners over the weekend. Let's see if KU looks to start out that way against Mike Boynton's Cowboys, who just whipped West Virginia, 81-58, over the weekend.
The Jayhawks did exactly that in Stillwater before falling victim to an ice-cold stretch that featured OSU closing the half on a 14-0 run to tie things at 29 and keeping Kansas scoreless for the final 9:12 of the half.
A lot has happened between then and now, but you can bet the Jayhawks — particularly the coaching staff — have not forgotten about that ugly stretch.
3. More from McCormack
Like it or not, the Jayhawks still believe that feeding the ball to Big Dave can be the path to success. They showed that to open the Oklahoma game over the weekend and McCormack, while active, did not quite do enough to keep the strategy going.
A lot of that had to do with his issues guarding Tanner Groves, but Self said he would've liked to get more from McCormack given how much they featured him.
"As much as we went to him early, I thought that we probably could've come away with more," Self said. "(But) David did fine."
McCormack was a monster the last time KU played OSU. And it came in a game where Mitch Lightfoot replaced him in the Jayhawks' starting lineup. McCormack responded by scoring 17 points on 7-of-13 shooting (and 7-of-8 from the free throw line) and grabbing 15 rebounds.
At this point, it's clear that the Jayhawks are going to try other options at the 5 at various points in games. Lightfoot will get his minutes. And freshmen KJ Adams and Zach Clemence could get a chance at any point, as well.
So, McCormack, even on a good night, may only have to play 20-25 minutes per game. He's averaging 20.3 minutes per game for the season and only slightly more (22.8) in Big 12 games. Not only does that type of workload keep him fresh and help keep some of the pounding off of that injured foot, but it also should limit the pressure on him to perform.
The flipside of that, though, means that when the Jayhawks do feed him, he has to deliver.
The matchup with the Cowboys was good for him the first time. It will be interesting to see if it's the same thing during Round 2.
He struggled against the length of the 7-foot Cisse and feasted when Cisse was on the bench in foul trouble. If that happens again, McCormack could win KU this game.
Marquee Matchup
KU's bench vs. recent performances
Freshman forward Zach Clemence saved KU's bench in the win over OU. And he might've saved the Jayhawks as a whole.
His defense on OU big man Tanner Groves was critical. And his big 3-point shot — after not playing in a month — gave the Jayhawks the lead for good down the stretch.
Clearly, there may be more minutes for Clemence in the very near future. For one, he performed well. For two, he brings good size, athleticism and shooting to the floor with him. All of those strengths are things the Jayhawks can use more of at any time against anybody.
We've seen this movie before, though, right? Self says he wants to play his bench more. A guy has a good game off the bench and looks as if he's headed for bigger minutes. And then said guy doesn't play a ton the next few times out.
There are reasons for all of it, of course. And defense — or lack thereof — has a lot to do with it. Of course, so does execution, poise, Self's trust in them and more.
KU's first five is playing far too much right now. McCormack has the sore foot and could use a couple of "easy games." So could Ochai Agbaji, who keeps taking a pounding and playing high minutes. And the same is true for Dajuan Harris Jr., who KU almost can't take off the floor right now.
The reality of the situation is that KU's team is still incomplete. Until we know what Remy Martin is capable of doing for this group, we won't know fully what the bench can, will or even should look like. But it's still unknown when Martin might return, and it would do the Jayhawks well to start getting some more consistent and regular production from at least a couple of bench guys while they wait.
Clemence and Yesufu, with Lightfoot playing his regular role, would be the most likely options. With Coleman-Lands playing a specialist role and used when needed.
Jayhawk Pulse
Playing their final Saturday-Monday turnaround of the season, the Jayhawks enter this one on the heels of a couple of absolute battles.
Both took quite a toll on the Jayhawks, mentally and physically, and it will be interesting to see how much that impacts this team out of the gate.
The Big Monday atmosphere always helps, and Allen Fieldhouse should once again be rocking. But there's no doubt that these guys could use a couple of days of down time. After this, they'll get it, not playing again until Saturday at West Virginia.
Regardless of where they're at in terms of exhaustion, expect KU to be dialed in. Braun re-emphasized after Saturday's win that holding serve at home is absolutely critical if the Jayhawks want to win the Big 12 Conference. The schedule matches up well with that sentiment. Counting Saturday's win over OU, five of KU's final eight regular season games are at home.
The Cowboys are an interesting team for more than just their style of play and the makeup of their pieces. Remember, this is a group that knows it cannot play in the postseason this year. That means no Big 12 tournament and no NCAA Tournament.
As a result, OSU's biggest games are right now and the Cowboys are trying to get twice as much out of every outing in an effort to build some momentum for next season and a return to postseason eligibility.
While that can lead to an inspired team it can also go the opposite way. With Boynton in charge, it typically leads to a laser-focused group that plays hard no matter what the circumstances are. But as the season enters its homestretch, you can't help but wonder if OSU knowing the end is coming will be a factor for them during the next few weeks.

The Kansas-Oklahoma State series dates back to 1926, with KU holding a 120-60 all-time advantage. KU is 65-12 against OSU in meetings in Lawrence, including a 50-10 mark inside Allen Fieldhouse. Since the inception of the Big 12, Kansas is 31-13 against OSU — 25-11 in regular-season play and 6-2 in the Big 12 tournament.
The Jayhawks opened as 12-point favorites in Las Vegas and the line has dropped just a bit to -11.5 in some spots and as low as -10.5 in others.
KenPom.com lists KU as a 12-point favorite with a win probability of 85%.

Probable Starters
No. 6 Kansas
G – Dajuan Harris Jr., 6-1, 180, Soph.
G – Ochai Agbaji, 6-5, 210, Sr.
G – Christian Braun, 6-7, 205, Jr.
F – Jalen Wilson, 6-8, 225, Soph.
F – David McCormack, 6-10, 265, Sr.
Oklahoma State
G – Avery Anderson, 6-3, 170, Jr.
G – Isaac Likekele, 6-5, 215, Sr.
G – Bryce Thompson, 6-5, 195, Soph.
F – Tyreek Smith, 6-7, 220, Soph.
F – Moussa Cisse, 7-0, 225, Soph.