Kansas forward Jalen Wilson had team highs of 22 points and nine rebounds in the eighth-ranked Jayhawks' 71-69 victory over Oklahoma at Allen Fieldhouse on Saturday, but coach Bill Self said after the game he isn't eager to crown Wilson as an all-Big 12 player just yet.
Wilson also led Kansas in both categories in the 79-76 loss at No. 20 Texas on Monday. He's averaging 9.4 points and 7.1 rebounds this season but has improved those numbers to 14.4 points and eight rebounds in Big 12 play.
Self didn't want to take that leap because he said it's difficult at this point to compare Wilson to others around the conference.
"I love how Jalen's playing, but I'm not going to say that we have three first-team all-leaguers on his team, because that's obviously the case if he's an all-league player," Self said. "You'd obviously have the other two as well, but the guy, he is playing well. He is playing well."
Photo Gallery
Kansas basketball v. Oklahoma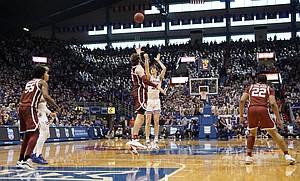 View a gallery of images from Saturday's game between the Kansas Jayhawks and Oklahoma Sooners at Allen Fieldhouse.
Kansas figures to have two players, senior guard Ochai Agbaji and junior guard Christian Braun, among the contenders for the all-Big 12 team as well.
Wilson was able to close out Saturday's victory by making three of four free throws in the final 1:04.
"I'm just getting in the right spots, not trying to force anything," Wilson said. "I'm just shooting better shots, smarter shots, and knowing where I want to get to."
Braun said he thinks Wilson has been much more assertive in recent games. That has led to his increased success.
"When he's aggressive, like at Texas, he can be one of the best players on the court," Braun said. "When he's aggressive, that's what's best for us. We're confident in his abilities and his playmaking and he's done a really good job the last few games."
Self: We're worried about Agbaji
Self said he's concerned about Agbaji's health as the Jayhawks head into the final three weeks of the regular season.
Agbaji appeared to injure his right wrist and left knee during a hard fall with 4:58 remaining. He has already been taping up his left wrist after he collided with the scorer's table during the win at Oklahoma on Jan. 18.
He finished with 11 points and six rebounds in 37:40 on Saturday. He's playing nearly 35 minutes a game this season.
"He needs to take some reps off, no question, but that's what the best players do — they play regardless of what the situation is," Self said. "I'd like to get his minutes down to 33 or 34, but right now, we've got to have some bench (players) step up before we're probably able to do that."
Former coaches, players recognized
Kansas honored those who led the Jayhawks to the Final Four during the 1970-71 season at halftime. Former coach Ted Owens and players David Robisch, Roger Brown, Fred Bosilevac, Robert Kivisto, Mark Williams and Neal Mask were among those recognized.
Self said Friday that the celebration takes on extra significance following the death of Bill Lienhard, a forward who helped Kansas win the national championship in 1952. Lienhard was remembered with a moment of silence before the game.
"Any opportunity for those guys to get together, I think, is fantastic, and we should all honor them at any opportunity we get," Self said.
Gibson limited
Kansas held Oklahoma's leading scorer, Umoja Gibson, without a point and limited him to just two shots, both of which he took in the second half. Gibson entered averaging 12.8 points per game this season and scored a season-high 30 points in the Sooners' previous game, a 70-55 win over No. 9 Texas Tech on Wednesday.
This and that
The victory means Kansas has won at least 20 games for the 33rd consecutive season, the longest streak of any Division I team. Kansas still has not lost to Oklahoma in Lawrence in the Big 12 era, which dates to the start of the 1996-97 season. Overall, it has won 23 consecutive wins against Oklahoma at Allen Fieldhouse, with the last defeat on Feb. 17, 1993, an 80-77 loss.
Oklahoma committed just nine turnovers, including three in the first half. It entered the game averaging 15 turnovers game, good for 322nd out of 350 Division I teams. Oklahoma State, Kansas' opponent on Monday, was averaging 14.9 before Saturday's games began.
Oklahoma freshman Alston Mason, from Overland Park, had one rebound and two steals in 10:10 off the bench. Mason was named to the Kansas all-state first team twice while playing at Blue Valley Northwest High.
https://www.youtube.com/watch?v=mLro9KEcUgU
https://www.youtube.com/watch?v=BSDxICVyzBA