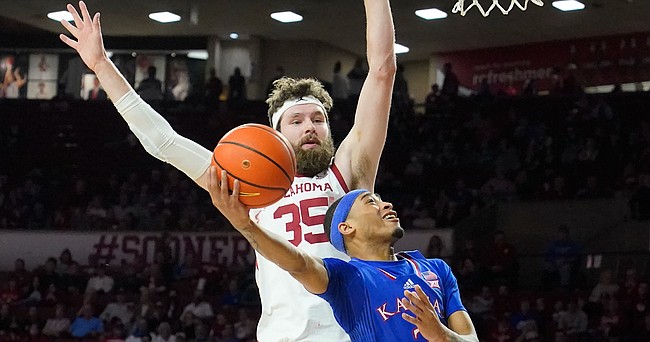 No. 8 Kansas Jayhawks (19-4 overall, 8-2 Big 12) vs. Oklahoma Sooners (14-10 overall, 4-7 Big 12)
Time: 12 p.m., Saturday, Feb. 12, 2022
Location: Allen Fieldhouse, Lawrence, Kansas
TV: CBS | Radio: IMG Jayhawk Radio Network
Keys for Kansas
1. Back in the saddle
When the Jayhawks left Erwin Center on Monday night, they were reeling from a game they felt they gave away.
The three-point loss to the Longhorns was a physical battle that left both teams exhausted and came down to UT executing better than the Jayhawks in the final couple of minutes.
Senior guard Ochai Agbaji said on his way out of the building that "this one sucks," and carried plenty of frustration on his face.
Luckily for the Jayhawks, they had plenty of time to get over the tough road loss, and senior forward Mitch Lightfoot said that's exactly what happened in the four days that followed.
"It's a loss," Lightfoot said Friday. "You learn from it, you watch film on it and you've got to move on to the next one. We've been looking into Oklahoma and trying to figure out what we've got to do against them to be successful."
Plenty has been made about the Jayhawks' ability to bounce back from losses under head coach Bill Self. And the Jayhawks already have successfully done it three times this season, with wins over Iona and Iowa State at home and away following losses to Dayton, Texas Tech and Kentucky. KU is now 106-15 in games after losses in Self's 19 seasons, including a 53-6 mark since the 2012-13 season.
Few things have been as good for KU's bounce-back efforts as home games at Allen Fieldhouse, where the adoring fans typically show up with extra energy to help the Jayhawks get back on track.
That figures to be the case in this one — even with the early tip time — and you can bet that the home crowd and the Jayhawks themselves will be energized by tracking two games between the other four teams at the top of the Big 12 standings with Kansas this weekend.
Texas plays at Baylor at 11 a.m. and Texas Tech hosts TCU at 3 p.m. Two of those four teams will end the day with another loss on their Big 12 record, which, if KU can get past Oklahoma, will only add to the Jayhawks' chances of bringing home another conference title.
2. Help for Agbaji
Monday's loss to Texas featured Agbaji, the Big 12's leading scorer (at 20.3 points per game), scoring 11 points on just seven shots, as the Texas defense spent most of the night face-guarding him to keep him from catching the ball and attacking.
Moving forward, the Jayhawks are expecting to see a lot more of that strategy on Agbaji when KU is on offense.
"The best player in the nation, you're going to face-guard," Lightfoot said. "It's a challenge for him, but it's also a tribute to how other teams respect him. There's no doubt that teams are going to try to do that, and it's up to us to make sure we get him open, screen his man and fix that problem for him."
Self said Friday that Agbaji and the Jayhawks have "worked on it," since the UT loss. And Lightfoot said that had as much to do with finding ways to get Agbaji open as it did finding ways to make opposing defenses pay for using the strategy.
"It spreads the floor so much for other guys to drive," Lightfoot said. "You're playing 4-on-4 if you can spread it, so there's definitely some opportunities to get downhill."
Having said that, the Jayhawks will still do everything they can to make sure Agbaji stays involved in their offense. One of his seven shots at Texas was on a late offensive rebound where Agbaji made a play for himself while attacking the glass after being guarded tight above the 3-point line. But Lightfoot said KU did not want to turn their best player into a guy who has to get offensive put-backs to score points.
OU coach Porter Moser mentioned Agbaji's offensive rebound during his meeting with the media on Friday morning, saying simply, that's what great players do.
Lightfoot thinks Agbaji's teammates can do plenty to help him.
"Get it to him when he's open, for sure," Lightfoot said. "There's only going to be a certain amount of those opportunities per game. Och is a player where, say he gets seven looks, he's very capable of making seven of those shots. So, there's definitely an opportunity for him to be successful while being guarded like that. There's things you can do."
One thing, according to Self, was to find a way to get Agbaji some rest so he's not sprinting uphill against defenses designed specifically to stop him for an entire game.
"It'd be nice if he didn't have to play 38 minutes being face-guarded," Self said Friday. "We need to have some guys on the bench probably be a little more consistent and play a little better. And we need to have confidence to play them maybe even when they're not very consistent."
3. Guard hard
It's no secret that this Kansas team wants to continue to improve its defense down the stretch as it shapes what type of team it will take into the postseason.
And, in a lot of ways, the KU defense has improved. The Jayhawks are up to 36th in the latest defensive efficiency rankings at KenPom.com, up from a season-low near 50th a couple of weeks ago.
But there are still some holes in this team's defense and a lot of them come from individual defense and forcing turnovers.
In addition to those types of defensive stands going a long way toward making KU's opponents play poorly — a favorite trait of Self's throughout the years — they also do wonders for the Jayhawks in terms of creating transition opportunities and easy baskets.
At a place like Allen Fieldhouse, as people have seen time and time again, those moments can lead to burying KU's opponent.
The numbers show that intense defense and forcing turnovers could be massive in this one. They also show that it's an area that Kansas can vastly improve.
The Jayhawks rank 10th in the conference in defensive turnover percentage, forcing a turnover on 15.3% of their opponents' possessions. That's 3.4% below the national average and it has been the case for a couple of reasons. One is execution. The other is fatigue.
With KU's starters playing 35+ minutes per game, it can be difficult for the Jayhawks to be turned up on both ends 100% of the time. That's where a player like Joe Yesufu off the bench can come in and make a difference. And this game would be a good game to see some of that from him.
Oklahoma's offense ranks 338th nationally in taking care of the basketball, giving away a turnover on 22.1% of its possessions. A huge chunk of that comes in the form of opponents' steals, an area where KU ranks 291st nationally and 10th in the conference.
OU turned it over just 11 times — five off of KU steals — in the first meeting a few weeks ago in Norman. And whether or not the Sooners will be able to replicate those numbers in Allen Fieldhouse in the rematch could play a big role in whether this one comes down to the wire again or is decided by a larger margin.
The Sooners are particularly gifted in an area that has given the Kansas defense issues this season — 2-point field goal defense. OU ranks fifth nationally in that category, at 58%, underscoring the importance of KU's defense being sound throughout this one. The Jayhawks' 2-point defense (48.5%) ranks 130th nationally.
Marquee Matchup
KU point guard Dajuan Harris Jr. vs. OU guard U moja Gibson
Gibson got cooking at times during KU's 3-point win over the Sooners in Norman. But he really made a name for himself earlier this week when he dropped 30 points in an upset win over No. 9 Texas Tech.
Not that he wasn't already a known commodity. The 6-foot-1 OU guard has had a handful of good games against the Jayhawks during his career thus far. But there's little doubt that KU is about to see the most confident version of Gibson that they've ever faced.
Enter Dajuan Harris Jr.
So much has been made about Harris' role on the offensive end — what it is, what it should be, where he's lacking, etc.
But let's not forget that the third-year sophomore is as good of a defender as anyone on this roster. His active hands, good lateral quickness and anticipation make him tough to attack for opposing ball handlers. And he's competitive, too.
Harris leads the Jayhawks with 35 steals — good for ninth in the Big 12 — and is as good off the ball as he is at guarding his man.
While Harris figures to be matched up with Gibson plenty in this one, Lightfoot and Self both said the idea of slowing down OU's top weapon was about more than just one player.
"It's a team thing," Lightfoot said. "He really shoots the ball. He just can really heat up and you've got to be careful with guys like that."
In three career games against KU, Gibson has scored a total of 24 points while making just five 3-pointers. In the earlier meeting this season, he finished with 11 points on 4-of-10 shooting (2-of-5 from 3-point range) in 38 minutes.
Self said he was pleased with the job the Jayhawks did on him in that one, but he cautioned against feeling too good about that effort heading into this one.
"I thought he was a specialist when we first tried to guard him, and I don't see him being a specialist now. I see him being more of a complete player," Self said.
To combat that, KU needs to be disciplined in two areas.
The first is to avoid close-outs and make sure whoever's defending him (Harris, for example) is there when Gibson catches the ball. The second is to stay on your feet and not get thrown off by Gibson's ability to use the shot fake to get room.

"He doesn't need any time to get it off," Self said. "He can play off the shot fake as well as anybody. He's a dangerous shooter."
Jayhawk Pulse
The Sooners are coming off of what Self said could be among the best individual wins of the Big 12 season, a 15-point win over No. 9 Texas Tech on Wednesday night.
"That was impressive, what they did to Tech," Self said.
That, and the fact that the Sooners played the Jayhawks to the final possession in Norman, Oklahoma, in mid-January has Self expecting a confident OU squad to hit the floor in this one.
"They're more than capable of getting on a run and winning a ton of games," Self said of the Sooners. "It may not be in the cards for them to win the league, but it is in the cards for sure for them to have a chance to be above .500 in our league and being above .500 in our league will get you probably a top five or six seed (in the NCAA Tournament)."
Senior guard Remy Martin remains out with a bone bruise in his right knee, and Self said Friday that freshman Zach Clemence, who had been out a month with a toe injury, practiced in full for the first time on Thursday. It remains to be seen if Clemence suits up or plays against the Sooners.
Like many teams in the Big 12, Oklahoma might prefer this one to be played in the 60s. OU averages 69.8 points per game compared to 80 points per game for the Jayhawks.
KU also holds the per-game edge rebounding (37-32.4), assists (16.1-14.3) and blocks (4.2-1.8) and is shooting better both from the floor (49.6% to 48%) and 3-point range (36.1% to 33.5%).
The Jayhawks lead the all-time series with the Sooners 153-69, including a 78-16 edge in games played in Lawrence and a 51-7 overall record against OU in Allen Fieldhouse.
KU has won 11 of the last 14 meetings with the Sooners and 24 of the last 29 dating back to 2006.
KenPom.com lists Kansas as a 10-point favorite in this one — 77-67 — with a win probability of 82%.
Probable Starters
No. 8 Kansas
G – Dajuan Harris Jr., 6-1, 180, Soph.
G – Ochai Agbaji, 6-5, 210, Sr.
G – Christian Braun, 6-7, 205, Jr.
F – Jalen Wilson, 6-8, 225, Soph.
F – David McCormack, 6-10, 265, Sr.
Oklahoma Sooners
G – Elijah Harkless, 6-3, 194, Sr.
G – Jordan Goldwire, 6-3, 194, Sr.
G – Umoja Gibson, 6-1, 169, Sr.
F – Jalen Hill, 6-6, 218, Jr.
F – Tanner Groves, 6-10, 235, Sr.