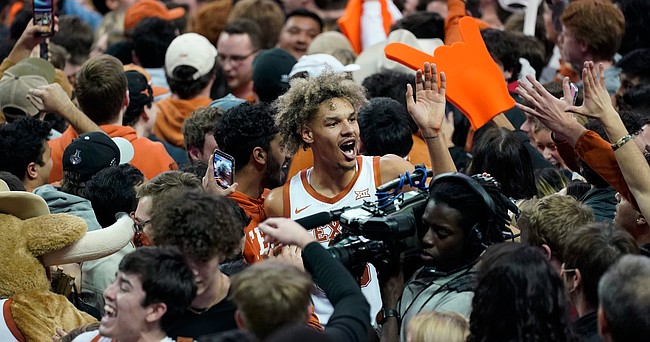 The Big 12 Conference on Wednesday issued a public reprimand and a $25,000 fine to the University of Texas for its handling of the court storming that followed the Longhorns' 79-76 win over No. 8 Kansas on Monday night in Austin, Texas.
Citing the Big 12 Conference Sportsmanship and Ethical Conduct policies, Big 12 Commissioner Bob Bowlsby said Texas and the rest of the Big 12 members have a "duty to ensure an environment that provides the visiting team and game officials a safe exit from the court."
Tuesday night, on his "Hawk Talk" radio show, KU coach Bill Self said there was uncertainty from the UT security teams about which way KU should exit. Self also said senior guard Remy Martin's injured right knee was bumped into by a fan which added to the soreness Martin has been experiencing from the bone bruise that has kept him out of action in recent weeks.
Self said he had no issue with the fans storming or celebrating in that manner. He simply said the confusion created a situation where the Jayhawks had not left the court as quickly as they otherwise could have.
According to Big 12 rule 12.3.4, "A Member Institution must safely escort the visiting team, coaches, officials and administrative staffs off the playing surface."
"In this instance, execution of the University's court storming plan did not adequately provide the protections necessary to safe-guard visiting team personnel," Bowlsby added in Wednesday's reprimand.
During the 2021 football season, Baylor also was reprimanded and fined $25,000 after its fans rushed the field following a win over Oklahoma.
It's worth noting that Arkansas, which competes in the SEC, where the Longhorns are headed in the coming years, also received a fine for storming the court following Tuesday night's win over No. 1 Auburn. The Razorbacks were fined $250,000 for the incident being their third offense.
SEC policy states that penalties for such behavior could lead to a fine of up to $50,000 for the first offense, $100,000 for the second and $250,000 for the third.
A Big 12 spokesperson told the Journal-World on Wednesday night that the Big 12 does not have an ascension policy like the SEC and that these incidents are reviewed on a case by case basis.