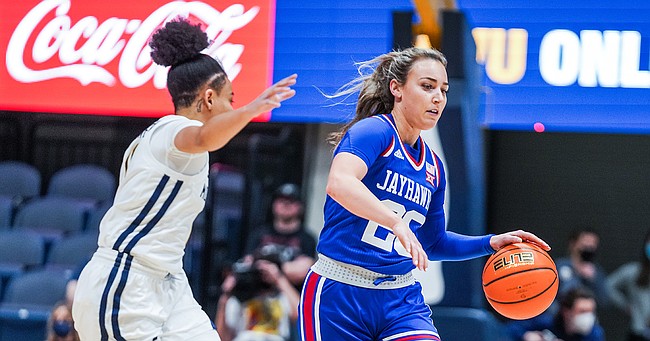 Morgantown, W.Va. — Holly Kersgieter scored 18 points and Zakiyah Franklin had 17 points and six assists as the Kansas women's basketball team won 65-47 at West Virginia on Wednesday.
Chandler Prater added 12 points off the bench for the Jayhawks (16-5, 7-4 Big 12), who have their first four-game conference winning streak since the end of the 2008-09 season. The win was their first over West Virginia in coach Brandon Schneider's seven seasons and their first in Morgantown, West Virginia, since Jan. 5, 2013.
KU had a 48-30 advantage in rebounding, matched West Virginia with 26 points in the paint and made 23 of its 26 free throw attempts, including its first 17.
Franklin went 9-for-9 from the foul line, and the six free throws she made in the third quarter helped keep the Jayhawks ahead as the Mountaineers shot 53.3 percent (8-for-15) in the period.
"When you play West Virginia, it's a street fight," Schneider told Jimmy Chavez on the Jayhawk Sports Network radio broadcast after the game. "You've got to battle on the glass and you've got to compete hard, and then you've got to put some pressure on the paint in order to try to get to the free throw line.
"We did a good job getting there, especially, I thought, in the third quarter and stepped up and made foul shots, and that's part of toughness as well."
Kansas finished the first quarter on a 10-2 run over the final five minutes to claim a 15-11 lead, and the teams combined to play a sloppy second quarter in which West Virginia didn't score with 5:11 remaining before halftime.
The Jayhawks held a 27-19 lead at the break, but their advantage shrunk to two at 29-27 with 8:24 left in the third quarter once JJ Quinerly made a 3-pointer for the Mountaineers.
Quinerly, a freshman, scored a career high 22 points to lead West Virginia (11-10, 4-7 Big 12), including 15 in the third quarter.
Although the Mountaineers trailed 46-38 entering the fourth, they drew no closer. Kansas held a double-digit lead over the final six minutes and Franklin emphatically put West Virginia away when she caught a full-court baseball pass from Kersgieter on an inbounds play, made a layup, drew the foul and sank the free throw with 1:36 to play.
The Jayhawks shot 35.2 percent (19-for-54) on the evening and made just four of their 12 3-point attempts. They had 11 assists, but they also committed 20 turnovers, including eight in the second quarter.
Kansas will be back on the court Saturday when it plays host to Kansas State at Allen Fieldhouse at 6 p.m. The Jayhawks lost 69-61 in Manhattan on Jan. 19 despite having wiped out a 16-point lead with 2:21 remaining.