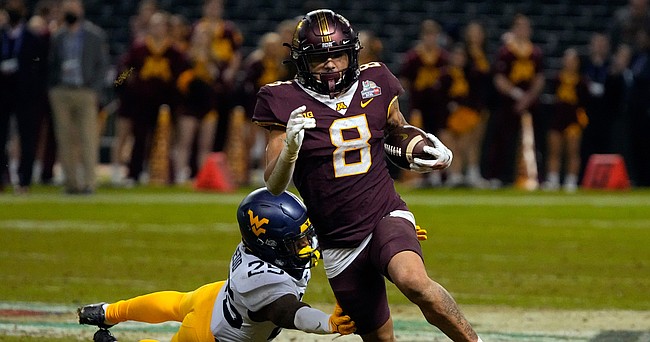 The Kansas football team found itself in a quandary three games into last season when starting running back Velton Gardner decided to transfer.
And although freshman Devin Neal, a Lawrence High grad, thrived as Gardner's replacement, coach Lance Leipold knew he couldn't continue to rely on inexperienced players as the Jayhawks try to build depth at the position.
That led to KU's decisions to add a pair of starting-caliber Big Ten running backs, Minnesota's Ky Thomas and Nebraska's Sevion Morrison, as transfers once the season ended.
Leipold's hope is that the two redshirt sophomores, along with Neal and the rest of the Jayhawks' returning running backs, will fortify a rushing attack that was the second-least productive in the Big 12 last season with 139.3 yards per game.
"Sometimes, when guys leave the program, you're not just going to always replace with freshmen — especially when you're the youngest Power 5 football team in the country and one of the youngest teams overall," Leipold said.
Gardner, a junior who was the Jayhawks' leading rusher in 2020, ran for 56 yards on 29 carries through three games before transferring — a decision he finalized earlier this week when he chose Grambling State. His departure, plus sophomore Daniel Hishaw Jr.'s preseason injury, forced the team to turn to Neal to lead their rushing attack.
Neal, the Lawrence High grad, did just that. He ran for 707 yards and eight touchdowns, including 100-yard performances against Duke, Oklahoma and Texas.
Hishaw, KU's second-leading rusher in 2020 behind Gardner, is expected to be back after undergoing surgery on an unspecified injury. Amauri Pesek-Hickson, who started the finale against West Virginia when Neal was injured, won't return; he decided after the season ended to transfer to Northern Iowa.
Thomas had a significant workload last season with the Golden Gophers. Thrust into a prominent role because of injuries, the 5-foot-11, 205-pound Topeka native had 166 carries for 824 yards and six touchdowns, and his 91.6 yards per game ranked sixth in the Big Ten. He gained 144 yards and scored a touchdown in the Guaranteed Rate Bowl victory over West Virginia and was named the offensive MVP.
Morrison, a consensus four-star recruit who ran for more than 5,000 yards at Edison High in Tulsa, Oklahoma, was used sparingly at Nebraska. He only had 30 carries for 116 yards and three touchdowns last season, when three other freshmen running backs had greater opportunities with the Cornhuskers.
That led to Morrison's transfer, which he formalized on Nov. 15. He decided to head to Kansas on Dec. 12. Thomas, who left Minnesota on Jan. 3, landed with the Jayhawks on Jan. 15.
With so many capable running backs on the team a season after it was greatly weakened by attrition, the challenge will fall on offensive coordinator Andy Kotelnicki to figure out how to use them all.
"We've always been an offensive team that philosophically, we're going to utilize as many of our talented players as many ways as possible," Leipold said. "If that means there's two backs in the game at the same time, or there's two or three tight ends or four wide receivers, we want to be as multiple as possible."
Leipold said the decision to add more experienced running backs was made once the coaching staff recognized how difficult it was for a young backfield to match up against Big 12 defenders who were sometimes three, four or even five years older.
None of the six high school players the Jayhawks signed in their incoming recruiting class are running backs.
"As we saw ourselves kind of go through, whether it be through Iowa State or Oklahoma State or one of those programs that were senior-laden, a lot of super seniors and all those things, you start seeing where all of our youth and physical development isn't completely where it's going to be someday," Leipold said.
"We have to address that and we have to also address that we want to be a program that's going to embrace competition, not just on Saturdays but daily within our program."