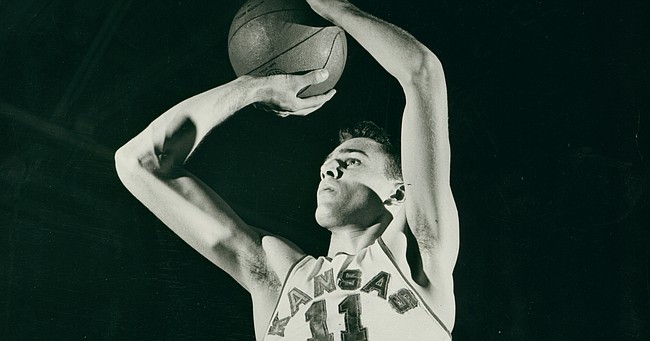 Former Kansas basketball great Bill Lienhard, one of the last living members of the Jayhawks' 1952 national championship team, died Tuesday at his home in Lawrence.
Lienhard turned 92 in January.
Born in Slaton, Texas, Lienhard came to KU in 1948 after graduating from Newton High School. He earned all-state honors after being the state's leading scorer during his senior season of high school.
At Kansas, Lienhard was a three-year starter for legendary KU coach Phog Allen. Freshmen were not eligible to play in those days.

According to his Sports Reference page, Lienhard played in 71 games over three seasons at Kansas, scoring 428 points and adding more than 200 rebounds and 100 assists.
The 6-foot-5 forward served as a team captain on the 1952 championship team and averaged 5.8 points per game that season. He scored 12 points and grabbed four rebounds in the 1952 title game victory over St. John's. Lienhard joined tournament MVP Clyde Lovellette and teammate Bob Kenney as the only Jayhawks in double figures that game, an 80-63 Kansas victory.
After helping lead the Jayhawks to the 1952 title, Lienhard and six other KU players won gold at the 1952 Summer Olympics in Helsinki, Finland. Lienhard averaged 4 points per game with Team USA that year and then went on to play service basketball at the Air Force Academy following his return from Finland.
Lienhard retired from basketball after his time at Air Force and went on to be a successful banker throughout Kansas. Lienhard's gold medal from the 1952 Olympic Games is on display in the Booth Family Hall of Athletics connected to Allen Fieldhouse.
A KU news release announcing his induction into the Kansas Sports Hall of Fame in 2013, wrote that Lienhard was known as "the finest one-handed set shooter in Kansas basketball history." A game program from the 1952 season described his signature shot as "deadly against zone defenses."
In his later years, it was that shot, in part, that helped him be a larger-than-life figure in the lives of his grandchildren, Jessica, Ryan and Cody Scott, all of whom attended Free State High and spoke with the Journal-World on Wednesday to remember their grandfather.
"Papa," as he was known to the Scott children, was at countless Free State games throughout the years. They knew of his history as an NCAA and Olympic champion, of course, but rarely talked about the old days with him. The reason was simple.
"He was always much more interested in what we were doing," Ryan said Wednesday from his home in Nevada. "It was weekends hanging out with him, shooting hoops in his driveway, playing HORSE and him teaching me how to shoot a basketball. He was always more about the smaller details, knowing that everyone's got their own shot. His was very unique to him."
In a 2020 interview with hoopshd.com, Lienhard said 80-90% of the shots he made would have been 3-pointers in today's game.
"That is where I shot from — 20 to 30 feet out there," he said in the interview.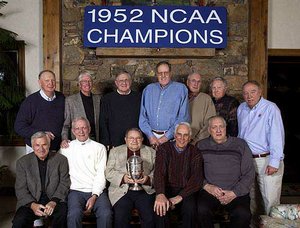 There were times when his historic basketball career would come up. Ryan remembers Lienhard taking him to the 50-year-reunion party for the 1952 championship team. Lienhard's 10-year-old grandson met several other legendary Jayhawks that night, including Dean Smith, and described it as "the time of my life."

Jessica remembers one day when someone found a copy of the gold medal game against the Soviet Union and the whole family sat together in the living room to watch Lienhard play.
He provided some commentary, but very little of it was about the action on the screen or his game.
"He talked more about the people that he played with than anything," Jessica said Wednesday night. "He cherished all of his friendships with Bill Hougland and Clyde Lovellette and Jerry Waugh and so many more."
Jessica got to experience many of those connections for herself, tagging along with Papa to Allen Fieldhouse for what she estimated was hundreds of KU games. Every time she knew she was going to a game, she said she woke up and checked the morning paper to see who Kansas was playing.
The matchup and the opponent excited her. But it often paled in comparison to the joy she experienced by walking around Allen Fieldhouse with a man who was as legendary in her eyes as a grandfather as he was in the KU history books.
"He always knew the best parking spots, when to leave, how early to arrive. He thrived there," Jessica said. "He was kind of king of the castle. He definitely took an enormous amount of pride in playing for KU and the team that KU has today. It's hard for me to separate the two. He really embodied everything that was Kansas basketball and the heart of a Jayhawk."
That was certainly the impression that recent Kansas basketball coaches had of Lienhard's legacy. When he was in charge of the program from 1988-2003, former KU coach Roy Williams often said that his connection to Jayhawks of the past like Lienhard played a pivotal role in him fully embracing and growing to love KU.
The same was true for current Kansas coach Bill Self, who said Wednesday that Lienhard treated the Selfs like family and was "classy in everything he did."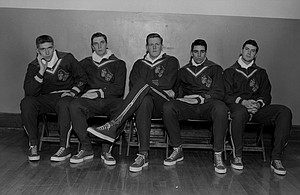 "I got to know Bill Lienhard and many of his teammates from the 1952 team pretty well once we arrived in Lawrence," Self said in a news release. "That entire group has been so supportive of everything we are trying to do. They are so proud of their school and Bill was no exception. He will be missed by many."
According to the family, memorial services are pending but a funeral is expected in the next couple of weeks. Between now and then, there likely will be dozens of opportunities for all who knew him to get together and share their favorite Lienhard stories.
The way Cody sees it, whether the connection is through basketball, banking, church, the community or years of friendship, all of those stories will all have a similar theme.
"The thing I always remember was him talking about consistency and hard work," Cody said. "Being a farm boy from Newton, Kansas, that's all he knew. He always used to say, 'Nothing will ever happen if you don't work hard.' And he lived that. Yeah, he was a great basketball player and on all these teams and had all these accolades, but at the end of the day he was just a great guy who always worked hard and loved his family."