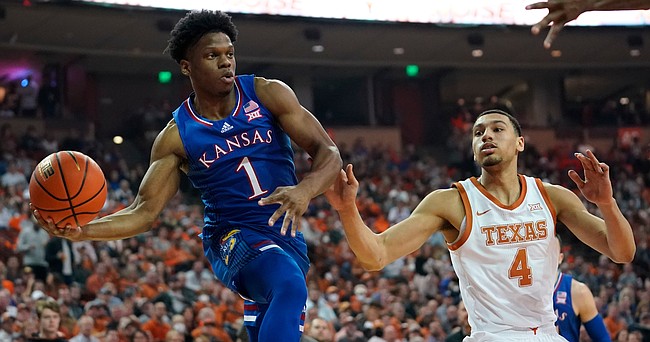 Austin, Texas — Monday night's 79-76 loss marked the final game Kansas will ever play at Texas' Frank C. Erwin Center, with UT and Austin closer than ever to ushering in the era of the Moody Center.
Opening for concerts as soon as April of this year, the Moody Center is a brand new, 15,000-seat area specifically designed for concerts that will also host UT men's and women's basketball games.
The $338 million project bears the name of the Moody Foundation, which gifted the university $130 million for the construction of the new venue.
Located just a couple of blocks north of the Erwin Center, construction crews are currently finishing up work on the Moody Center, which can be seen from the highway while driving into Austin. It sits just to the east of Darrell K. Royal Texas Memorial Stadium, where the Longhorns play football.
"I feel like most (and am) probably really looking forward to the new building," Kansas coach Bill Self said after Monday's loss. "I don't dislike (the Erwin Center) at all. But I wouldn't say that this is one of my favorite venues."
"Tonight," he added. "That's probably as good a crowd as we've had when we've played here."
All 20 matchups between KU and Texas in Austin took place at the Erwin Center. KU entered Monday night 11-8 all-time at the venue.
It remains to be seen how many games Kansas will get to play at the newly constructed Moody Center. With Texas leaving for the SEC by 2025 — and possibly sooner — the Jayhawks could be limited to just one or two seasons inside the Longhorns' new digs.
As for the lasting memories of the Erwin Center, KU has had plenty. Jamari Traylor's vicious dunk that nearly took his head off. Devonte' Graham, Svi Mykhailiuk and Lagerald Vick combining for 16 3-pointers in a win in 2017. A handful of double-digit victories and some tough losses.
But there's one KU highlight from Austin that will live in infamy for years. And it involved a current member of KU's basketball staff.
In February of 2010, with KU up 14 late, Brady Morningstar stepped to the line to shoot a technical free throw. As he lifted the ball above his head and began his shooting motion, it slipped out of his hands. Morningstar caught the loose ball, gathered himself and flipped it toward the rim anyway while hopping over the line. The shot missed and sent a wave of confusion through the KU bench.
Asked about that memory on his way into the building on Monday night, Morningstar smiled and said: "I told coach earlier today, 'Coach, if you all are shooting a bunch of free throws tonight, let me shoot."
Court-storming OK
In the moments that followed the Longhorns' storm-from-behind, last-minute win over the Jayhawks on Monday night, hundreds of Texas students and fans stormed the Erwin Center floor to celebrate with the team.
While scenes like that have led to some ugly moments in the past — think K-State fan shoves Jamari Traylor — and inspired the Big 12 Conference to fine-tune its rules for such situations, Self said there were no issues with the celebration on Monday night.
"No, it was fine," Self said when asked if KU had any trouble getting off the court. "It was fine."
Jayhawks jump 2 spots in AP poll
Last weekend's drubbing of Baylor, along with a mid-week road win at then-ranked Iowa State, moved the Jayhawks up two spots in this week's Associated Press Top 25.
KU and Baylor swapped spots this week, with Baylor falling from No. 8 to No. 10 and Kansas jumping from 10th to 8th in the latest poll.
Texas Tech is sandwiched between the two Big 12 programs at No. 9, and Texas moved up three spots to No. 20 after losing at Texas Tech and defeating Iowa State last week.
Iowa State, which had been ranked No. 20, fell out of this week's poll into the "Others receiving votes" category.
Lightfoot on the climb
His years of service, which have made for a longer college career than most student-athletes get, has played a part in it, but KU super-senior Mitch Lightfoot is on the verge of cracking the top 10 on KU's all-time blocks list.
With two blocks Saturday against Baylor, Lightfoot pushed his career total to 140 through his five seasons. Lightfoot red-shirted the 2019-20 season and, therefore, did not record any stats that season.
Lightfoot needs 11 more the rest of the season to pass former KU national champion Sasha Kaun in 10th place. Kaun finished his four-year KU career with 150 blocks. Donnie Von Moore was in 11th place, with 141 blocks, entering Monday.
Based on his stats to date, the highest Lightfoot can probably climb is ninth place. John Crawford, who blocked 155 shots at KU from 1977-81 currently occupies the No. 9 spot. Ahead of him, in eighth place, is former Lightfoot teammate Udoka Azubuike, with 172 career blocks.
Hello, Mr. Howard
Monday marked the first meeting between Kansas and former KU assistant coach Jerrance Howard, who left Kansas for a spot on UT coach Chris Beard's first coaching staff in Austin last offseason.
Howard, 41, spent eight seasons as an assistant on Self's staff at Kansas.
The Peoria, Illinois, native is now in his 18th season as a college assistant, having worked at SMU and Illinois prior to joining KU and Texas. Howard also spent time working on Billy Gillispie's staffs at both Texas A&M; and Kentucky before becoming a full-time assistant.
After entering the building to begin preparations for Monday's game, Howard was asked how he felt about the upcoming reunion.
"It'll be emotional for sure," he said.
This and that…
Monday's loss dropped KU to 75-21 all-time on ESPN's Big Monday, including a 45-1 record at home and a 30-20 mark on the road… KU now leads the all-time series with Texas, 35-12. That includes a record of 11-9 in games played at the Erwin Center… Self is 25-12 all-time against UT, 25-10 while the head coach of Kansas… The Jayhawks are now 9-3 this season in games played away from Allen Fieldhouse.