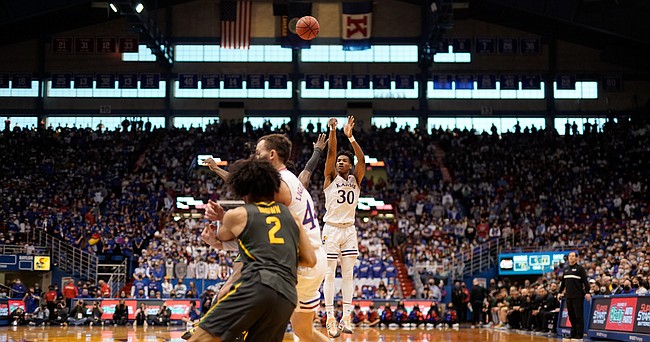 Kansas senior Ochai Agbaji returned to action on Saturday after a one-game absence because of COVID-19, and, by all accounts, KU's leading scorer did not miss a beat.
After taking his regular spot in KU's starting five for the start of what turned out to be an 83-59 beatdown of No. 8 Baylor, Agbaji delivered 18 points on 5-of-11 shooting and added nine rebounds in 32 minutes.
After testing positive for COVID-19 last weekend, Agbaji said he took a few days off before returning to the gym on Thursday. He tested negative on Friday, which made him eligible to play, and said he was ready to roll by the time Saturday's tipoff arrived.
Photo Gallery
Kansas basketball v. Baylor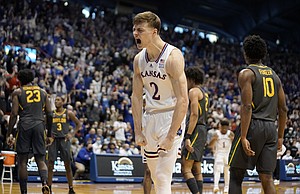 View a gallery of images from Saturday's game between the Kansas Jayhawks and Baylor Bears at Allen Fieldhouse.
"Getting back to practice and seeing these guys, getting back to playing with them, was fun," he said after Saturday's victory. "And we're just riding on that momentum that we started Tuesday. I felt good out there. I really didn't feel like I took a step back or anything. It felt like I really didn't skip a beat."
Neither did his teammates.
"Ochai's Ochai," senior forward Mitch Lightfoot said on Saturday. "He's going to play his butt off, and we need him for us to be our best. Seeing him go out there and give us that (production) after coming off those five days was cool."
KU coach Bill Self said he did not see any signs of rust of anything being off with his leading scorer. He hit six of seven shots at the free throw line. He made two of six shots from behind the 3-point line and he finished a couple of lobs that got the Allen Fieldhouse crowd going.
On his first bucket of the day — an and-one to open the scoring for Kansas — Agbaji emphatically flashed the hand gesture to indicate "count that." Later, with the game well in hand, those gestures turned into Agbaji flashing his signature smile in what was a feel-good afternoon for the home side.
"I don't think that he probably had his best game," Self said after the win. "But I think his presence gives everybody else confidence and allows them to have a better game. Eighteen and nine in the 31 minutes is still a pretty good stat line for, I'm sure, the leading candidate for (Big 12) player of the year."
Added Lightfoot: "He's back. It wasn't like he was out for too long, but it's good to have him back."
National champs in the house
Baylor was the first defending national champion to play inside Allen Fieldhouse since Villanova came to Lawrence during the 2018-19 season.
Like Saturday's Baylor squad, that Villanova team, which knocked off Kansas in the 2018 Final Four, featured a handful of new faces playing key roles and was missing several of the players that helped deliver the NCAA title.
History has shown that KU has not been kind to those wearing the crown.
In addition to rocking Baylor on Saturday and beating Villanova, 74-71 in December of 2018, the Jayhawks also topped defending champion UCLA, 85-70, during the 1995-96 season. KU is now 3-0 in its last three home games against defending national champions.
The latest on Remy
KU senior Remy Martin did not suit up for Saturday's game, marking his second consecutive outing in street clothes.
Prior to the game, Self provided an update on Martin's status.
"We said we're going to give him extended time (to heal) and so that time obviously hasn't come to be yet," Self said. "So I don't know what the timeline is on it. I would rather get a Remy at 90% or 95% than a Remy at 60 or 65% for many games as opposed to 90% for less games. So, we hope he can get to 100%, but all the tests remained consistent with what the doctors have felt all along. He's got a bruise and it is sore and he is making positive progress."
During his time on the bench, Martin has remained a vocal part of the team, providing energy and encouragement for his teammates.
"We appreciate his support," Lightfoot said. "It means a lot to us. He's been around and he does know some things that can help us. So it's good to have him out there helping us."
Self said Martin's role in recent KU practices has been very limited.
"He's not part of practice at all right now," Self said. "Most of time during practice, he's probably in rehab as much as any-thing else."
Clemence getting closer
KU freshman Zach Clemence was in street clothes again for Saturday's win over Baylor.

"He's still no go," Self said Friday. "We think he's getting clos-er. But even though it's a crack or whatever, it was still a frac-ture and four to six weeks for it to heal. And I think we're fin-ishing fourth week. So, he's right where we thought he would be. And he says he's real close to being out there full speed."
Gradey Dick honored
Fresh off of being named to the 2022 McDonald's All-American team, Kansas basketball signee Gradey Dick earned recognition as a national semifinalist for the Naismith High School Boys Player of the Year Award.
Given annually to the best high school player in the country, the Naismith honor is the smaller-scale version of the same award given out at the college ranks. Dick is one of 10 semifinalists on the list.
A senior at Sunrise Christian Academy and native of Wichita, Dick signed with the Jayhawks in November of 2021 after committing to KU in March of the same year.
Through mid-January, Dick was averaging 19 points and 5 rebounds per game for Sunrise, while shooting 45.8% from 3-point range and 50.5% from the field overall.
Current Gonzaga star Chet Holmgren won the award during the 2020-21 season. The current list of 10 was trimmed down from a 25-man midseason list, with the finalists and a winner still to be announced in the weeks to come.
This and that…
Saturday's victory made the Jayhawks 8-1 or better in Big 12 play for the 11th time in Self's 19 seasons… KU is now 35-7 all-time against Baylor, including an 18-1 mark in games played at Allen Fieldhouse… The Jayhawks are now 10-1 at home this season… The game against No. 8 Baylor marked the fourth of five consecutive games against ranked opponents for the Jayhawks. KU is now 3-1 in that stretch and 4-2 overall this season against ranked teams. The Jayhawks will head to Austin, Texas, to take on No. 23 Texas at 8 p.m. Monday night on ESPN's Big Monday.