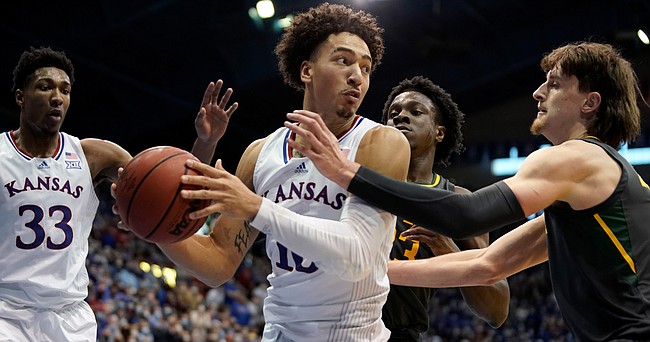 Ochai Agbaji didn't want to let an opportunity go to waste.
The No. 10 Kansas basketball team knew it was facing one of the best rebounding teams in the Big 12 in No. 8 Baylor on Saturday, and when several rebounds fell into the Jayhawks' hands early, Agbaji knew it was an advantage they had to maintain.
Photo Gallery
Kansas basketball v. Baylor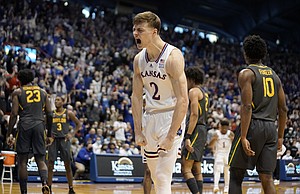 View a gallery of images from Saturday's game between the Kansas Jayhawks and Baylor Bears at Allen Fieldhouse.
"I think when we first came into the game, that was our main focus — just to rebound," he said after KU's 83-59 win. "I was just like, 'Keep rebounding,' because if we're limiting them to one shot, we can get out in transition."
Crashing the boards early proved fruitful for Kansas (19-3, 8-1 Big 12), which was able to use Baylor's missed shots as fuel for its blowout victory at Allen Fieldhouse.
Consider that the Bears (19-4, 7-3 Big 12), who shot 29.6 percent on the evening, went 1-for-6 over the first five and a half minutes. By that point, the Jayhawks had an 8-3 edge on the boards and turned those eight rebounds into six points.
That was also when they claimed their first double-digit lead, a 12-2 advantage built on a 10-0 run and a second-chance 3-pointer by Agbaji.
All told, Kansas finished the game with a 46-37 edge on the boards, including a 22-17 advantage in the first half. It scored 20 second-chance points, matching its third most of the season, and 17 points on fast breaks.
Christian Braun, who finished with 18 points, led KU with a season-high 10 rebounds. Agbaji had nine, David McCormack had eight, Jalen Wilson had seven and Mitch Lightfoot had five.
And they did so against an opponent in Baylor that entered as one of the best offensive rebounding teams in the country. In snagging 13.1 offensive rebounds per game, the Bears' 38.1 offensive rebound percentage ranked fifth in the nation.
"We know going in that we're not a big team," Kansas coach Bill Self said. "We know we've got to gang rebound and we know we've got to hit somebody and we know we've got to rebound the ball with two hands."
McCormack did that early by snagging five rebounds in the first five minutes. Lightfoot had three of his rebounds during a 40-second stretch midway through the quarter, capping that sequence with a putback of a missed layup by Braun.
Baylor, which managed seven offensive rebounds in the first half, grabbed six of them in the final 3:38 before halftime. It only scored four second-chance points in the opening 20 minutes, when it shot 25.8 percent.
"Normally, that's where our rebounding comes in," Baylor coach Scott Drew said. "We're top-five in the country coming in in offensive rebounding, and that wasn't a factor, not nearly a factor, early enough."
When the Bears did crash the offensive glass, they did so in spurts — and far too late. They had 10 in the second half, including three during one possession 90 seconds in, and Flo Thamba had a pair with around six minutes remaining, just before he fouled out, when he was trying to score off his own misses.
The other five were secured late in the period. At that point, Baylor was already facing a 30-point deficit.
The Bears may have entered the game ranked 19th in the country with a plus-7.4 rebounding margin and seven players in the rotation that stand 6-foot-8 or taller.
That was no matter to Kansas, which made its presence felt early.
"It felt like we dominated the glass and then it felt like they dominated the glass but didn't have much to show for it the last five minutes, so we were pretty fortunate," Self said. "But it's a big key, and ... you get a rebound and you get the chance to run, and we're pretty good in transition."