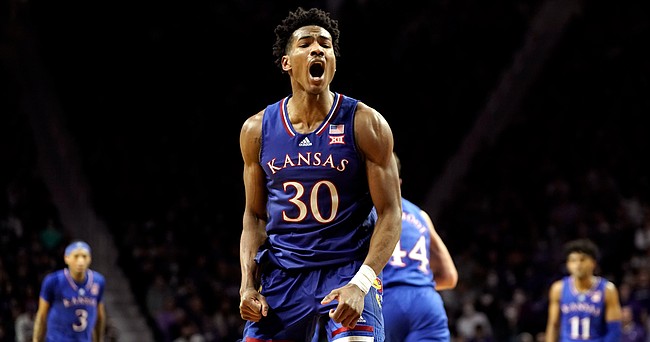 Kansas guard Ochai Agbaji tested negative for COVID-19 on Friday and is eligible to play against No. 8 Baylor on Saturday.
"He's out of the COVID protocol," Kansas coach Bill Self said Friday afternoon. "So, as long as he feels up to it, which I would certainly assume he would, he can participate moving forward with what we're doing. I'm excited about that, obvious-ly. I know he is and our teammates will, as well."
KU officials did not share when Agbaji tested positive for COVID-19, but the timeline suggests it likely was last Sunday.
According to NCAA and Big 12 policy, a player who tests posi-tive must quarantine for five days and is eligible to return fol-lowing a negative COVID test. Testing positive on Sunday would have made Monday Day 1 for Agbaji and Friday Day 5.
Per the guidance, athletes who test negative after the five-day period are eligible to return to competition in days six through 10. Additional mask-wearing efforts may be required through Day 10. Agbaji will not have to wear a mask while playing, if he does in fact play against Baylor.
Agbaji missed Tuesday's win at No. 20 Iowa State, and Self said Friday that the 10th-ranked Jayhawks' ability to win with-out him was huge for his team's confidence.
"I look at it like we can still win if he doesn't play great," Self said Friday. "If (playing without him) gives us anything, it's the fact that we've seen what it can look like when Joseph (Yesufu) gets an opportunity to play."
Yesufu, who played a season-high 23 minutes in Agbaji's absence, said he had talked to Agbaji on Friday and that KU's leading scorer was "doing great."
"We're happy to have him back," Yesufu said before Friday's practice, which Agbaji was expected to participate in. "He's the national player of the year; that's how I see it. We're very excited for him being able to play tomorrow."
Added sophomore guard Jalen Wilson: "It's always going to be good to have Ochai, for sure. Having our full team is always good, especially playing a team like Baylor."
Earlier Friday, before KU (18-3 overall, 7-1 Big 12) announced Agbaji's negative test result, Baylor coach Scott Drew was asked if the Bears (19-3, 7-2) had been preparing for Agbaji — along with injured guard Remy Martin — to play.
"I learned early on in my coaching career when you don't plan for someone and then they do play it's a lot worse," Drew said. "So we always plan on people playing and, obviously, those are two very good players."
Self said Friday that Martin will not play. He also said that freshman guard Kyle Cuffe Jr., who also tested positive for COVID-19 last weekend, had not cleared COVID protocols and was still showing symptoms. Cuffe is redshirting the current season.
KU and Baylor are slated to tip off at 3 p.m. Saturday at Allen Fieldhouse on ESPN.