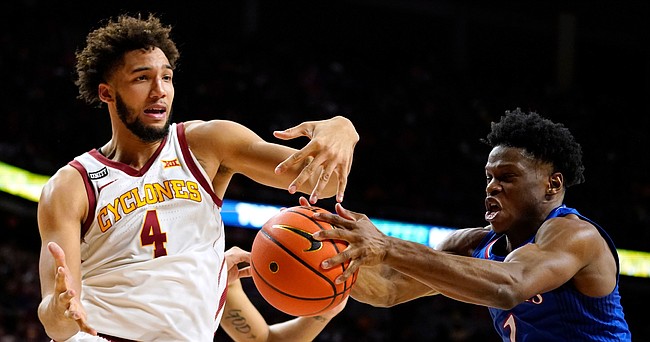 Joe Yesufu stood in the corner, his right wrist bent on the follow-through, admiring his shot.
The sophomore guard who transferred to Kansas after last season coolly knocked down a 3-pointer that halted whatever momentum Iowa State had tried to gain in the second half on Tuesday.
It was the signature offensive moment of the game for Yesufu, who stepped up in Ochai Agbaji's absence during the Jayhawks' 70-61 road victory with seven points, five rebounds, four assists and three steals in 23 minutes off the bench.
And it seems like, beginning Saturday against No. 8 Baylor, there will be plenty more for Yesufu to admire.
"I think he showed the other night that even without really shooting the ball ... he can still impact our team in a big way," coach Bill Self said.
The 10th-ranked Jayhawks (18-3, 7-1 Big 12) will be without point guard Remy Martin for the foreseeable future as he continues to recover from a bruised right knee.
Yesufu isn't naturally a point guard, but his quickness and athleticism — generously listed at 6 feet tall, Yesufu said he has a 42-inch vertical leap — will provide a lift to a backcourt that is expected to benefit against Baylor from Agbaji's return.
"I feel like I've always belonged," Yesufu said. "It's just getting that mindset (that) I have to be a dog every possession. It doesn't matter defensively or offensively. I have to be a dog in whatever I do."
Yesufu averaged 12.8 points per game last season at Drake, but he caught Self's eye in the NCAA Tournament when he scored 21 points against Wichita State and 23 against Southern California.
Until Tuesday, he had only played more than 10 minutes in a game four times — and even then, he only entered the game after Jalen Coleman-Lands injured his wrists after he fell hard while being called for charging.
"It's a lot of lights," Yesufu said about playing at Kansas. "You have to be ready for every game. At Drake, we didn't have many people watching us ... (and being here) it really makes me want to play even harder."
Yesufu's athleticism was on display during one 60-second sequence early in the second half against the Cyclones. He grabbed a defensive rebound and pushed the pace in transition, but Christian Braun missed a layup. Iowa State got the rebound but missed a 3 on the other end, where Yesufu again snagged the ball and headed back the other way.
That time, Braun scored, so Yesufu picked guard Tyrese Hunter up at full court. He battled through a screen, and when Izaiah Brockington tried to drive the lane, Yesufu snatched the ball from him in the low post and initiated yet another fast break. That time, Jalen Wilson scored and drew a foul.
"He came in and gave us great intensity and energy on the defensive and offensive end," Wilson said.
Self said Yesufu may be "thinking too much" and "trying too hard" in practice, but that "since Tuesday, he's got a different pep in his step."
Yesufu said after that game that his performance will boost his confidence. On Friday, three days later, he acknowledged it has.
"I'm starting to feel like the old Joe," Yesufu said. "I'm starting to get a feel for everything again and I'm really happy that I got that moment on the court on Tuesday."