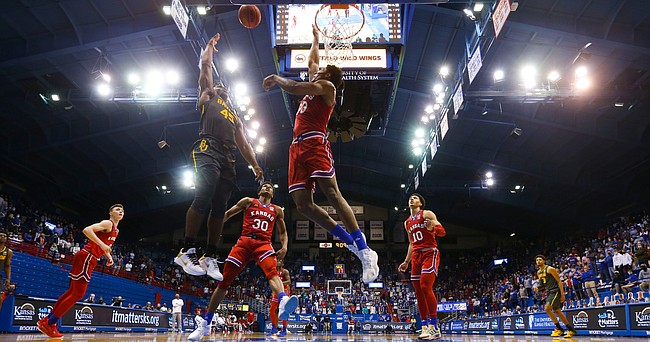 No. 10 Kansas Jayhawks (18-3 overall, 7-1 Big 12) vs. No. 8 Baylor Bears (19-3 overall, 7-2 Big 12)
Time: 3 p.m., Saturday, Feb. 5, 2022
Location: Allen Fieldhouse, Lawrence, Kansas
TV: ESPN | Radio: IMG Jayhawk Radio Network
Keys for Kansas
1. Different personnel, same talent
Gone are the Jared Butlers, Davion Mitchells and Macio Teagues, who tormented the Jayhawks and the rest of the Big 12 for years and led Baylor to its first national championship a season ago.
But don't let that fool you into thinking that this Baylor team is hurting in the backcourt.
Through a combination of returning players stepping into bigger roles and top-flight talent coming into the program, the Bears are as good as ever on the perimeter.
"They're not playing a lot different than they have in the past, at least not offensively," Kansas coach Bill Self said of KU's next opponent. In large part because those little guards are doing similar things that those little guards did last year."
One of the biggest reasons for that is Baylor's success on the recruiting trail and in the transfer portal.
Returners Adam Flagler and Matthew Mayer are enjoying great seasons. Self said he thought Mayer, who played a key sixth-man role for the Bears a season ago, has "big time game" and is on his way to becoming a pro.
He also believes versatile freshmen forwards Kendall Brown and Jeremy Sochan are future pros, as well.
But the one guy who has bridged the gap perhaps better than any of them is Arizona transfer James Akinjo.
Through 22 games, the 6-foot-1, 190-pound Akinjo is averaging 13.6 points and 5.6 assists per game in 31.5 minutes as Baylor's lead guard and top play maker.
"He's a stud," Self said Friday. "He's fast. He can shoot. And he's a bulldog. He's a pit bull. He's tough."
Like a couple current BU players, Kansas recruited Akinjo hard in the offseason, and Self has seen the talented guard deliver for Baylor exactly what he thought he could bring to any program.
"When you lose players like Mitchell and Butler even more so than Teague, you lose guys that you don't have to run an offense for for them to get a good shot," Self said. "They can just force help and get their own or they can create for somebody else just by their own skill set and speed. And Akinjo is somebody who stepped in and has done that very, very well."
The biggest thing that has helped Baylor stay at an elite level even after losing so much from its title team is that influx of young talent.
"They've got better prospects now than they had last year," Self said. "Last year they played with seniors and that makes a big difference."
2. Make amends
The last time the Jayhawks suited up for a game at Allen Fieldhouse, they were run off the floor by the Kentucky Wildcats.
While the message on the back end of that loss was that it did nothing to hurt the Jayhawks' top goals, it definitely did a little something to their pride.
On Friday, KU sophomore Jalen Wilson talked about wanting to put on a better showing for the home fans than the one the Jayhawks delivered against Kentucky last Saturday with ESPN's College GameDay in the building.
"We're just going to have step up, being at home, especially after the loss we just took," Wilson said. "We've got to bring back winning into the building and wash away that game."
It's not just that Kentucky loss that sticks in the minds of the Jayhawks who were a part of last season's squad. KU remembers getting rocked by Baylor in Waco, Texas, and watching as the Bears cut down the nets and wore the hats that read Big 12 Champions.
The goal for both teams this season is to climb back to the top of the Big 12 Conference, and Wilson said it has been enjoyable to watch these two programs slug it out at the highest level during his time at Kansas.
"They beat us at their place bad and we got them back here," he said of last season's split. "It's always like bumping heads with them. They're a really good program. With them winning the national championship, I'm pretty sure they're walking around thinking that they're still those champions. So we've got to (show) that this is a new year, a new team. Us playing them for the first time is going to set the tone and this could be a big separation game, too."
3. Help for Harris
Dajuan Harris Jr. was cooking on Tuesday night against Iowa State. And with Ochai Agbaji out of action, the situation called for it. Self emphasized on Friday that Harris's usage against the Cyclone was not ideal.
"He doesn't need to be playing 38 minutes," Self said. "It'll wear his butt out."
The idea heading into the season was that Harris and Remy Martin could share point guard duties, even while playing together, therein giving each other a break from time to time.
With Martin now shut down for at least another week or so, the Jayhawks will have to look elsewhere to give Harris a break. And the timing of that need coupled with Joe Yesufu's breakout performance against Iowa State could not have been much better.
"We've got to get some other guys (playing in that spot)," Self said. "And we're hopeful Joe can take some of that load off of him."
Although the two played together a lot in the second half of that road win over ISU, Yesufu's future minutes might come in moments when Harris needs a breather. Both pride themselves on defense and both are jet-quick with good hands and a pest's mentality.
"His hands were active and he looked athletic," Self said of Harris against Iowa State. "He looked to score, and he's a great layup shooter and a great little floater shooter."
Last summer, Yesufu said the floater was the one shot he was hoping to perfect. And while he hasn't had much of an opportunity to use it this season, the ability of both players to do similar things could really help this Kansas team both in this one against Baylor and in the weeks to come.
For all of the reasons Self and company have asked Harris to be more aggressive offensively the past two seasons, his ability as a finisher ranks right up there with any of them.
"He's one of the few guys that can shoot a floater at full extension like a jump shot," Self said of Harris. "He jumps up like a jump shot and it becomes a floater."
Against Baylor's pressure defense and length on the wing, that shot could be a real weapon in this one if Harris and Yesufu are able to attack the paint.
Marquee Matchup
KU senior David McCormack vs. Baylor's front line
One week ago, McCormack said he was looking forward to the matchup with Kentucky's Oscar Tshiebwe because he prefers battling with true big guys to chasing around smaller, faster forwards.
Tshiebwe and the Wildcats got the best of that matchup and McCormack was a virtual nonfactor, finishing with three points and one rebound in 16 minutes.
In this one, the KU senior gets an opportunity to make up for that dud against another true big man in Flo Thamba. Although the senior from Congo is averaging just over 17 minutes per game, his size, frame and wingspan figure to give McCormack all he can handle.
What's funny about Thamba's role on this team is that he's not even the best rebounder of the bunch. Jonathan Tchamwa Tchatchoua ranks eighth in the Big 12 at 6.2 rebounds per outing and Brown is right behind him in 12th place at 5.8.
McCormack will see all of those bodies and more crowding him when he catches the ball or goes to the glass in this one, and BU coach Scott Drew said that's as much an advantage for Kansas as it is for the Bears.
"Remember, now; he was a top-50 recruit," Drew said Friday. "A lot of people thought he would be a one-and-done or two-and-out. He's had games where he's been dominant. He's a tremendous player."
Despite his inconsistencies and the up-and-down nature of his season, McCormack enters this game as the top rebounder in the Big 12. He and Wilson rank first and third at 9.8 and 7.8 rebounds per game, respectively, and that's with McCormack being bothered by a sore foot that kept him out of action most of the summer.
"I don't know how much his foot injury has affected him this year," Drew said Friday. "But he's definitely one of the best bigs in the country."
On a couple of occasions this week, Self emphasized that neither he nor McCormack were using the foot soreness as an excuse for off nights.
"There are still balls he hasn't gotten to that he should get to regardless," Self said. "If you are out there and you make a decision you want to be out there, you've got to perform."
McCormack has continued to do that, and if he brings the kind of energy and production to this one that he delivered in knocking off Baylor at home a season ago in one of Baylor's two losses all season (20 points in 25 minutes on 8-of-10 shooting), it will go a long way toward helping Kansas leave with a victory.
Wilson said the biggest key would be on the glass.
"We're just going to have to be physical," Wilson said of KU's frontcourt players. "I think if we can win the rebounding game that'll definitely put us over the hump a little bit."
Jayhawk Pulse
One week removed from an eye-opening loss to Kentucky and just a few days removed from a monster bounce-back win on the road, the Jayhawks are expected to have leading scorer Agbaji back from his bout with COVID-19 for this one.
Self said Friday that Agbaji had tested negative and cleared protocol, making him eligible to return against the Bears. While that figures to be big for the Jayhawks as a whole, it's probably biggest for Agbaji, who no doubt would have been devastated by having to miss both his second game of the week and a showdown with the Bears.
As much as the Kentucky game was a high-profile matchup featuring NBA prospects all over the floor, this one is right there with it. And, for the most part, the Jayhawks — especially Agbaji — have played their best this season in those settings.
"They seem to like big moments," Self said of his team after the mid-week win at Iowa State.
They don't make them much bigger than this. If the Jayhawks want to show that they're a true national title contender, a good performance against Baylor would go a long way toward doing that.
Perhaps more importantly, though, it also would go a long way toward impacting the current Big 12 race.
KU, which is listed as a 1-point favorite by KenPom.com, with a 53% win probability, currently leads BU by a half game. If the Jayhawks can find a way to win this one, they'll be up two games in the win column midway through the conference race.
With the league as tough as it is this season, from top to bottom, Self said Friday that it's still far too early to feel good about any kind of lead in the standings. But Wilson said this was a must-win type of game for the Jayhawks.
"It's Baylor. It's always going to be a good team," he said. "It makes it more exciting, being able to play a national champion. I don't think I've done that yet. But, at the end of the day, it's another Big 12 win that we have to get and another hard game."
The Bears and Jayhawks are both top-five programs in KenPom's offensive efficiency ratings. BU, which ranks No. 2 overall in the KenPom standings owns the fifth best offense and ranks in the top 30 in effective field goal percentage (55.2%), offensive rebounding percentage (38.1%), 2-point percentage (55.1%) and block percentage, getting just 6.6% of its shot attempts blocked.
KU, meanwhile, ranks third in overall offensive efficiency and also in the top 30 in those same four categories — 55.4% effective field goal percentage, 34.7% on the offensive glass, 55.7% in 2-point field goals and 6.8% in offensive block percentage.
While that paints the picture of a close game when these two have the ball, it's the difference in their defense that could impact this game the most. Baylor ranks 16th nationally in KenPom's defensive efficiency numbers and Kansas is 46th.
Two of KU's last three games — home against Texas Tech and at Iowa State — have featured their first- and second-best defensive efficiency rating of the entire season. So there's reason to believe that the Jayhawks are starting to figure it out on that end. Even the Kentucky loss, though it might not have looked like it live, went down as KU's best defensive performance on its nonconference slate this season.
Offense is nice and KU will have to find a way to score easy baskets against this stout Baylor defense, regardless of how effective Agbaji can be in his return.
But the easiest way to make sure this one goes KU's way is by playing the best defensive game of the season and taking advantage of the KU veterans against some of those young Baylor weapons.
Kansas leads the all-time series with Baylor, 34-7, but BU has won two of the last four matchups, turning this into one of the best modern day rivalries in the conference.
Probable Starters
No. 10 Kansas
G – Dajuan Harris Jr., 6-1, 180, Soph.
G – Ochai Agbaji, 6-5, 210, Sr.
G – Christian Braun, 6-7, 205, Jr.
F – Jalen Wilson, 6-8, 225, Soph.
F – David McCormack, 6-10, 265, Sr.
No. 8 Baylor
G – James Akinjo, 6-1, 190, Sr.
G – Adam Flagler, 6-3, 185, Jr.
G – Kendall Brown, 6-8, 205, Fr.
F – Matthew Mayer, 6-9, 225, Sr.
F – Flo Thamba, 6-10, 250, Sr.