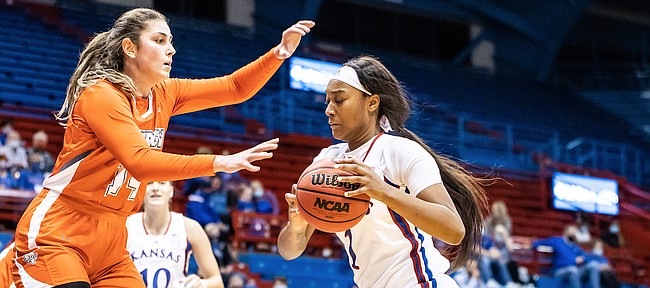 Taiyanna Jackson had 18 points and 11 rebounds for her second double-double of the season and Holly Kersgieter scored 19 points as the Kansas women's basketball team rallied from a 14-point deficit to defeat Oklahoma State 65-56 at Allen Fieldhouse on Wednesday night.
Ioanna Chatzileonti returned after missing two games with an illness and scored 13 points for the Jayhawks (14-5, 5-4 Big 12), who outscored the Cowgirls 40-23 in the second half and went on a 20-0 run that lasted 10:26 spanning the third and fourth quarters.
The teams were playing for the second consecutive game, a quirk in the schedule necessitated by COVID-19 issues around the Big 12 early last month. Kansas won 68-54 on Saturday in Stillwater, Oklahoma.
With the victory, the Jayhawks won both games in the season series for the first time since 1995-96.
Kansas shot only 37.3 percent, including 29.2 percent in the first half, when it went 0-for-7 from 3-point range. But it went 24-for-31 from the free throw line on the night, with Jackson, Kersgieter and Zakiyah Franklin all making six foul shots.
Abbie Winchester made a jumper with 1:45 remaining in the second quarter to push Oklahoma State's lead to 33-19, but Kansas closed the first half on a 6-0 run and entered halftime down 33-25.
The Jayhawks held the Cowgirls to 3-for-18 (11.8 percent) shooting in the third quarter behind a 2-3 zone defense and outscored them 15-5 in the period.
They started the fourth quarter on a 12-0 run that ended once Kassidy De Lapp made her second of two free throws with 5:53 to play.
Kansas committed 18 turnovers, which Oklahoma State turned into 14 points. But KU had a 49-36 advantage in rebounding and outscored its opponent 32-24 in the paint.
Lauren Fields led Oklahoma State (6-13, 1-9 Big 12) with 19 points on 8-for-21 shooting.
The Jayhawks will face TCU at home on Sunday at 2 p.m. They won 78-72 on the road when the teams met on Jan. 10.