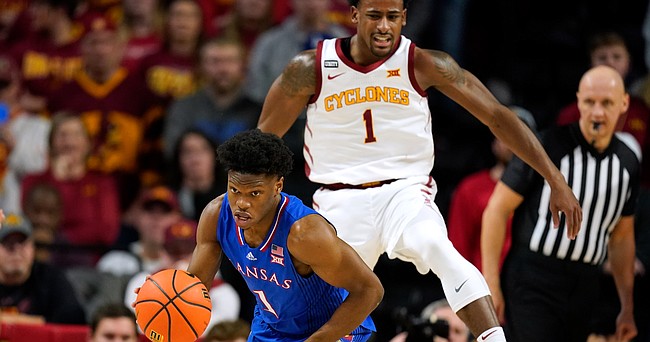 After playing single-digit minutes in eight of his previous 10 appearances — and not playing at all in four of KU's last eight games — Kansas sophomore Joe Yesufu logged 23 massive minutes while helping the 10th-ranked Jayhawks knock off No. 20 Iowa State on Tuesday night in Ames, Iowa.
The lesson learned by KU coach Bill Self after watching Yesufu's big night was simple.
"Well, he needs to play more," Self said after the 70-61 victory. "That's obvious."
That was the idea when Yesufu first came to Lawrence as a transfer from Drake in the offseason. His quickness, speed and athleticism were supposed to immediately upgrade the Kansas roster, whether he started, was the Jayhawks' sixth man or played off the bench.
The problem with that heading into Tuesday, however, was that the 6-foot combo guard from Bolingbrook, Illinois, hadn't really played at all.
He logged just 28 minutes of game action during the entire month of January and played in just three of KU's first seven Big 12 Conference games. Most of that action came in mop-up time and he made just one shot the entire month.
He made two shots on Tuesday — including a huge 3-pointer midway through the second half that pushed KU's dwindling lead from five back to eight — but those buckets told only part of the story of why Self included Yesufu in the trio with Dajuan Harris Jr. and David McCormack as the players who "carried" Kansas to Tuesday's win.
"How he finished was pretty impressive to me," Self said of the sophomore who scored seven points, grabbed five rebounds, dished four assists and swiped three steals in Tuesday's win.
Whether on offense or defense, in transition or half-court sets, Yesufu's production was derived from one key ingredient.
"Just play hard," Yesufu said after the game. "That's my biggest thing. Play hard and everything else will work out. My offense is going to come. Shots will start falling. I haven't been playing the past couple of games, but this was a huge confidence boost for me in the future and going into Baylor."
It also proved to be a lift for his teammates.
With Ochai Agbaji (COVID) and Remy Martin (knee injury) out against ISU, Kansas needed production to come from somewhere other than the usual spots to survive. Yesufu knew that going and said he felt ready to answer the call despite not having played much in recent weeks.
"I learned from it," he said of his heavy bench this season. "My teammates picked me up and I was ready for today. I believe every day's going to be my day. You've got to stay ready for each and every one."
Perhaps the most important part of what led to Yesufu coming through on Tuesday night was the approach Self took without his two most experience guards in uniform.
There were hiccups, particularly in the first half, when the Jayhawks (18-3 overall, 7-1 Big 12) struggled offensively and turned it over 16 times against the Iowa State pressure. And the rotation and lineup combinations were stretched to the limit. But rather than squeezing harder to try get a tighter grip on the situation, Self eased up.
"When you've got your guys that you're used to playing running your stuff, but you tell Bobby (Pettiford) or KJ (Adams) or Joe this is what we're going to do and they've never been out there yet, it's not quite as easy to comprehend," Self said after the game. "So we didn't really run anything. We just kind of played, and that turned out to be the best thing for us."
It certainly was for Yesufu, who played with poise while in attack mode throughout the second half. He was the picture of cool in most situations and looked a lot like a player who had been out there plenty this season.
Never was that more evident than late in the game, when KU was trying to salt the game away at the free throw line. As Yesufu stepped to the line to shoot a pair of free throws, Self yelled to him from the bench, "Joe, you got these?"
Without hesitation, Yesufu fired back, "Yeah." The look on his face said even more than the words. Head cocked, forehead scrunched, Yesufu's reply seemed to ask, is it even a question?
He then calmly knocked down the free throws to put KU up by a dozen with 1:15 to play, and Kansas left Ames with its sixth consecutive win over the Cyclones and its half-game lead in the Big 12 Conference race intact.
More important than either of those accomplishments was the fact that the current Big 12 leader might've walked away with a new weapon, as well.
"There's a switch that everybody flips, there's always a game," KU junior Christian Braun said after the victory. "And I think that could be Joe's game to flip the switch. He was great. He's fast. He played downhill. That's something he does every day in practice and we're confident in him doing. I think this game will help him going forward. We have a lot of confidence in him."