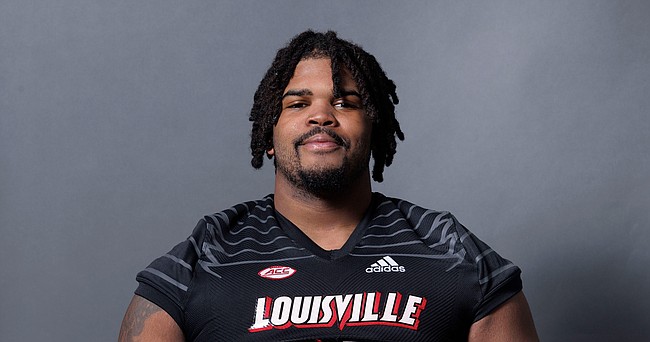 Kobe Baynes, the offensive lineman who transferred to Kansas last week from Louisville, has had his request for eligibility approved by the NCAA and will be able to play for the Jayhawks this season.
Coach Lance Leipold said Monday that Baynes, a 6-foot-4, 297-pound redshirt sophomore, is able to play guard or tackle. He was listed as the backup right tackle on Louisville's depth chart prior to the start of training camp.
"I think he's bringing another sense of physicality to us," Leipold said.
Baynes, from Jacksonville, Florida, decided to transfer from Louisville on Aug. 16 and was immediately contacted by several schools, some that were able to offer him a scholarship and others that couldn't.
Within a week, he chose Kansas, and on Aug. 23 he traveled from Kentucky to Kansas in order to join his new teammates. He applied for what is known as a "run-off waiver," in which a player and his or her previous school attests that the coaching staff had no intention of playing that individual this season, and the NCAA granted the request.
Baynes, who played in one game last season for the Cardinals, is the fourth offensive lineman the Jayhawks have added via transfer since the end of last season. The other three all appeared on the depth chart released prior to Friday's season opener at David Booth Kansas Memorial Stadium against Tennessee Tech.
Redshirt freshman right guard Nolan Gorczyca transferred from Buffalo prior to the spring semester, redshirt sophomore center Dre Doiron did the same over the summer and redshirt senior left guard Dominick Puni transferred from Central Missouri joined the team prior to the start of training camp.
Kansas also added two recent high school graduates in James Livingston and Joey Baker. Livingston made the depth chart as the backup right tackle but it seems unlikely either player will hold any significant role this season.
"I think it's pretty uncommon in the Big 12 conference that you're going to take two freshmen and expect them (to develop by) throwing them into the fire," Leipold said. "This gives us a chance to continue to develop and work with other guys, give us one more body."
Four of the Jayhawks' five starting offensive linemen return from last season and all are expected to resume those roles. The only uncertainty stems from redshirt sophomore Armaj Reed-Adams, who injured his left knee in practice two weeks ago.
Leipold said Reed-Adams has been able to resume practicing but it likely will be a gametime decision as to whether he or Puni starts.