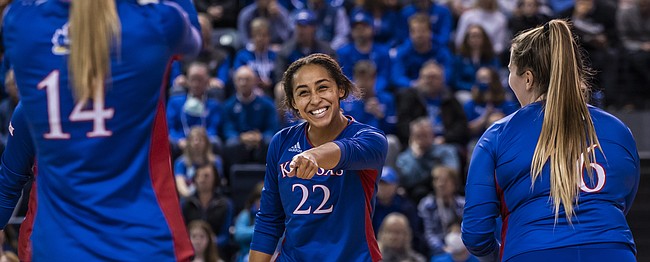 The 23rd-ranked Kansas volleyball team completed a weekend sweep on Saturday, knocking off Loyola Marymount in three sets to give the Jayhawks three wins in three matches at the Utah Classic in Salt Lake City.
KU swept Utah Valley on Friday afternoon and knocked off No. 22 Utah in four sets in Friday's nightcap.
On Saturday, KU defeated LMU 28-26, 30-28 and 25-12 in a hard-fought match that left KU coach Ray Bechard pleased with the way his team handled the challenge of facing tough competition right out of the gate.
"We saw some really contrasting styles," Bechard said of the three matches in Utah this weekend.
Super-senior Rachel Langs led Kansas with 18 kills and 12 blocks on Saturday.
Graduate transfer Lauren Dooley also contributed mightily to the KU offense, recording 13 kills on 17 attempts. Super-senior Anezka Szabo added 11 kills. Sophomore setter Camryn Turner chipped in with a double-double of 40 assists and 10 digs.
Szabo and Turner were both named to the all-tournament team, with Turner being named tourney MVP.
"Camryn Turner is making a lot of good choices," Bechard said. "She is extremely reliable right now and playing at a really good level."
Next up, the Jayhawks will head to West Point, New York, to play in the Black Knights Invitational at Army. KU (3-0) will open play in the event at 12:30 p.m. Friday against Temple.