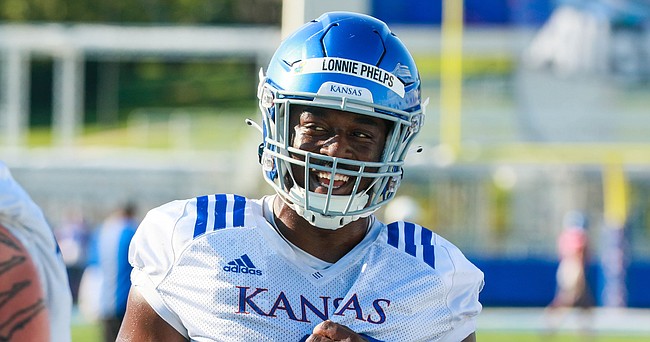 Taylor Riggins was still acclimating to the demands of playing college football at Buffalo in 2018 when a slight change was made in the structure of the coaching staff.
No longer would the defensive line be overseen by just one assistant coach. Instead, two people would handle those responsibilities, one to work with the defensive tackles and another with the defensive ends.
Riggins, who was a redshirt sophomore defensive end, noticed the payoff immediately. There was more in-depth, personalized instruction during the spring practice window and throughout training camp. Film review sessions were more targeted, thorough and efficient, with only 10 or so players learning from each coach instead of two dozen. The underclassmen, including himself, felt encouraged by the amount of information they were learning, partly because they weren't relegated to the back of the meeting room.
By the time that season ended, the results were clear: Buffalo, under coach Lance Leipold, went 10-4, won the MAC East for the first time in more than a decade and had a marked increase in nearly every major statistical category, including sacks, conversion rates and yards and points allowed.
That production kept up the following season, 2019, when the Bulls had one of the best defenses in the country and won a bowl game for the first time in college football's modern era.
Riggins acknowledged that the Bulls' year-over-year improvements could not be solely based on the staffing changes — he and his teammates aged and gained experience in the scheme, and better players were recruited — but the impact of that decision was clear.
"Splitting it up really helped," Riggins said. "It allowed for that more personal time and more breakdown in greater detail."
It's no wonder, then, that as Leipold prepares to open his second season as the coach at Kansas on Friday at home against Tennessee Tech, he does so having installed a similar coaching structure — one that's rather uncommon in the Football Bowl Subdivision, with just 24 of 131 schools formally dividing responsibilities the way he has.
Leipold believes that approach will aid the turnaround from one of the nation's worst defensive performances a year ago to, within a few seasons, one of its best.
"I think you're going to see us play a little different style and I think changing the schemes, meshing staff, I think we're in a better position," Leipold said. "Splitting up our defensive line into two different coaches, that's more teaching time, more film time, drill time, all those things."
The Jayhawks allowed 42.2 points and 249.8 rushing yards per game last season, the second-worst performance in the FBS in each category. They also allowed 486.3 total yards per game, which registered as the fifth worst, and had just 15 sacks.
Once the season ended, Kansas added Lonnie Phelps, a redshirt junior defensive end from Miami (Ohio) whose 9.5 sacks last season were more than any other FBS player who transferred.
Leipold also replaced defensive line coach Kwahn Drake, who remained from previous coach Les Miles' staff, with Taiwo Onatolu, a former defensive ends coach at Buffalo who was an analyst at Kansas last season, and Jim Panagos, a longtime defensive line coach who spent the last two seasons at Rutgers.
In 16 years as a college assistant, Panagos had never solely overseen defensive tackles. There never was a need to do so; when he began coaching, offenses ran what he called "old-school football" — immobile quarterbacks taking seven-step drops and a power running game reliant upon isolation plays and lead blockers.
Within a little over a month after settling into the role at Kansas and three weeks after the start of spring practice, however, Panagos already recognized the potential such an arrangement could bring. And it's not as if each group is isolated; although players at each position may sharpen their focus, they need to work together in practice and meetings to install stunts, twists and other disruptive maneuvers under the direction of both position coaches and defensive coordinator Brian Borland.
"What we ask the ends to do now — they've got to drop in coverage, they've got to do this, they've got to do zone reads — there's a lot of stuff they've got to do, and my (tackles) have got to do a lot of stuff," Panagos said. "The direction college football is going, I think that's what you'll see more and more teams doing."
Whereas Riggins, the Buffalo defensive end, found a benefit to the division of coaching early in his college years, Jayhawks defensive tackle Caleb Sampson has noticed it as he enters his redshirt senior season.
Sampson remembered a year ago, as he adjusted to a new defensive scheme, being confused with how he was being asked to approach certain blocks. That's something he said Panagos has taught extensively, and in a simplified way, over the past six months.
"You get more coaching," Sampson said. "I feel like last season, we had the ends and the tackles together and it was kind of like, I couldn't really get all the attention that I might have needed on something I may have needed. But now, like, since we have one coach with 10 guys rather than 20, it really made things a whole lot easier for us just because we can get more coaching points and more feedback from him faster than having a bigger group."
The primary reason why more schools have not divided their defensive line coaching responsibilities comes down to NCAA limits on the number of assistant coaches they can have. They are only allowed to have 10 full-time, on-field assistants; the increase from nine to 10 in January 2018 is what permitted Leipold to hire Roc Bellantoni as his defensive ends coach and allow Tim Edwards to focus on defensive tackles.
What Kansas sacrifices in that arrangement, though, is in the defensive backfield, where having one coach oversee cornerbacks and one oversee safeties is commonplace. The Jayhawks' offseason restructuring led to the consolidation of those positions under defensive backs coach Jordan Peterson, who has help from Borland, a longtime safeties coach.
"But if you have two D-line coaches, you better be strong in the trenches," said Kansas State coach Chris Klieman, who like Big 12 colleagues Leipold and Oklahoma's Brent Venables has assistants dedicated to the two positions. "It's just a matter of where you put your pieces. Everybody's got a different scheme, philosophy, thought. … We just happened to do that on defense."
Klieman and Venables each have overseen or worked within defenses that divide the defensive line responsibilities for more than a decade. Klieman, who was previously the coach at North Dakota State, rode that arrangement to four Football Championship Subdivision titles in five years, plus three more in three seasons when he was an assistant under Craig Bohl.
Venables, who returned to Oklahoma as its coach after 10 seasons as the defensive coordinator at Clemson, oversaw a scheme that led the Tigers to two national championships and six consecutive appearances in the College Football Playoff.
They had a top-10 scoring defense in four of the last six years and a top-20 run defense in six of last seven, and they have been in the top 10 in sacks every season since 2013.
"I'm not sure why that is that other people don't (have two defensive line coaches)," Venables said. "That's just kind of our philosophy and our belief system. …
"Defensive end play, mentally, physically, technique, there's some carryover between D-tackle and D-end, but there's a ton of differences in how you drill it, the things that they see. … It puts a lot of stress on the edges of your defense, so I think (those players) need a very intimate, intricate, detailed precise coaching and development."
After Leipold's departure from Buffalo prior to last season, Maurice Linguist, a well-traveled defensive backs coach, was hired to replace him. Linguist returned to having one defensive line coach and instead split the responsibility of coaching defensive backs among two assistants.
That's when Riggins, who was second in the MAC with 8.5 sacks in 2019, wrapped up his time at Buffalo. He credited Onatolu and the coaching structure with helping him develop a technically sound, elusive playing style that led to 17.5 sacks over five seasons with the Bulls.
"That was huge for us, I think," Riggins said. "I would say I was pretty raw coming out of high school, but being able to see the advanced techniques and learn new drills that were more applicable to games and were more game-realistic situations allowed me to grow and develop my own style from there."