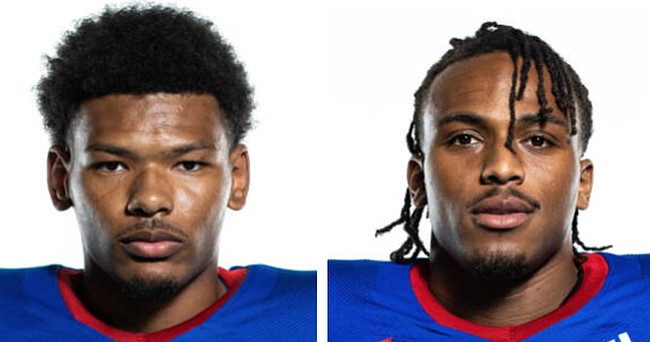 Two Kansas football players were charged with aggravated assault after allegedly confronting a man with handguns, but the case against one of the players was dismissed Friday afternoon in Douglas County District Court.
Trevor L. Wilson, 21, of Tallahassee, Florida, was formally charged Friday with one count of aggravated assault with a handgun, a low-level felony, and his own-recognizance bond was set at $5,000. But the court dismissed the case against the other player, Tanaka Artisma Scott Jr., 20, originally from Mobile, Alabama, for lack of probable cause.
Wilson, represented by attorney Dakota Loomis, appeared in court Friday via Zoom from the Douglas County Jail. The prosecutor asked for his bond to be set at $25,000, but Judge Blake Glover ordered the $5,000 bond instead.
The charges stemmed from an incident on Thursday afternoon where both men were alleged to have threatened a man with separate guns from different vehicles while driving.
According to a Kansas athletics spokesperson, "In light of today's legal developments with Trevor Wilson, he has been suspended indefinitely from all team activities. Regarding Tanaka Scott, we are continuing to gather more information and will update his status when appropriate."
Police responded to a call around 11:30 a.m. at QuikTrip on the northeast corner of 23rd Street and Haskell Avenue. When police arrived, the witness described two men, one in a red Dodge Charger and the other in an orange Dodge Challenger, pulling up next to him as he was sitting in traffic southbound on Haskell Avenue, Lawrence Police Department spokesperson Laura McCabe said.
The witness told police that the man in the red Charger, later identified as Wilson, opened his car door and stood up, then showed the witness a handgun. The driver of the Charger said some words to the witness before getting back in his car and drove into the QuikTrip parking lot, McCabe said. The witness then told police that the driver of the Challenger, later identified as Scott, followed the Charger and also showed the witness a gun as he drove by, McCabe said.
No one was physically injured.
Shortly after, police located the two men and the vehicles at the nearby Club Car Wash. Police also found two weapons in the men's possession, McCabe said. Police then arrested the men and booked them into the Douglas County Jail around 12:30 p.m.
Wilson and Scott, wide receivers for the Jayhawks, are expected to hold meaningful roles this season. Wilson, a redshirt junior, played in all 12 games last season after transferring from Buffalo and started seven of them. He caught 27 passes for 364 yards, both second on the team, and scored one touchdown. Scott, a redshirt freshman, appeared in two games last year.
Kansas' season begins Sept. 2 when it hosts Tennessee Tech at David Booth Kansas Memorial Stadium.