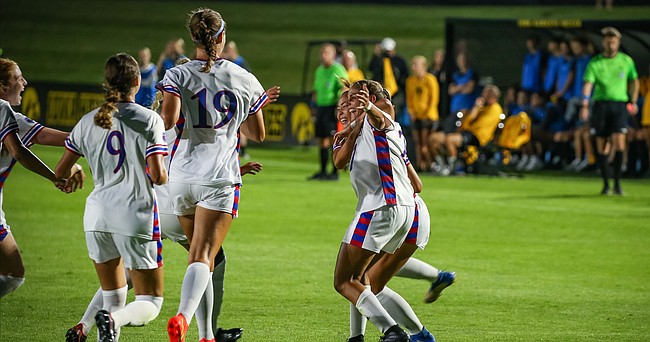 The Kansas women's soccer team moved to 2-1 on the season and 2-1 against Big Ten foes thanks to a goal from Shira Elinav in the 53rd minute of Thursday's 1-0 win at Iowa.
The goal was Elinav's first of the season.
The two teams played to a scoreless tie in the first half and Elinav struck early in the second half off of a corner kick from freshman forward Maree Shinkle.
Senior goalkeeper Melania Pasar recorded a career-high seven saves in the game to pick up her second consecutive shutout. Prior to this season, Pasar had just one shutout in her career.
Thursday's feat led to Kansas recording back-to-back shutouts for the second consecutive season. KU also shutout Iowa and Saint Louis last August. Dating back to the beginning of the 2020 season, Mark Francis' club has recorded 13 shutouts.
The Jayhawks out-shot the Hawkeyes 15-13 on Thursday night and also had an advantage in corner kicks, 9 to 4.
Kansas (2-1) will continue its road trip on Sunday in Des Moines against Drake. Kickoff is slated for 1 p.m. and the game will be broadcast on ESPN+.