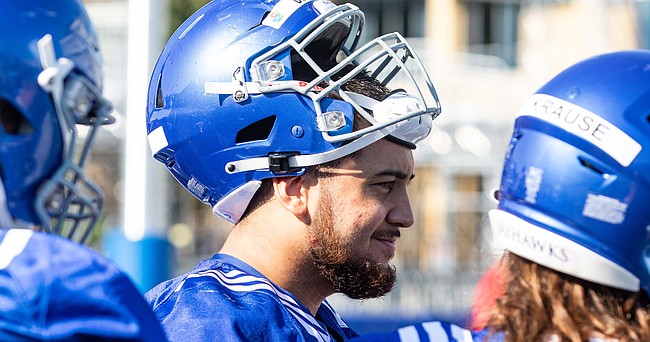 As Dominick Puni began searching for highlights to send to coaches following his decision to transfer from Central Missouri in January, it didn't take him long to realize how problematic doing that would be.
After all, the Mules didn't play in 2020 at the start of the COVID-19 pandemic, and he appeared in just one full game last season, a Week 1 loss to Pitt State, before he tore the MCL in his left knee.
Puni knew he couldn't rely upon film from 2019, when he started 13 games at left tackle as a sophomore, so he began combing through the 70-something snaps from that season opener. That's when one thought became apparent: "I had a pretty good game."
"I had a few clips from that game that I thought could represent the game that I bring," Puni said, "and it worked out."
It worked out, in fact, better than Puni could have imagined. He enrolled at Kansas in July, making the rare leap from Division II to a Power 5 university.
And come Sept. 2, when the Jayhawks open their season at home against Tennessee Tech, Puni, who played left guard and right tackle during training camp, could be in line for significant playing time — potentially even as a starter.
"We could not be more pleased," said Kansas coach Lance Leipold said Saturday. "We had good reviews that we were going to get a really good football player and he's matched all of that and exceeded our expectations in his ability to adapt. He started off at tackle. He's playing some guard. Yeah, he's going to help this football team."
A 6-foot-5, 315-pound redshirt senior from St. Charles, Missouri, Puni has been helped in his acclimation to Kansas by his age and his experience, offensive line coach Scott Fuchs said.
Fuchs said he had no concerns about Puni's ability to learn two positions at once, even if neither is the one that he had played previously in college.
"He's obviously played a lot of football," Fuchs said. "I mean, it might not have been big-ball football, but he's played offensive line for quite a while, so he understands it — and we're pretty fundamental in what we do as well. So, he's picked it up very well to this point. Obviously, there's things he still needs to learn, but I mean, he's a pretty sharp dude."
Whether Puni takes the field against Tennessee Tech rests not just on his ability but others' availability. Redshirt sophomore Armaj Reed-Adams, who is expected to start at right guard, missed the final week of training camp with a left knee injury, and Leipold said only that he would be expected back "soon."
If Reed-Adams is unavailable, it's conceivable redshirt sophomore Michael Ford Jr. could move from left guard to right guard, where he started 11 games last season, opening an opportunity for Puni.
One benefit if that were to be the case: Puni could take his first snaps on offense against an FCS team that went 3-8 last season before potentially lining up against West Virginia and preseason All-Big 12 defensive lineman Dante Stills a week later.
"The D-line is bigger, faster, stronger," Puni said. "The talent level is different. IQ level is different. They're smarter. Those are all things you have to take into account when you're coming here. That's really it, those two things, but they're big things."
When Puni chose to leave Central Missouri, he did so because his coach, Jim Svoboda, left to become the offensive coordinator at Tulane and his offensive line coach, Hank McClung, decided to retire.
He believed transferring was a risk — until he started to hear from schools such as Kansas and Minnesota. That immediately gave him the assurance that it was worth taking.
"A lot of kids make that decision (to transfer) thinking they're a lot better than they are, so I went in not knowing what a lot of coaches were thinking and what they see," Puni said. "It's a big gamble, but I didn't know what to expect. That was crazy."