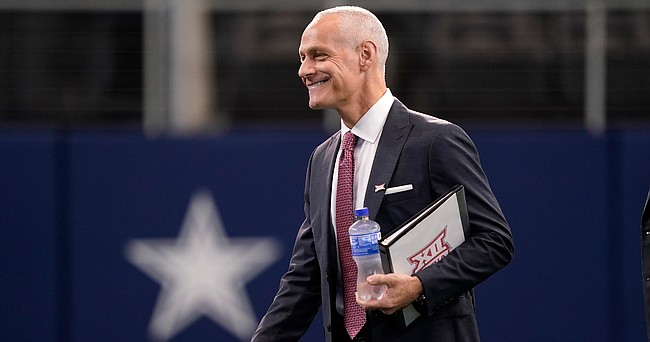 New Big 12 Commissioner Brett Yormark was in Lawrence on Monday, greeted by a full-on celebration of all things Kansas Jayhawks at Allen Fieldhouse.
Yormark, who officially started with the conference on Aug. 1 after taking over for retiring commissioner Bob Bowlsby, made his way to Lawrence as part of his plan to tour all 14 current and future Big 12 schools during a six-week period in August and September.

He called his plan "a listening tour" and said his plan was to meet with top officials, coaches and staff members at each school.
KU was the fifth stop on Yormark's tour, coming after trips to TCU, Iowa State, Kansas State and Texas Tech. The rest of this week includes stops at Oklahoma State (Tuesday), Baylor (Wednesday) and West Virginia (Thursday).
He was not made available to the media during his time in Lawrence, but he did speak, for five minutes, to the Lubbock Avalanche-Journal last week before leaving the west Texas town.
Much of what he discussed with the paper was stuff he covered during his introduction at Big 12 media days in mid-July. That, of course, included his comment that the Big 12 was "open for business." While many interpreted that to relate directly to conference realignment, Yormark told the Avalanche-Journal that it was more broad than that.
"It's been received, I think, in a very positive way," Yormark said. "'Open for business' doesn't mean just expansion, where I think some people read into it that it was very much focused on expansion. That's not necessarily the case. When I say 'open for business', it means that this conference is no longer going to be stagnant. We're going to be very proactive. We're going to explore and identify any and all opportunities that create value in every respect. Is expansion a part of 'open for business'? A hundred percent. But it's only a small piece."
Yormark addressed the ideal number for the Big 12 to have, saying he did not know whether that meant 12, 14, 16 or more, and emphasized that the only way the conference would expand would be if new schools brought added value.
He also talked about the future of the Big 12's multimedia rights negotiations and contracts, saying that ESPN and FOX would remain a key part of the future and that he was open to
"The ESPNs and the FOXes of the world are very important partners to us, giving us the broadest reach possible, especially when you think about being national and relevant," he told the Lubbock paper. "Obviously, a digital partner makes sense because the young consumer today, you need to reach differently. But being with an ESPN and a FOX and a broad-based distributor is going to be very much part of our future and hopefully in five years from now, post our next TV negotiation, we will be with the biggest and best distributors in the business. We hopefully at that point in time will also have experienced some further expansion, which I think is critically important for us."
While all of that is just a vision for now, it's clear that Yormark is ready to get to work, through listening, strategizing and acting. Meeting with key members at every school obviously is an important part of his process and he has said he plans to report back with what he learned to the league's presidents after his campus tour is over.
As for his time in Lawrence, after being ushered into the Booth Family Hall of Athletics on the front of Allen Fieldhouse, Yormark was greeted by KU's coaches and several staff members and met with both KU AD Travis Goff and Chancellor Douglas Girod.
In speaking to the group gathered to meet Yormark, Goff spoke highly of what Yormark already has done for the Big 12 Conference.
"He's emboldened our entire league, he's challenged our leadership in a wonderful manner and it's an incredibly exciting time to have Brett and his leadership and his lens."

Goff then told Yormark directly that KU was "bullish about the future of this league."