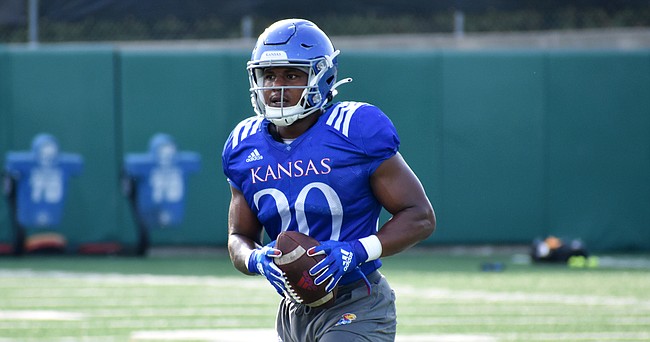 Daniel Hishaw Jr. spent last season recovering from a hip injury that prevented him from being able to play for Kansas. Torry Locklin dislocated an ankle and missed the Jayhawks' final three games.
Despite the additions of two highly regarded running backs in Ky Thomas and Sevion Morrison, as well as the emergence last season of Devin Neal, Hishaw and Locklin have been determined to make sure they're not sidelined again when the season opens Sept. 2 against Tennessee Tech.
"You've got to keep working, you know what I'm saying?" Hishaw said. "Now you've got to work even harder because you've got a setback. You didn't really lose anything. It was just like taking a couple steps back while everyone's still taking their steps forward, so you've got to make sure you're taking even more steps to get there."
Kansas' coaches spent the offseason fortifying a number of positions with transfers, especially players who thrived at their former schools before seeking a change of scenery.
Perhaps none were as impacted as greatly in quality as running back, with Thomas, a Topeka native, joining the Jayhawks after leading Minnesota in rushing last season, and Morrison, one of the top high school players at the position in 2020, joining from Nebraska.
That means five running backs are competing to carve out roles with the Jayhawks. It's common for teams to have only three play on offense in one game, but offensive coordinator Andy Kotelnicki has been tasked with trying to find wrinkles that will allow them all to consistently take snaps this season.
"They're just trying to get more of us out there so we can put pressure on the defense," Locklin said.
Hishaw, who is 5-foot-10 and 215 pounds, was the Jayhawks' second-leading rusher as a freshman in 2020 when he carried the ball 52 times for 229 yards and two touchdowns. During training camp a year ago, however, he tore "something" in one of his hips — "It was just a rare injury," he said — and wasn't cleared to play all season.
Locklin, meanwhile, emerged as an option by running 36 times for 117 yards and two touchdowns as a redshirt sophomore. At 6-foot-2 and 210 pounds, the coaching staff experimented with lining him up as a receiver, and he caught three passes for 24 yards, including one 20-yard touchdown catch against Duke, before his season ended Nov. 6 in the loss to Kansas State.
Running backs coach Jonathan Wallace said that despite their injuries, neither player was disengaged last season. They remained just as active in observing their teammates during practice and taking part in the required football-related instruction and film work.
"If our guys, our (athletic) trainers, say that you can be out at practice, then you're going to be out at practice," Wallace said. "You'll have the script and you're going to walk around and watch and see everything that's going on so that way, they can continue to grow as players."
Coach Lance Leipold said last week, as training camp neared its conclusion, that Hishaw "has done an outstanding job" and has "had as good a camp as anybody." Described as an all-around back, Hishaw's power and speed should make him an adequate complement to Neal and Thomas in the Jayhawks' zone-running scheme.
Locklin's use throughout training camp has been more varied, and it seems that he'll continue to see additional opportunities, like Morrison, as a target in the passing game.
Hishaw said sitting out last season and welcoming the additional running backs to the team weren't as difficult as one would expect. The scheme, he believes, will allow him to thrive.
"That's why it is so exciting for them to come in here — the fact that we could even have more running backs on the field at once," Hishaw said. "That's going to make teams (say), 'What are they doing out here?' It's just really fun to have them here so we can do personnel like that and have multiple people on the field."