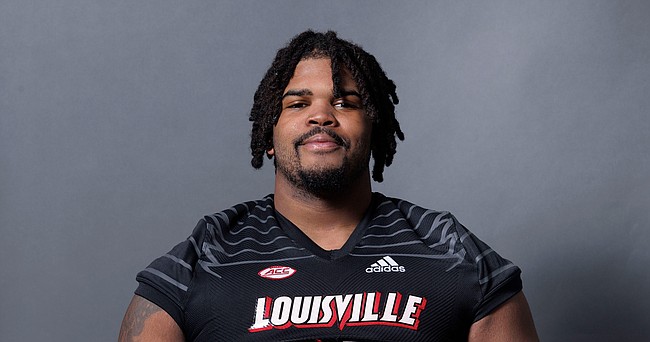 Former Louisville offensive lineman Kobe Baynes has found a new home at Kansas.
Baynes, a 6-foot-4, 300-pound right tackle from Jacksonville, Florida, committed to play for the Jayhawks on Monday, less than a week after deciding to leave the Cardinals and just four days after receiving a scholarship offer from coach Lance Leipold.
"I didn't want to wait until December and waste a year of eligibility," Baynes said. "I wanted to get somewhere now and get some tape. That was a big factor for me."
A redshirt sophomore, Baynes will seek a waiver that will allow him to play for Kansas this season. If he doesn't get it, he will still be able to enroll in classes and join the team for practice and meetings and would have three seasons of eligibility remaining.
If nothing else, his arrival in Lawrence will happen quickly. Baynes, who was still in Louisville on Monday evening, said he had an early morning flight to Kansas City scheduled for Tuesday and hopes to be able to be on campus by the afternoon.
Baynes also received scholarship offers from Illinois, Syracuse, Memphis, USF and Bowling Green shortly after entering the transfer portal and said he had heard from several other schools that wanted him to wait on a decision until after the season so they could try to add him.
He decided to transfer on Aug. 16, days after he was listed as the backup right tackle on Louisville's first depth chart of the season, and said the biggest reason he wanted to leave was for a "change of scenery."
He has had three offensive line coaches in three seasons and it resonated with him that Kansas' coaching staff has been mostly intact through the transitions from Wisconsin-Whitewater and Buffalo.
Kansas, which has scholarships open, is set to begin its second year under Leipold when it hosts Tennessee Tech on Sept. 2.
"That showed me that there's loyalty in their ranks and they're committed to each other, and I think that was the biggest thing for me," Baynes said.
He also thinks the transition to Kansas will be easy because Louisville also uses an outside zone running scheme that Baynes thinks suits him particularly well.
A three-star prospect in the Class of 2020, he chose the Cardinals in December 2019 over Miami and South Carolina. Among the other schools that had offered him a chance to play football were Michigan, Florida State, Arkansas and Ole Miss.
Kansas will lose sixth-year senior left tackle Earl Bostick Jr. after this season and redshirt senior center Mike Novitsky will have to decide whether he wants to return. The Jayhawks' other expected Week 1 starters are redshirt sophomores in left guard Michael Ford Jr., right guard Armaj Reed-Adams and right tackle Bryce Cabeldue.
The Jayhawks have added 21 players via transfer since the end of last season, and Baynes is the third offensive lineman following Central Missouri's Dominick Puni and Buffalo's Dre Doiron.
Baynes, who said he enjoys PC gaming and watching movies, is studying communications and would like to get into journalism and broadcasting.
That he was able to quickly find a new school where he could pursue all of his interests came as a surprise.
"Honestly, when I entered the portal, I was praying with my family that whatever happened, I just get back on my feet, and honestly, I didn't expect the turnout that I had," Baynes said. "I didn't even know what I was going to do, honestly, but I was just praying and hoping that God had me, and he took care of me."