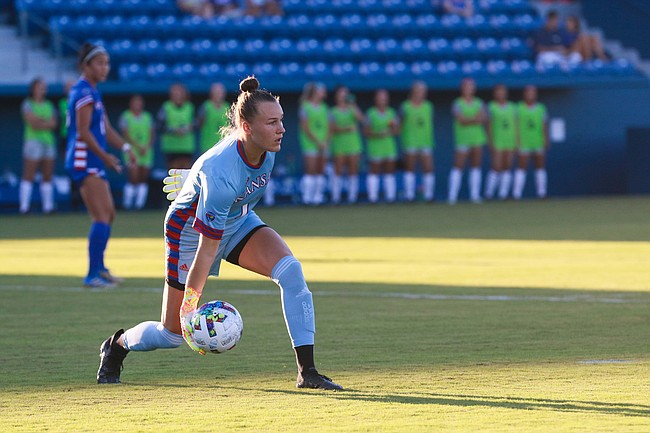 Junior defender Mackenzie Boeve scored the game's only goal the 56th minute to give the Kansas women's soccer team a 1-0 victory over Northwestern on Sunday at Rock Chalk Park.
The win was the for their first win of the season for Kansas, which improved to 1-1. The goal was the first of Boeve's KU career.
"This group has a lot of heart and a lot of fight," KU coach Mark Francis said after the victory. "I can't give that to them. They either have it or they don't, and they do."
Northwestern (1-1) knocked off Kansas State 2-1 in Manhattan in its season opener on Thursday but could never find the net against the Jayhawks.
The game was scoreless at halftime and still tied 10 minutes into the the second half. But a Northwestern foul at the edge of the penalty box set up KU defender Moira Kelley for a free kick. Kelley's ball found Boeve's head on the back post and ended up in the back of the net.
The shutout is the first of the season for Kansas and the second of KU goalkeeper Melania Pasar's career.
Next up, Kansas will hit the road for the first time this season when it travels to Iowa at 7 p.m. Thursday.