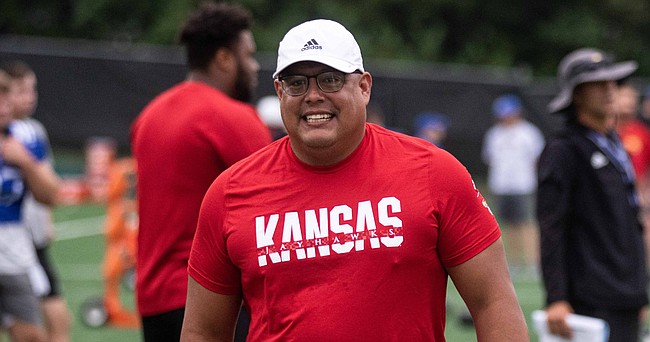 Oscar Rodriguez Jr. was given less than a 15% chance of survival and was undergoing chemotherapy in a room typically reserved for hospice care.
Despite the long odds, all he wanted to do was focus on the positives.
It was late 2014, and the longtime football coach considered his surroundings. He had been diagnosed with testicular cancer a second time after having battled it nearly two years earlier. A heavy chemotherapy regimen — six consecutive days with 24-hour treatment followed by two weeks off, a cycle that needed to be repeated four times — was prescribed.
His weight plummeted, his hair began falling out and his feet started to blacken. Three weeks before Christmas, he needed an emergency blood transfusion because of a low white blood cell count. Through it all, Rodriguez was more concerned with the plight of others around him.
"They're dressing you up to die, and I saw a lot of people that didn't have anybody," Rodriguez said. "That's a sad, sad deal, you know? Any time I wanted to feel sorry for myself, like, for what, man? I at least got people that love me, that are here to touch me and hug me and telling me it's going to be OK."
Rodriguez understands resilience. His parents — Oscar Sr., a deacon in the Catholic church, and Marta — emigrated from Mexico to Kansas in the 1970s so their children would one day be able to receive a quality education. When he was 8 years old, he cleaned houses with his mother just to put food on the table. The family often shopped at garage sales, and though his clothes were cleaned, there were stretches when he went to school wearing the same outfits days at a time. After graduating from Liberal High in 2001, he played football at three colleges in four years and coached at one high school and five colleges over the next decade.
Through it all, Rodriguez kept fighting. By January 2015, with his treatment at University of Kansas Medical Center complete, he entered remission. With no complications or setbacks over the next five years, his doctors confidently told him he had been cured of the disease.
Then in February, after finishing last season as the interim head coach at Akron, Rodriguez, now 41, reached what someone born and raised in the state could consider a career pinnacle. He was hired by Kansas, which allows him to share his passion, humor and optimism with the Jayhawks as a defensive analyst.
"That's the reality of life," Rodriguez said. "Life's hard, and the football part for me is easy compared to life, you know?"
•••
Brandon Staley didn't know Rodriguez when they were hired as co-defensive coordinators at Hutchinson Community College in 2010, but it didn't take him long to notice that Rodriguez had "that kind of zest for life."
Rodriguez's responsibilities weren't easy. After two seasons as the defensive backs coach at Washburn and two as the defensive coordinator at Baker, he was hired not just to help lead Hutch's defense but also to serve as an academic liaison, lead the strength and conditioning program and guide several players who came from challenging backgrounds.
"He really cares about people," said Staley, who is entering his second season as the coach of the Los Angeles Chargers. "I think that's where it starts. He puts others before himself. He really sees coaching as a way to build people up for their futures."
Staley, who is also a cancer survivor after overcoming a diagnosis of Hodgkin lymphoma in 2007, when he was 24, said Rodriguez takes "all of the different phases of being a coach really seriously."
"I think the hope of being able to change the world and impact the world through his profession — I think those two concepts really allowed him to take on two bouts of cancer and ultimately to be an example to people to look to in their own battles," Staley said.
Rodriguez spent just 2010 at Hutch before spending two seasons as the defensive coordinator at Emporia State. His first bout with cancer began at the end of the second season. After overcoming it, he was hired as the defensive coordinator and special teams coach at Garden City Community College — a stint interrupted by the return of the disease.
In 2015, on his way to recovery, Rodriguez opted for a change of scenery and was hired as the defensive coordinator at La Verne, a Division III school in Los Angeles. He was honored in 2017 by the American Football Coaches Association as its Division III Assistant Coach of the Year before he connected in 2018 with Tom Arth, then the coach at Chattanooga.
Arth hired him as an inside linebackers coach because, he said, "you just really felt him as a person."
"One of his greatest gifts is his ability to connect with people," said Arth, now the passing game coordinator under Staley with the Chargers. "Whether that's a high school recruit, whether that's a player on your roster, whether that's other coaches on the staff, Oscar has an uncanny ability to connect with people and really bring people in and feel important and feel special. I think anybody that has ever been around him would tell you that. He's done a great job of that everywhere he's been."
After that season, Arth and Rodriguez moved to Akron, where Arth went 3-24 in nearly three seasons before he was fired in November. Rodriguez was appointed as the Zips' interim coach for the final three games.
"The first thing he talked about was his story because he wanted people to get to know him and why he operates the way he does," said Brandon Bischof, who played linebacker at Akron under Arth and Rodriguez. "He kind of treats every day like a gift, because to him, it is. It really is for all of us."
Bischof said the biggest lesson he learned from Rodriguez is perspective, which was helpful as Akron lost its final three games under him.
"He talked a lot about life," Bischof said. "He'd get vulnerable with us and he thought he was going to die, basically. When I think back at my time with him, that kind of stuff sticks with you, you know? When you have a coach up there who is willing to get so vulnerable in front of you and tell you exactly what he's been through and you know exactly how he was feeling during those times, it kind of makes it resonate with you and you learn to be grateful for what you have.
"That was a huge thing that he got across to the players — how grateful you should be in your situation because it could be a lot worse."
•••
Rodriguez returned from a trip to Los Angeles with his wife, Lauren, a marriage and family therapist, and was visiting his parents in Liberal when he received a text message from Kansas coach Lance Leipold.
He had run into Leipold weeks earlier at an early January coaching convention in San Antonio where, out of work since his firing at Akron, he inquired about coaching opportunities. Leipold, via text, suggested Rodriguez meet with defensive coordinator Brian Borland about becoming a defensive analyst. Borland was driving back from Oklahoma City, and the two connected at Mariscos Sinaloa, a restaurant in Liberal.
"It just worked out for the both of us," Rodriguez said.
Being an analyst is often a stopgap opportunity for coaches. It doesn't allow on-field coaching and involves plenty of behind-the-scenes work, often for relatively low pay without long-term security.
Leipold, however, called Rodriguez's hiring a "win-win."
"I don't know if I've gone anywhere, especially in this state, where somebody doesn't come up to me and say, 'I know Oscar Rodriguez,'" Leipold said. "That's cool because we need that. We need that positivity. But not just him being a good guy — he's an excellent football coach and he adds a lot to our meetings and our defensive staff."
During the spring, Rodriguez watched film, diagnosed what happened when opponents racked up big plays against Kansas' defense and tried to determine how to prevent them from happening again. Throughout training camp, he helped defensive backs coach Jordan Peterson diagram and teach plays; at times, they have laughed once they recognized they had the same verbiage for some of the calls.
"In our meetings, he sits right here next to me," Peterson said while gesturing to an empty chair to his left. "He's a great guy. His connections with the state of Kansas and where he's been and what he's done, obviously, provides significant value. ...
"Any time that you have guys that have a ton of experience coaching not only the position but also been a head coach, that's always a good sounding board. He does a heck of a job for us."
In the years following his first cancer diagnosis, Rodriguez formed a nonprofit foundation, Coaches Against Cancer, which aims to offer financial assistance to those who are affected by the disease. He refers to his experiences as a "doctorate in life," and he noted that "there's a lot of scars and tough times that come behind the things that I say."
Where football takes Rodriguez beyond this season at Kansas is uncertain. He wishes to one day have a chance to be a full-time head coach, but with a wide smile that stands out as he patrols the sideline during practices, he will continue to embrace the positivity that helped lift him out of despair.
"I think it's our duty as coaches to impact kids through our life testimony and to be able to make yourself vulnerable to where they see you as a human being and not just a figure that just shows up every day," Rodriguez said. "With the way the landscape is now and the pressure there is to win, coaches come and go, but if you can make an impact on a person — on how you make them feel or how you make them behave in their new life — I think that's going to stay forever."