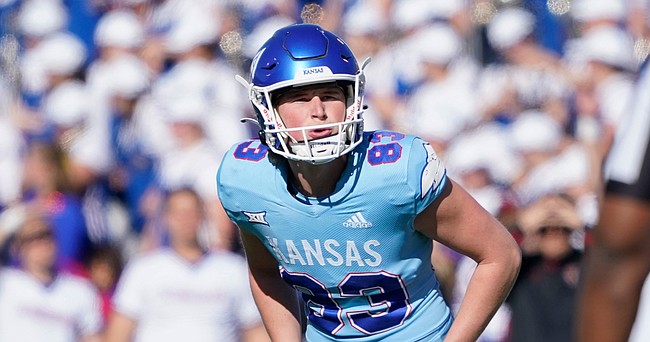 Kansas kicker Jacob Borcila is hoping that a physical transformation over the summer will lead to a change in mental approach come this season.
Borcila, a redshirt junior, made just nine of his 15 field goal attempts last season, the worst success rate in the Big 12 among full-time kickers. That followed a redshirt freshman season in which he made six of his nine attempts.
Understanding that what he had been doing wasn't working, Borcila set out during the offseason to add power in his legs. The plan, created by the team's strength and conditioning staff, first required Borcila to add 30 pounds before returning for summer workouts.
Then, once he returned to campus, he partook in workouts and followed a diet meant to strip away the fat he had gained, give him with the strength he wanted and leave him with a net gain of about 10 pounds.
"Of course, last year wasn't the year I wanted," Borcila said, "but this offseason, I put in a lot of work bodywise and strengthwise so this season, I can be a lot more confident when I'm back in my steps kicking those balls through the uprights."
Borcila will handle field goal and extra-point opportunities this season, with junior Tabor Allen again taking the field for kickoffs.
Kansas' special teams have received a makeover with the appointment of Taiwo Onatolu, who had coordinated special teams with coach Lance Leipold at Buffalo, to that role in February.
Onatolu, who also coaches defensive ends, has been overseeing kickoffs. Linebackers coach Chris Simpson is overseeing punting and punt coverage, defensive backs coach Jordan Peterson is in charge of punt returns and running backs coach Jonathan Wallace is handling kickoff returns.
"I think it's going to translate well for the sake of the team," Borcila said. "So, I mean, everybody — those coaches know exactly what's expected of the players and the players know what's expected of them by each coach. We're not settling for average. The best players are going to play on special teams and we're going to be one of the best special teams units in the country. That's our goal."
Leipold and Onatolu have said senior safety Kenny Logan Jr. will continue returning kickoffs and figure to be joined deep by running backs Devin Neal or Ky Thomas. With wide receiver Kwamie Lassiter II now with the Cincinnati Bengals, Neal and wide receiver Luke Grimm appear to be the leading candidate to return punts.
"The way we've kind of broken up (responsibilities), very happy the way Taiwo has handled the coordination of our teams and kind of broke them back up with lead coaches," Leipold said. "But obviously, we know how important they are."