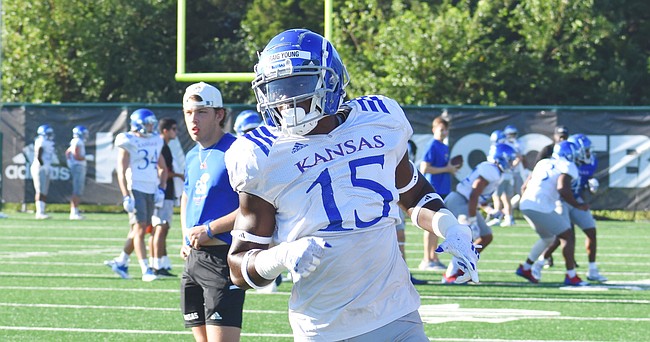 Former Ohio State safety Craig Young "fits in really well" as Kansas' hawk linebacker, a position that incorporates the principles of a strongside linebacker and strong safety, linebackers coach Chris Simpson said.
Young played in 26 games at Ohio State over three seasons, primarily as a safety, before choosing to transfer to Kansas in December.
He said he ran the 40-yard dash in 4.46 seconds upon enrolling at Ohio State in 2019, and Simpson sees that speed as one of Young's greatest attributes.
"Craig can run," Simpson said. "He's one of our faster guys. He's got tremendous length, so even what there is that he may lack, he can make up for in other areas, and length is one of those things.
"Being a big, tall guy, we're putting a lot on him and he's killing it, OK? We're putting a lot on him in terms of what he needs to know and he's embracing it and even going above and beyond to make sure that he's really locked in with whatever he's doing. He's doing a tremendous job for us."
Young, who was recruited to Ohio State to play wide receiver before moving to defense, said playing hawk linebacker isn't all too different from the responsibilities he had in the secondary over the last three seasons.
"I'm covering similar guys," Young said. "I'm still covering receivers. The only thing that's different is that I'm playing more in the box now here. I'm in the box now and taking on offensive linemen and fitting gaps and everything. That's pretty much different from playing safety and moving back here to hawk."
Kansas added three linebackers via transfer from an FBS school in the last eight months and will open the season Sept. 2 against Tennessee Tech with what Simpson has said is a crew of five or six starting-quality players at the position.
In addition to Young, Eriq Gilyard transferred from UCF before the spring semester and Lorenzo McCaskill moved from Louisiana in early August.
Senior Rich Miller, junior Taiwan Berryhill and senior Gavin Potter all return after starting games for the Jayhawks last season, with Nate Betts, then a sixth-year senior, the only player who isn't returning.
Young's backup at the position is likely to be Potter or redshirt senior Jarrett Paul, another player who transferred to Kansas over the summer. Paul, who is primarily a safety, played last season at Eastern Michigan after beginning his college years at Rutgers.
"We had five guys in the (position group) on scholarship that weren't with us a year ago and one guy that played significantly that isn't, so when you look at that, it's a way different picture this year than it was last year," Simpson said. "I think we're all pretty excited about it."