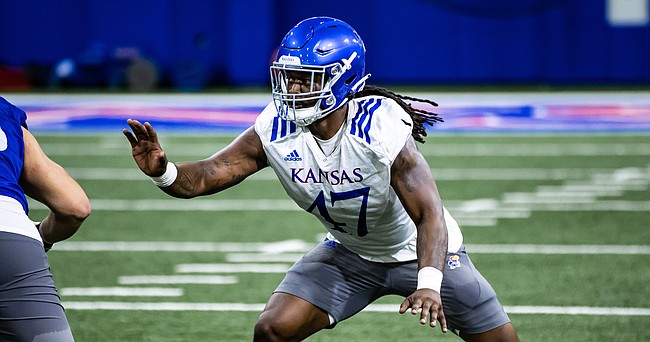 Lonnie Phelps Jr. can recall the exact moment when he felt at home at Kansas.
It was January, not more than a week into the spring semester, when the defensive end was recognized on campus. The fans didn't just know Phelps plays football. They knew his full name and that he had just joined the Jayhawks following a transfer from Miami (Ohio).
"That was just abnormal for me because when I was at Miami, I didn't get that type of attention from fans," Phelps said. "It was people that I didn't expect to know me that knew my full name, so that was cool right there."
If all goes well for Phelps, many more people will know his name — and soon.
A redshirt junior, Phelps is the Jayhawks' marquee addition to the defensive line, a player whose 9.5 sacks last season ranked third in the MAC and tied for 22nd in the FBS.
No player who entered the transfer portal had more sacks than Phelps, making him, in one aspect, the most proven pass rusher to change schools after last season.
Nearly immediately, he knew he wanted to play at Kansas. Phelps, who decided he wanted to leave Miami at midseason, received a scholarship offer from the Jayhawks on Dec. 24, hours after his transfer request was processed.
"I felt like it was the perfect fit," Phelps said. "I've never been this far from home, so it was a lot to adapt to, but my mom said I could do it because where I'm from, I'm a product of my environment and I can adapt to anything if I put my mind to it."
Kansas knew it needed to find a way to replace Kyron Johnson, who had a team-high 5.5 sacks last season and was chosen by the Philadelphia Eagles in the sixth round of the NFL Draft in May. The Jayhawks combined for just 15 sacks, which not only them with TCU for the fewest in the Big 12 but ranked 120th out of 130 schools in the FBS.
Phelps, who is 6-foot-3 and 245 pounds, said he has watched some of Johnson's highlights from last season to understand what's being asked of him. Coach Lance Leipold said what will be expected from Phelps, however, will be different from what Johnson could do.
"We know what Kyron gave us last year, but we also have to be honest: He was undersized and really played his tail off in tough situations," Leipold said. "Lonnie gives us a little more size there and he's going to be good against the run as well. I like that about him. He mixes things up. He works at it. He takes coaching, all those things. It's exciting."
Phelps emerged last season after playing in all three of Miami's games in 2020, a season shortened by the start of the coronavirus pandemic, and 13 games as a true freshman the year before, when he finished third on the team with 4.5 sacks.
He said his success rushing the passer is a culmination of his speed, power and aggression, and that he tries to pattern his style of play after the Watt brothers. Leipold, meanwhile, said Phelps "has a tenacity about him that he keeps going and he fights and scraps and plays to the whistle."
"Lonnie is a freak of nature," senior safety Kenny Logan Jr. said. "Lonnie can swing the edge. Lonnie has a high motor. Lonnie goes and goes and goes, and he's strong, so Lonnie's going to be a great help for us."
Kansas has four defensive ends who played significant snaps last season, including redshirt senior Malcolm Lee, an 11-game starter, and junior Jereme Robinson, who started the game Lee didn't. It also added a pair of junior college transfers in recent months in Davion Westmoreland and Dean Miller.
Yet the most is being expected from Phelps, whose passion for the game came from his father, Lonnie Phelps Sr. Although the elder Phelps didn't play football, he has helped train his son by studying clips on YouTube and used to record Miami's games in order to provide feedback.
Recently, when Phelps was issued his No. 47 game jerseys, the nameplates merely showed his last name. He wants to have "Jr." appended to it, like he did at Miami, in order to recognize his father and to remind himself why he's now at Kansas.
"It was just football at Miami," Phelps said. "Now, it's everybody."