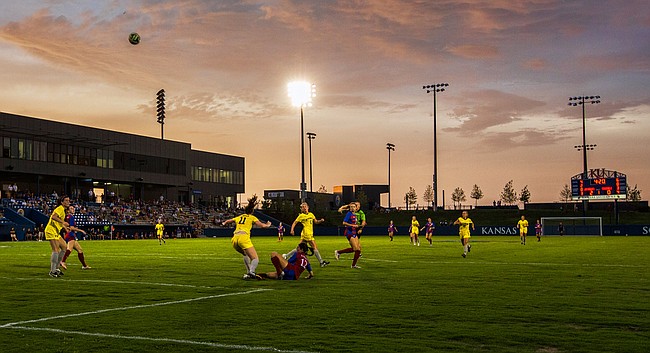 The 2022 Kansas women's soccer team opened its schedule with a 6-0 loss to eighth-ranked Arkansas in an exhibition match at Rock Chalk Park on Wednesday night.
The announced attendance for the match was approximately 1,000 fans.
The Razorbacks scored three goals in the first half and added three more in the second half to take the lone exhibition game on the Jayhawks' schedule this season.
Arkansas outshot the Jayhawks 17-6 and also owned a 7-4 advantage on corner kick opportunities. Three of the Razorbacks' six goals came off of corner kicks.
KU coach Mark Francis used the exhibition match to give several newcomers an opportunity to get a feel for playing games at this level. Freshmen forwards Saige Wimes and Lexi Watts each played more than 50 minutes and freshman defender Assa Kante logged 48 minutes. Wimes also led KU with two shots on goal.
Junior forwards Shira Elinav and Brie Severns, along with senior defender Ellie Prybylski, also recorded one shot on goal apiece in the loss.
KU now will turn its attention to next week's regular-season opener against Ohio State. Kickoff is slated for 7 p.m. on Aug. 18 at Rock Chalk Park.