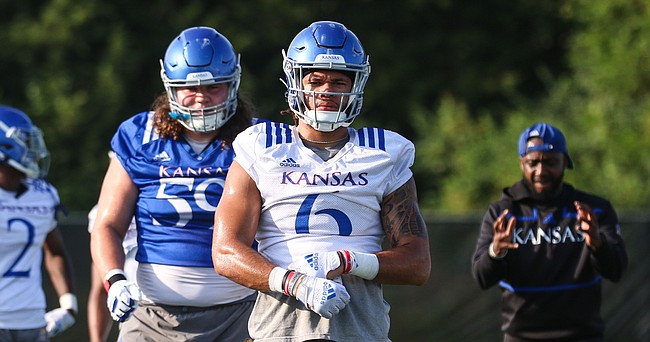 Kansas linebackers coach Chris Simpson didn't hesitate when asked for an assessment on the development of junior Taiwan Berryhill.
"Most improved in the room, period," Simpson said Wednesday. "It's not even close, in my opinion."
Berryhill played in all 12 games for the Jayhawks last season, started four of them and finished with 31 tackles. Three of those starts were in the first three games, though he played 410 snaps all season in what was essentially a four-player rotation that also included Nate Betts, Rich Miller and Gavin Potter.
Simpson's belief comes from what he has seen from Berryhill during training camp practices. The Jayhawks concluded their eighth such practice on Wednesday.
"There were moments a year ago where he would be frustrated in the middle of a play and almost stop in the middle of a play," Simpson said. "That's not happening. He'll go and get it now. Most improved, by far. I'm really excited to see. And he's still a young guy now. I'm really excited to see what Taiwan can do for us moving forward."
Berryhill said Simpson's recollections were accurate.
"It was just, like, frustrating that I didn't know the playbook and things would happen that would be too quick for me and I'd just get stuck," he said. "I'd sit there confused and get frustrated with myself — not with anybody else, but just myself: '(Come on), Taiwan. You've got to know this. You've got to see this.'
"You've got to make a decision at some point. You're going to keep being mad and frustrated with yourself or you're going to get right and start playing football."
And for Berryhill, that happened as soon as the season ended. He went home to New Orleans and cleared his mind before a meeting with Simpson, coach Lance Leipold and strength and conditioning coach Matt Gildersleeve.
"They just talked to me about, 'You've got a lot of ability. You can play. You just need to trust the process. If you believe in us, we believe in you. Believe in us. We want you to try it out,'" Berryhill said. "I tried it, and as of now, I reaped the benefits, but I've still got more work to do."
A starting role isn't assured for Berryhill as the Jayhawks have completely revamped their group of linebackers in the last eight months. Betts, a redshirt senior, has departed, but Miller and Potter return. Kansas added UCF's Eriq Gilyard, Ohio State's Craig Young and Louisiana's Lorenzo McCaskill, as well as junior college players Tristian Fletcher and Alex Raich, to push for playing time.
As for what that means for Berryhill?
"Come in ready to work," he said. "It's not one guy against another. We're all getting each other better every day. That's how we look at it."
Samuel: Grimm leading WRs
Wide receivers coach Terrence Samuel said Luke Grimm has emerged as the leader of a relatively unproven unit since last season ended.
Grimm, a junior, played in all but two games for the Jayhawks last season and started six. He finished with 22 catches for 349 yards and three touchdowns, including season highs of five catches for 75 yards in the loss at Coastal Carolina, and played 241 snaps on offense, the third most among returnees behind Lawrence "LJ" Arnold and Trevor Wilson.
"When you talk about having a chip on his shoulder, he's got a chip on his shoulder," Samuel said. "I think he really, really wants to show that he can play at an elite level. Whether or not I believe he can, whether or not you guys believe he can, as long as he keeps believing that that's the level that he wants to achieve, I'm going to keep pushing that out there and making him believe it until he gets what he wants out of this opportunity. That's what the coach is supposed to do. He's moving in the right direction and there's a lot of trust there right now."
Fan rally in Prairie Village
Kansas will hold the 16th annual KU Kickoff at Corinth Square at 83rd Street and Mission Road in Prairie Village beginning Friday at 6 p.m. Leipold and athletic director Travis Goff will be on hand to speak with attendees, and the pep band, spirit squad, Big Jay and Baby Jay will also appear. Food and drinks will be available and live music and giveaways will also take place.
Freshmen honored
Five football players were among the 56 from Kansas honored by the Big 12 as part of its Academic All-Big 12 Rookie Team. Cornerbacks Jacobee Bryant and Cam'Ron Dabney, safety Jayson Gilliom, running back Devin Neal, defensive end Cole Petrus and wide receiver Kelan Robinson were named to the team, which recognizes players who were freshmen last season, have completed 24 semester hours of non-remedial coursework, achieved a cumulative GPA of at least 3.0 and appeared in at least one game.