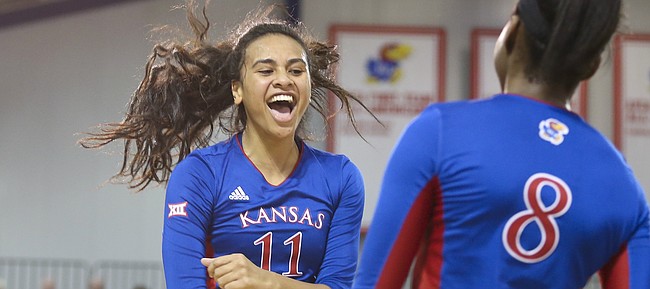 Seven years removed from leading Kansas volleyball to its first ever Final Four appearance, and five years after their graduation from KU, former All-Americans Ainise Havili and Kelsie Payne are planning to return to Lawrence next month to have their jerseys retired by the program.
The ceremony is slated for Sept. 17 after the final match of the Jayhawk Classic, which is slated for 2:30 p.m. against Omaha at Horesji Family Volleyball Arena.
Havili, who remains the program's all-time assists leader (5,255 from 2014-17), was a three-time AVCA All-American and back-to-back Big 12 Setter of the Year. Payne, who is KU's all-time kills leader (1,510 from 2014-17), was a two-time All-American and the 2016 Big 12 Player of the Year.
Both players were key parts of KU's 2015 Final Four team and the 2016 Big 12 Championship squad.
Kansas coach Ray Bechard recently shared the news with the two KU greats, whose pictures already are prominently displayed in the mural at the entrance of Horejsi. And, true to their connection, the first question each player had for their former coach was about the other.
"Well, what about Kelsie," Bechard recalled Havili asking him after he shared with her the news.
"Can we have it at the same time," he said of Payne's first inquiry.
It was Bechard, now in his 25th season leading the program, who actually made sure the two would be honored at the same time. Organizers at KU initially asked him if they could host separate ceremonies this season.
"I said, 'No, no, no,'" Bechard said. "You don't know Havili and Payne. Those two are the very best of friends and that's just how they operate."
For Bechard, the recent phone call brought back memories of the time in 2015, when he brought the duo into his office together to tell them that they both had been named All-Americans.
"That was pretty sweet, and this'll probably even be better," Bechard said Wednesday. "It's due time for us to honor a couple of the best players to ever play for a volleyball program that now has a bit of tradition."
Bechard said the pandemic pushed the process back a little and added that Havili and Payne's names rose to the top on a list of "four or five former players who are deserving" of a similar honor.
Payne, who currently plays for SigortaShop Kadin Voleybol Kulübü in Ankara, Turkey, wrote it into her 2022 contract to be able to return home for the ceremony.
Havili, who is now a volunteer assistant at Purdue, also made arrangements to leave be away from the Boilermakers' program to be in Lawrence for the big event.
"It'll be a great weekend, and there'll be some great volleyball, too," Bechard said.
Added current senior Rachel Langs, who joined the Kansas program just after Haivili and Payne left: "I think it's very well deserved. They had amazing careers here and it's going to be great for everyone to see them back here. It's going to be a special night."