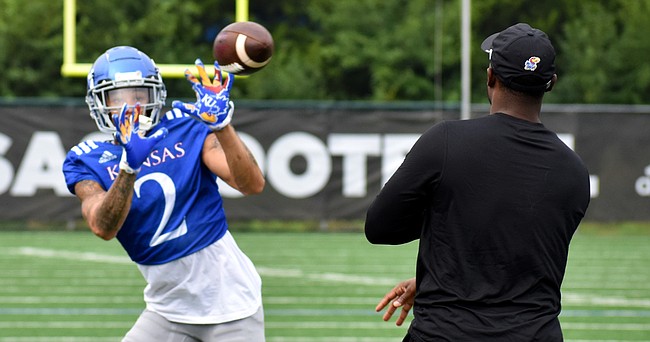 Kansas wide receiver Lawrence "LJ" Arnold is eager to move beyond the circumstances that led to him deciding to transfer in April, only to rescind that plan a few days later and remain on the team.
Arnold, a redshirt sophomore, said Tuesday after the Jayhawks' seventh preseason training camp practice that conversations with coach Lance Leipold and his mother, O'Linda Bates-Cain, helped him recognize he had a role on the team.
"I just want to be back with the team and just move forward from there and just look toward the season," Arnold said.
A dozen players, including wide receivers Kyler Pearson and Majik Rector, chose to transfer from Kansas in the days following the spring game. On April 19, Arnold wrote on his social media accounts that he would be next, but he never formally entered the transfer portal and deleted his posts in the ensuing days.
What made Arnold want to leave remains unclear. Leipold said Monday that Arnold's decision to leave was influenced by "looking at friends leave," and Claude Mathis, who was Arnold's coach at DeSoto High in Texas when he was a senior, said at the time that Arnold told him he was struggling with his role and the departure of former wide receivers coach Emmett Jones to Texas Tech.
Arnold said Tuesday that it was "more of a mental thing" that led to his decision to leave.
"I kind of feel like it was me overthinking a lot that was holding me back," Arnold said. "I love Coach Jones to death. I've known him for a long time, but him leaving wasn't part of my thought process. I kind of like to follow my own path and go my own way, so with a lot of people leaving last year, it kind of didn't change how I felt because at the end of the day, the guys on the team are my brothers."
Terrence Samuel, who replaced Jones as the Jayhawks' wide receivers coach, said Tuesday that he's glad Arnold decided to stay.
"He's playing bigger, playing stronger and playing faster from Day 1 because he had last year and what he had to deal with last year," Samuel said. "He's playing stronger, playing more confident now."
Arnold had 27 catches for 316 yards and three touchdowns last season and played 483 snaps on offense, more than any other returning wide receiver. After opening the season with three catches for 33 yards and two touchdowns in the home win against South Dakota, Arnold had a season-high eight catches for 68 yards in the loss at Duke on Sept. 25 and a season-high 73 yards on four catches in the loss to Oklahoma on Oct. 23.
Leading receiver Kwamie Lassiter was a sixth-year senior last season, and Arnold, who is 6-foot-3 and 200 pounds, seems poised to assume a larger role in the offense as a big target who can stretch the field.
"He brings his uniqueness to the table," said wide receiver Doug Emilien, a redshirt sophomore who transferred to Kansas from Minnesota during the summer and is only getting his first impressions of Arnold in training camp.
"He's not just a lanky receiver that can go up in the air. He's a receiver that can run routes as well. He looks like he's 5-8, 5-9, but he's 6-3, 6-4. I like that about him. And he'll block. He's grimy, too."
One of Arnold's primary goals during training camp is to emerge as more of a leader for the unit, which he said has only strengthened over the summer. Notably, he said, when one of the wide receivers wanted to work out, they'd all do so — something that was evident Tuesday when he, Emilien and Luke Grimm spent extra time catching passes after practice before meeting with reporters.
And that togetherness is ultimately what made Arnold want to stay.
"I talked to my brothers every day," he said. "I was like, 'Y'all a big reason that I want to be here. I want to be (on the Jayhawks) and I want to play with y'all.' Just being around them every day after the whole situation was probably the biggest impact on me. It was like, 'Yeah, I want to be here with these guys.'"