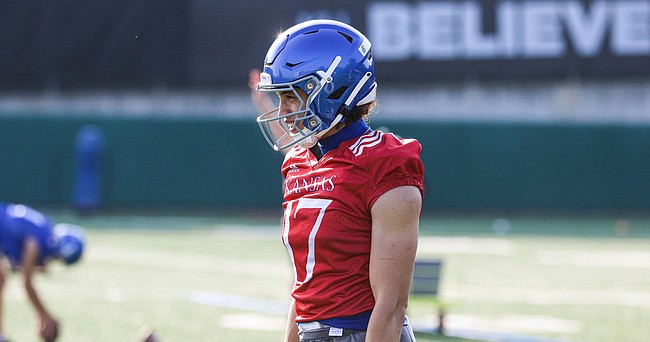 By all accounts, Jason Bean was productive throughout six weeks of spring practice, continued to develop on his own during the summer months and had a crisp opening session of preseason training camp on Tuesday.
That Kansas coach Lance Leipold said Tuesday he still expected junior Jalon Daniels to be the starting quarterback for the season opener on Sept. 2 against Tennessee Tech doesn't faze him.
"It kind of just goes kind of right over my head," Bean said Wednesday, roughly an hour after the conclusion of the Jayhawks' second practice. "That's nothing that I can control. You know, I'm here to once again make myself better and do anything I can to make my team better."
Bean, a fifth-year senior, started nine games last season, his first since transferring from North Texas. He completed 56% of his passes for 1,252 yards, six touchdowns and six interceptions, but lost the starting job to Daniels before the Nov. 13 game at Texas because of an unspecified injury.
Daniels led the Jayhawks to a surprising 57-56 overtime victory, and in the days following the game was forced to decide whether he wanted to forgo a redshirt opportunity and continue playing.
When he did so, Bean was relegated to backup duty. He returned to the field for the game at TCU on Nov. 20, when he lined up as a running back and ran for a touchdown and had one catch. Leipold said at the time that it was an attempt to get "one of our fastest players on the field."
It seems likely that, going forward, the coaching staff will find other ways to take account of Bean's speed.
"One of the things that I think that we do a really good job of is making sure that our best personnel are on our field, whatever they are," offensive coordinator Andy Kotelnicki said Wednesday. "If we've got seven really good offensive linemen, we'll have packages for them. If we have five really good receivers, we'll have packages for them.
"When you look at where we're at, especially from a skill position standpoint, there's a lot of competition and parity ... and so one of the things that we'll be able to use is multiple personnel groupings in each of them and have a nice little package for everything."
Daniels, who has long been presumed to be the starter beginning next month, said Wednesday that the title won't affect the way he approaches practice throughout training camp.
"(Leipold) saying that doesn't matter," Daniels said. "It doesn't matter which group I'm running with because I'm going to try to keep on trying to get better as a player and keep getting better as a quarterback and as a man."
Behind he and Bean are two young quarterbacks in redshirt freshman Ben Easters and freshman Ethan Vasko, and the Jayhawks have a glut of running backs and a rotation of unproven wide receivers.
Bean said Tuesday he has not spoken to Leipold nor Kotelnicki about other opportunities that may be presented to him in order for him to get snaps.
"I'm kind of focused on making myself better and trying to get this team moving in the right direction," he said.
Rave reviews for Emilien
Bean, Daniels and Kotelnicki all said wide receiver Doug Emilien, who decided to transfer to Kansas from Minnesota in May, has been impressive since joining the team.
A 6-foot-1, 190-pound redshirt sophomore from Fort Lauderdale, Florida, Emilien appeared in just two games last season and had more than two dozen scholarship offers while in high school. He's the only wide receiver, transfer or high school signee, the Jayhawks added during the offseason.
Kotelnicki said Emilien has "a mature, physical body" who "did an unbelievable job with his contested catch ability" while in high school.
"He's gonna make some people miss," Daniels said. "He's one of those receivers I feel like he's gonna be able to get a lot of (yards after the catch). He's able to get off press coverage. He's able to make cornerbacks miss. He's able to get off in certain situation. He's very smart when it comes to route running."
Daniels, Kotelnicki bond
Daniels said he and Kotelnicki have had conversations about what types of concepts can be added to the playbook, and although Kotelnicki offers him the chance to say he doesn't think something will work, Daniels hasn't yet had to do so.
"And I feel comfortable enough to be able to go to him and ask him, 'All right, Coach, I feel like this play will work on this. I feel like if we do this in this situation, it'll work,'" Daniels said. "Me and him just have that connection when we talk to each other like that."