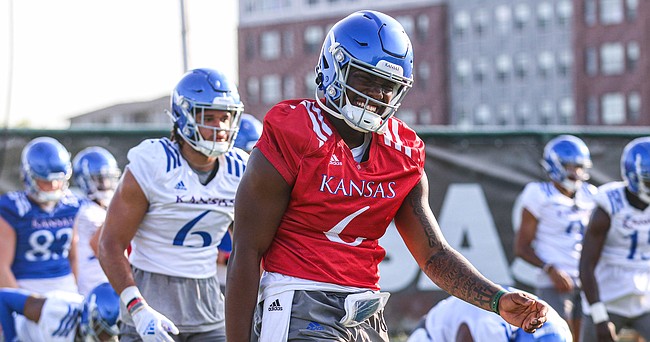 Kansas quarterback Jalon Daniels said that being named the starting quarterback by coach Lance Leipold won't affect his preparation throughout preseason training camp.
Leipold said Tuesday morning, after the Jayhawks completed their first practice, that he expects Daniels to be the starting quarterback for the season opener against Tennessee Tech at home on Sept. 2.
Daniels, a junior, finished last season in that role after he stepped in when Jason Bean was injured and was always expected to resume as the starter. He said he and Leipold have not discussed the decision.
"I haven't really had any conversations with him about it because at the end of the day, it's the same preparation," Daniels said Wednesday. "Saying that doesn't matter. It doesn't matter which group I'm running with because I'm going to try to keep on trying to get better as a player and keep getting better as a quarterback and as a man."
Bean started the first nine games last season before missing the game at Texas with an unspecified injury. Daniels was chosen to start, and he completed 21 of 30 passes for 202 yards and three touchdowns — and ran 11 times for 45 yards and a touchdown — as the Jayhawks won 57-56 in overtime.
"We're pretty blessed that we've got two quarterbacks who started games last year and played well," said offensive coordinator Andy Kotelnicki. "That's a rarity, as you know, nowadays, to have true game experience for depth in that room, but him and Jason are both having a great camp. Learning, growing, still things to improve upon, but you know, going into a fall when you've got two guys who have started games, you're kind of blessed, you know?"
Leipold and Kotelnicki have each been complimentary of Bean's performances throughout the six weeks of spring practice as well as the opening days of training camp.
Bean said Leipold's expectation that Daniels will start against Tennessee Tech "just goes kind of right over my head" and said it is "nothing that I can control."
"I'm here to once again make myself better and do anything I can to make my team better," he said.
Daniels and Bean have developed a strong friendship since Bean, a fifth-year senior, transferred to Kansas from North Texas prior to last season. When asked if their closeness helps make the coaches' decision easier to accept, Daniels downplayed that idea.
"We don't really worry about all that stuff, because we know at the end of the day, it's not in our hands," he said. "It's in the coaches' hands."
Daniels started six games as a freshman and three of the six games he played in last season.
"It doesn't really mean anything to me, for real, besides I'm going to be able to go out there and I'm going to be able to play and I'm going to be able to show more people what I'm able to do," Daniels said. "But at the end of the day, my preparation is still going to be the same."