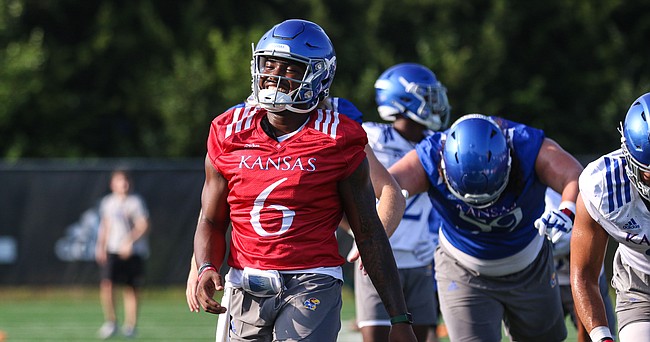 Kansas coach Lance Leipold said Tuesday that he is planning for Jalon Daniels to be the starting quarterback when the season opens — a role that has seemed likely for Daniels since the final month of last season.
Daniels, a junior, has been battling fifth-year senior Jason Bean in a competition that appears to be one in name only.
"If you want to type right now, 'Leipold expects Daniels to be the starter,' go ahead and type it," Leipold, who is entering his second season as the Jayhawks' coach, said at a news conference following the first training camp practice. "That's probably the best way that I'll answer it at this time."
Daniels, from outside Los Angeles, started six of the seven games in which he appeared as a freshman in 2020 and three of the six games he played in last season.
Those three starts, however, were primarily why Daniels earned that responsibility this season. Filling in for Bean, who started the first nine games last season but was unavailable because of an injury, Daniels completed 21 of 30 passes for 202 yards and three touchdowns and threw a two-point conversion pass to tight end Jared Casey in overtime to give Kansas a surprising 57-56 win at Texas on Nov. 13.
He then decided to forgo the redshirt season that had been planned for him and started the final two games — defeats at TCU and at home against West Virginia that were by a combined nine points.
All told, Daniels completed 69.2% of his passes last season for 860 yards, seven touchdowns and three interceptions. He also ran 33 times for 83 yards and three touchdowns.
"At the end of the day, we know that football is a next-man-up mentality," Daniels, who is scheduled to speak with reporters on Wednesday, said last month. "I could get hurt. Bean could get hurt. You saw what happened last year. You have to put somebody else in, so you have to make sure the people that are around you are ready to go in no matter what the situation is."
For much of the spring, Daniels was limited to individual drills and seven-on-seven work as he recovered from ankle surgery. It was still apparent even then that he was going to be the starter.
That decision was crystallized last month when he was chosen by Leipold to be one of four players who represented the Jayhawks at Big 12 media days in Arlington, Texas.
When given the opportunity to anoint Daniels the starter during the formal portion of the program, Leipold demurred and joked that he also hadn't named Devin Neal the starting running back — another role that appears evident given his contributions last season.
Daniels spent a portion of the offseason working with Sam Fisher, a private quarterbacks coach based in Los Angeles whom he has known since his junior year at Lawndale High School. The two spent significant time trying to slow the game down for Daniels, with a focus on reading coverages in order to anticipate making the right throws.
Leipold's decision to name Daniels the starter during training camp contrasts with the choice he made last year, his first, when the determination to go with Bean wasn't shared until hours before the season opener against South Dakota.
In that competition, Bean, a transfer from North Texas, beat out not just Daniels but a pair of fifth-year seniors in Miles Kendrick, who has since transferred to New Mexico, and Miles Fallin, who is now at Northwestern State.
Leipold said redshirt freshman Ben Easters, freshman Ethan Vasko and redshirt junior Jordan Preston will compete to be the third-string quarterback.
Should Daniels start against Tennessee Tech, he'll be the fifth player to hold that role in a season opener in the last five years. The last to open a second season as the starting quarterback is Peyton Bender, who did so in 2018.