Before a recent practice, Kansas men's rugby coach Andy Stewart asked his players to send to him the name of a favorite song — one that they believed would help put them in a better frame of mind.
Fly-half Chandler Owens submitted "Green River" by Credence Clearwater Revival. No. 8 Trevor Lister offered "Gimme Gimme Gimme" by ABBA. And just like that, an eclectic playlist of rap, heavy metal, disco and other old-school favorites was born.
"It helps us take our mind off of what's actually happening," said Lister, a sophomore. "It brings us to a different place."
What's actually happening is something the undefeated Jayhawks have never experienced. On Saturday afternoon, they'll face Fresno State in the Division 1AA championship game in Arlington, Texas, with a chance to take home their first national title.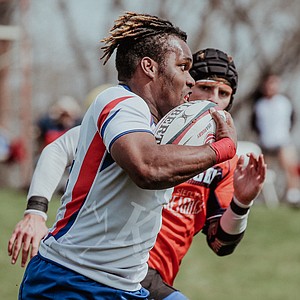 Kansas, the Heart of America conference champion, earned its way to the tournament championship by defeating UTSA 12-7 in the quarterfinals and Texas State 17-10 in the semifinals earlier this month.
A defense-oriented team, the Jayhawks will face a challenge from the Bulldogs, who beat San Diego 46-7 in the quarterfinals and Western Washington 52-15 in the semifinals.
Men's rugby is a club sport at the university, which means it exists outside the scope of the athletic department. Furthermore, men's rugby is not sponsored by the NCAA or the NAIA but instead by USA Rugby, the sport's national governing body.
Saturday's game will crown a champion in the second tier of competition, behind Division 1A. It will be held at Choctaw Stadium, the former home of the Texas Rangers, prior to the Major League Rugby game between the Dallas Jackals and San Diego Legion.
"It's the pinnacle for us," Stewart said. "This is as far as we can go this season, and that is absolutely awesome."
Stewart, who is from Australia and has been with the team since moving to the country six years ago, has been involved in the game as a player or administrator since he was young. He didn't know what to expect in the fall because last season was canceled amid the pandemic, but 53 players showed up to an open call at the Westwick Rugby Complex south of Lawrence and east of Clinton Lake eager to play.
"At the start of the season, we kind of framed it up to the guys, 'We're going to give you everything for you to reach your potential and all we want you to do is reach your potential and push it and see where you can get to — and don't worry about the results.' ... I think these guys, to be honest with you, they've done a really good job of embracing and not focusing on the results but just getting out there and doing their bit."
Many have backgrounds in football, wrestling, running or basketball. Owens and Lister played rugby in high school — Owens at Rockhurst High School in Kansas City, Missouri, and Lister at Blue Valley High in Overland Park.
First-year players have been able to excel, too. Kahlil Allen, a wing, and Nick Hafford, a lock, both sophomores from Overland Park, were among six Kansas players recognized as being among the top 150 players in D1AA earlier this season.
That group includes Owens, Lister, hooker George Baron and prop Tom Richards, who is from the United Kingdom and is part of a study abroad program at Kansas.
Owens, a senior who was introduced to the game as an eighth-grader, believes the Jayhawks' appearance in the national championship game can help raise the program's profile.
He said several other students and one of his teachers have wished him luck this week, and he heard of teammates who were congratulated by players on the men's basketball team, which won a national championship earlier this month. Even Danny Manning, the Kansas basketball legend who won a title in 1988, filmed a short motivational video and sent it to the team.
On Friday night, men's basketball coach Bill Self did, too.
"This is definitely the biggest game anyone on our team has ever seen or played in, so I think a lot of guys on our team are trying to get prepared," Owens said. "We've had a few championship games this season that have turned out fine and that's gotten us where we are now, but this is the big one, so I think a lot of guys are just trying to stay calm and keep playing our game."
Stewart emphasized that he is just one of a team of coaches who have helped the Jayhawks achieve success this season. That togetherness, he believes, has been fostered among the players by leaders such as Owens, Lister, flanker Dylan Hoye, scrum-half Luke Connor, center Fraser Brand and wing Reid Parsons.
"We want to teach them that the rugby club is not just 80 minutes on a Saturday on the field," Stewart said. "We're there to help the guys with the rugby, but more importantly, we're there to help them with their lives."
And on Saturday, on a stage Kansas has never reached, they can all help each other become champions.
"It's the first time in club history, so our coaches are obviously as excited as we are," Lister said. "It's the first time for all these guys, so everyone's into it, super excited. No matter what the outcome is, we're happy to be there, happy to take advantage of this opportunity."