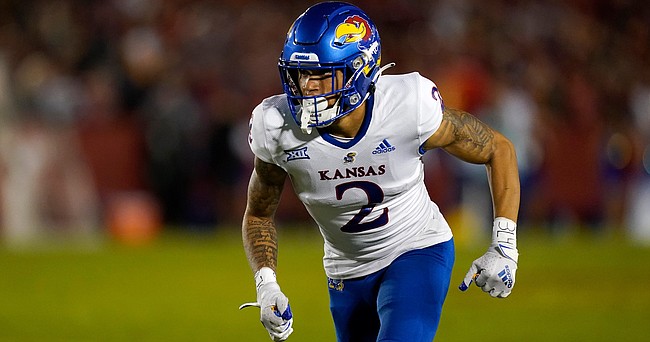 Despite sharing his intentions to transfer from Kansas last week, wide receiver Lawrence Arnold has decided to remain at the university and on the football team following conversations with coach Lance Leipold.
Arnold, who will be a redshirt sophomore in the fall, was among 11 players who at least publicly expressed an interest in transferring once spring practices concluded on April 9.
He started nine games last season and played an integral role in the passing game, and he figured to be one of the Jayhawks' top targets again this season.
"I just think he finally had a chance to sit down with Coach and talk to Coach," Claude Mathis, who was Arnold's coach at DeSoto High in Texas when he was a senior, said Monday. "They're on the same page now. I think it had a lot to do with his role and with the offense, and now that they had a chance to sit down and talk now, I think they've kind of worked some things out."
Mathis said he spoke to Arnold earlier Monday but did not know what his concerns about the offense may have been. Arnold never formally entered the transfer portal, which does not prevent a player from transferring but makes it easier to be recruited by other schools.
"I'm just looking for a big year from him this year," Mathis said. "I know that he worked his tail off. He's one of those guys that you never have to worry about his work ethic. But I just think that since they resolved this now, he can just focus on his academics and focus on playing football."
Arnold tied for second on the Jayhawks with 27 catches, matched a team high with three touchdown receptions and was fourth with 316 receiving yards last season.
He spent much of spring practice as one of Kansas' top wide receivers and, at 6-foot-3 and 197 pounds, is a taller, experienced target the Jayhawks otherwise do not have.
Kansas' leading receiver last season, Kwamie Lassiter II, was a sixth-year senior. Three other wide receivers who played significant snaps — Trevor Wilson, Luke Grimm and Steven McBride — are expected to return alongside Arnold.
Arnold played in four games as a true freshman in 2020, allowing him to preserve his redshirt season, and was limited by a shoulder injury in spring practice a year ago.
"I think you're just going to see a different kid," Mathis said. "He's healthy right now and I think he has everything under control mentally right now. He's doing good. He's on top of his academics. I'm just looking forward to seeing a healthy LJ this year and a young man who's trying to help the Jayhawks win a Big 12 championship."