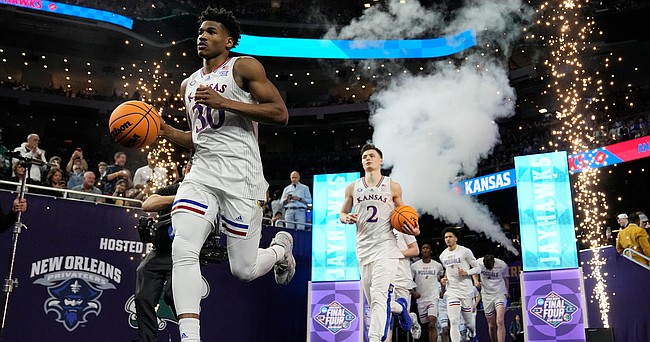 The perfect season officially ended with Kansas guard Ochai Agbaji declaring for the 2022 NBA draft late Sunday afternoon.
Three weeks removed from guiding Kansas to its sixth national title, Agbaji, as everyone expected, announced on Twitter that he was declaring for the NBA draft.
Agbaji's announcement came with a nod to his stellar senior season that led to him being named Big 12 Player of the Year, a first team All-American and the Most Outstanding Player at the 2022 Final Four.
"From start to finish, this entire season felt like it had been scripted," Agbaji wrote in his announcement. A season I'll remember forever. One I'll never take for granted."
Agbaji then went on to thank his family, his teammates, his KU coaches and, "of course, Jayhawk Nation."
"No matter where basketball takes me, I'll always be a Jayhawk," he wrote. "Rock Chalk forever."
Agbaji's announcement makes official what KU coach Bill Self teased during the team's postseason banquet earlier this month. Self said then that he would save Agbaji some time on having to make an announcement declaring for the draft, adding, "It's time for him to go."
Agbaji joined KU teammates Christian Braun and David McCormack in declaring for this year's NBA draft, which is set for June 23. A similar announcement is expected to come from Jalen Wilson, whose future plans already were announced this week when Seven1 agency announced it had signed on to represent Wilson during the upcoming draft process.
All four Jayhawks now will await invitations to the NBA's pre-draft combine, which runs May 16-22 in Chicago.
Players with college eligibility still remaining have until June 1 to pull their names from the draft pool should they decide they want to return to school for another season.
Agbaji, who was pegged as a likely first-round pick throughout the season — and as high as a lottery pick in some mock drafts — is not expected to entertain that option.
"We believe Ochai has a chance to be a lottery pick," Self said in a release announcing the senior guard's decision. "The process that he went through last year, in returning, helped him tremendously. It's obviously time for Ochai to move on and what a great way to go out. I don't believe anyone could have scripted a better ending to Ochai's career at Kansas."
Agbaji did use the option last season, declaring for the NBA draft in April of 2021 before deciding to return for his senior season three months later.
The decision turned out to be a good one. Not only did he improve his draft stock and show off his evolved game, but he also led the Jayhawks to a national championship and was celebrated as one of the greatest players in Kansas basketball history.