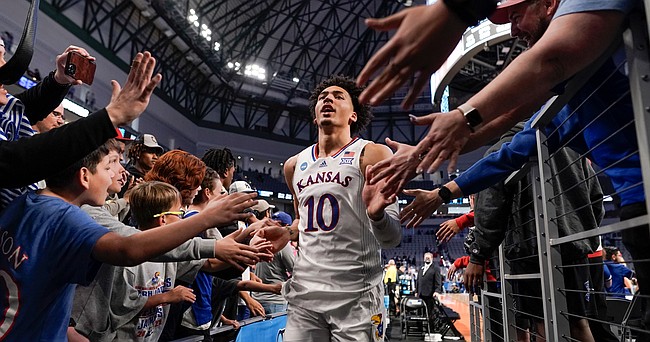 As we await official word from Kansas basketball players Ochai Agbaji, Christian Braun and Jalen Wilson about their futures, some news is starting to make its way out.
On Thursday, Seven1 Sports & Entertainment group noted on both its Twitter and Instagram pages that Wilson had signed with the agency.
"We are so excited to welcome @thejalenwilson to the Seven1 family as he enters the NBA Draft process. The future is now!" @seven1agency posted on Twitter. The tweet also included a graphic with images of Wilson and the heading "Welcome to the Family" above them.
Wilson later shared the posts in his Instagram story.
According to sources close to the program, all three Jayhawks are expected to follow teammate David McCormack's footsteps in declaring for the NBA draft.
McCormack, a senior, is likely to stay in the draft. And KU coach Bill Self said at the team's postseason banquet that Agbaji's days at Kansas were done.
That leaves Braun and Wilson with the most interesting decisions of the bunch. Players have until Sunday to announce their intentions to declare for the draft. From there, provided they follow the proper steps and rules to retain their college eligibility, they have until June 1 to pull their name from the NBA draft pool if they intend to return to school.
Wilson did exactly that last season after going through the pre-draft interview process while maintaining his college eligibility.
Players who test their NBA stock can sign with agents and still be eligible to return to school. But one of the key parts of the process of keeping one's college eligibility is to sign with an NCAA-certified agency, and Seven1 is on that list.
Wilson, a redshirt sophomore and two-year starter at Kansas, averaged 11.1 points and 7.4 rebounds this past season during the Jayhawks' run to the national title.
Braun, a junior who also started the past two seasons (along with parts of a third) averaged 14.1 points and 6.5 rebounds per game for the Jayhawks this season.
Both Agbaji and Braun's names have appeared in the first round of several 2022 mock drafts in recent weeks.
Stay in touch with KUsports.com for more on these players' announcements, which could come at any time.